Wow, 2020 flew by in the blink of an eye! It has been a crazy year with so many exciting things happening. From calm markets, to volatile times induced by coronavirus fear, to US election shock, to DeFi yield farming craze, to Bitcoin's new all time high – this was most definitely a rollercoaster year with lots of activities.
As we got used to a new normal working from home, we continued improving CoinGecko with new features, improved user interfaces, new metrics, increased data coverage and more. With 2020 drawing to an end, we would like to review some of the things that we have done this year.
1. CoinGecko Candy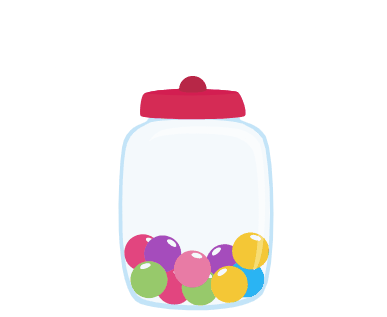 At the start of the year, we asked ourselves, how can we reward you, our most loyal user for all the continued support that you have shown towards us. After going through a few ideas, we came out with CoinGecko Candy – our loyalty program where you can collect points daily in the form of candies and redeem them for cool rewards such as our swag packs, exclusive NFTs, discount vouchers of various crypto products, and more!
For Christmas, we launched a "12 Days of Christmas" giveaway where you get to redeem your Candy and have a chance of winning a brand new PlayStation 5! Throughout the year we have also done giveaways featuring Trezor, Cobo, Aave and you can definitely count on us hosting more exciting ones in 2021!
2. Portfolio
A portfolio feature has always been something that many of you have requested for the past few years. We are glad that this year, we finally managed to build and deliver this highly requested feature to you!
Easily keep track of your holdings by adding coins to your favourites list. With the portfolio feature, you can easily see your overall gains with one quick glance, track the price movements of your favourite coins, and more!
3. DeFi and Yield Farming

CoinGecko's DeFinitive (hah) DeFi list
This summer saw the rise of DeFi and yield farming and it certainly kept us very busy. With the rise of DeFi, we made a list of top DeFi tokens, popularized the use of Fully Diluted Valuation, and also added Total Value Locked (TVL) to help you on your research journey.
With Uniswap trading getting popular this year, we knew you needed a way to quickly and easily copy tokens' contract addresses. We made this copy feature live and it has since become a standard feature in crypto.
Uniswap decentralized their token list this year as well and we made an ERC20 token list so that you can easily find your favorite tokens to trade on Uniswap.
Another definitive feature of the DeFi season this year was yield farming – the incentivized act of earning governance token from a platform by providing liquidity. You can count on us to have also built something for all the honest and humble farmers out there.
At one glance, you can find out the best places to earn yields, how much you can make, and if the farms have been audited.
4. Trust Score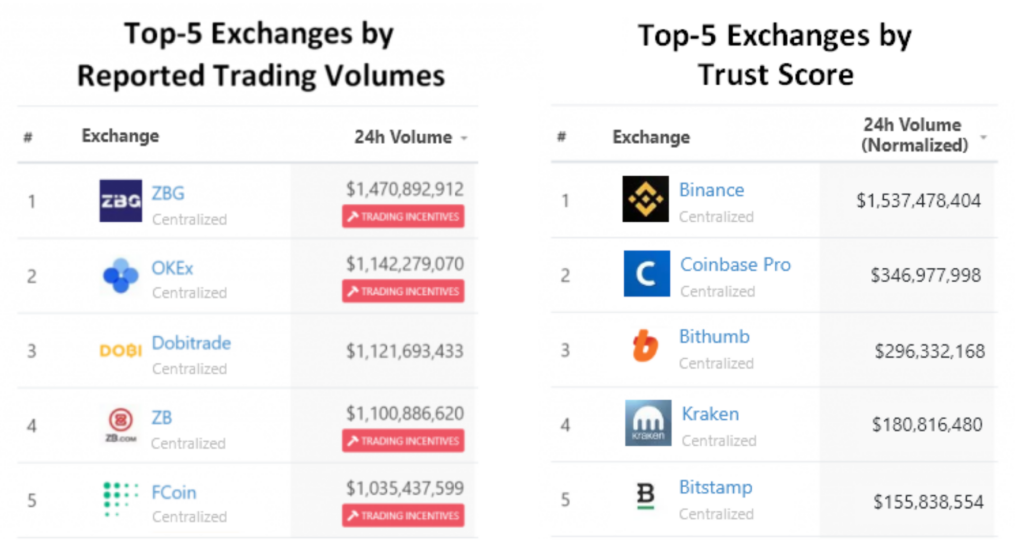 Trust Score was first launched in 2018 where we incorporated liquidity-centric measurements to combat the rampant wash trading issues plaguing our industry. In 2020, we upgraded it further with more algorithm tweaks. We now consider Cybersecurity factors (with our partner Hacken), as well as exchanges' team presence and operational track record.
We are confident that with the improvements that we have made this year, our exchange ranking algorithm has become more robust. Our plan is to constantly improve upon Trust Score to ensure that the best exchanges are well represented on CoinGecko.
5. Mobile App
In 2020, our iOS and Android mobile app matured quite a bit. Notwithstanding performance improvement and bug fixes, we have packed in many more features. With our mobile app, you can now:
Filter through the coins list – top 100, top 300, DeFi, stablecoins, exchange-based tokens and more.
Use widgets for individual coin prices, top 10 crypto or track your portfolio right from your homescreen.
Use Candy, portfolio and price alert features the same way you use it on our website.
Next year, we plan to work as hard to make our app better while packing more useful features.
6. Research and Publications

Our best researcher here
Since 2017, we have been publishing crypto market reports that help you stay updated with the crypto markets. This year, in addition to our quarterly reports, we now started publishing monthly reports too!
We also took our first step and published our very first book this year! We chose to cover the topic of Decentralized Finance (DeFi) and published the world's first book on DeFi! Our book, How to DeFi provides an overview of the DeFi markets, what it is about and how you can get started with it.
For many of you who read and followed our guides in this book, you would most likely have benefited from the Uniswap retrospective token airdrop. The DeFi market is all the rage this year, and we are glad to have heard from many readers who benefited from reading our book.
7. API
One of the ways we have been giving back to the crypto community is through our freely accessible API that provides a full suite of independently aggregated data for over 6,000+ coins tracked across 400+ exchanges on our site.
Despite the API being free, we have managed to keep a consistently high uptime of 99.9%. This year, we have further improved our API by adding OHLC, DeFi, global stats, and derivatives data.
CoinGecko Stats
2020 has been a year of exceptional growth for us here at CoinGecko. We are very grateful that many of you have made the switch and are now using CoinGecko exclusively. Your support of CoinGecko has helped us grow nearly 6 times this year.
From about 10 million monthly pageviews in January, we are now attracting 60 million monthly pageviews. At this point of writing, we are hovering around rank 1,500 of Alexa's top websites in the world, at one point almost breaking the top 1,000 websites in the world. We hope that as the crypto market grows further next year and with your continued support, we can break into the top 1,000 websites in the world.
Most Popular Coins
As we end the year, we thought it would be interesting to share some insights on the most popular coins visited this year on CoinGecko. Here are the top 24:
Looking Forward to 2021
As we look forward to 2021, we will be making many more improvements on CoinGecko to provide a better experience for all of you. 2021 looks like it will be one helluva year with many cryptocurrencies breaking their all time high!
CoinGecko still has lots of room to improve so if you have any feedback or suggestions, we definitely do welcome them. Do share your feedback with us at support.coingecko.com and we will consider how we can further improve CoinGecko.
As we end the year, we want to give all of you a quick shoutout and express our gratitude for all your support throughout 2020. None of this would be possible without your support! We look forward to growing together on our crypto journey next year!