Trust Score has been the cornerstone of our exchange ranking algorithm designed to include the multiple facets of what an active and secure cryptocurrency exchange should be evaluated based upon – overall liquidity, trading activity, scale, technical expertise, cybersecurity and more.
We've seen how Trust Score carries major implications for the crypto industry since it was launched in May 2019 and continuously improved upon:
Trust Score (May 2019) – ranks trading pairs based on web traffic, liquidity & trading activity related metrics.
Trust Score 2.0 (Sep 2019) – ranks exchanges based on web traffic, liquidity, scale & API coverage.
Cybersecurity (July 2020) – ranks exchanges based on additional factors such as product/infrastructure, user account security and more as evaluated by our cybersecurity partner Hacken.
Here's how Trust Score impacted exchange rankings: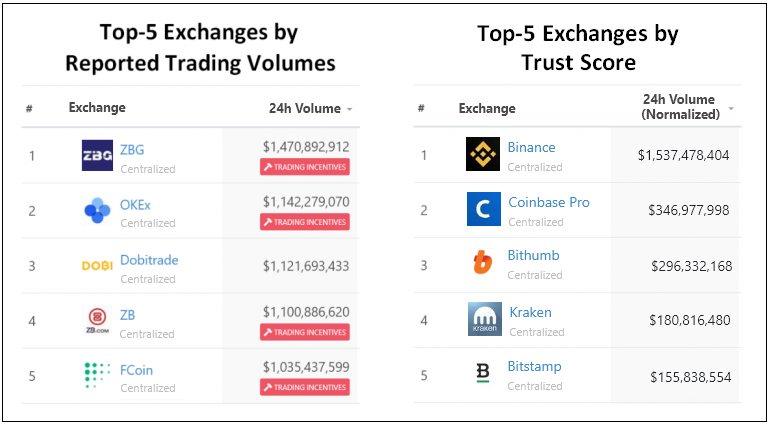 While Trust Score takes into account many of the technical factors, we think that it may not sufficiently account for operational risk factors such as team or existing incidents that cannot be described by numbers. In line with our mission to bring about transparency and accountability in this space, we are now introducing two new facets to Trust Score – Team Presence and Past Incidents to make Trust Score more robust and reliable.
Team Presence & Incidents (November 2020)
Crypto exchanges are important avenues that facilitate the exchange of crypto assets and frequently hold millions (or billions) of dollars of user funds. In addition to considering technical aspects (liquidity, trading activity, scale etc.), we believe it is also important to consider operational aspects such as the team that operates it, as well as its track record.
The inclusion of Team Presence into our Trust Score reflects our intention to bring about more transparency & accountability to the nascent space that is crypto. For the space to truly mature, teams running exchanges (potentially with millions of user funds in custody) should be accountable individuals.
Team Presence score is evaluated in 3 ways:
Full points = Team is public and profiles are available on exchange-owned websites.
Half points = Team is public, but profile is only available on 3rd-party sites.
Zero points = Team is fully anonymous or has no public profile at all.
On the same note, recording Past Incidents will also bring about more transparency & accountability as exchanges should also be evaluated based on incidents related to cybersecurity factors, loss of user funds, withdrawal issues, regulatory issues or other incidents with negative implications.
Incidents score is evaluated in 3 ways:
Full points = exchange has no incident recorded.
Half points = exchange has incident(s) recorded with minor implications.
Zero points = exchange has incident(s) recorded with major implications.
Trust Score Weightage with Team & Incident:
Here is a quick rundown on how Trust Score is weighted on scale of 0 – 10 for each criteria.
Liquidity (4 of 10) – Exchanges are one of the liquidity hubs of the crypto ecosystem, moving billions of dollars equivalent in user funds on a daily basis worldwide. Having actual liquidity remains as one of the most important criterias of evaluation.
Cybersecurity (2 out of 10) – Tying in with the fact that crypto exchanges have substantial monetary holdings, their ability to maintain a secure operational environment then becomes a very important evaluation criteria.
API Coverage (1 out of 10) – API measures technical coverage, as well as data availability which are also important factors to consider for transparency purposes throughout the evaluation process.
Scale (1 out of 10) – Scale is a statistical analysis that measures and compares the trading volume and order book depth among exchanges.
Team Presence (1 out of 10) – Team presence evaluates if an exchange team provides public information on its team on a site they own (minimally top management such as C-suite figures).
Past Incidents (1 out of 10) – Past incidents is used to record if an exchange has had negative past incidents (eg. regulatory troubles, hacking incidents, withdrawal issues, user account disputes & more).
What's Next?
We are constantly monitoring the performance of Trust Score and with the help of much constructive feedback from our community, we are confident that Trust Score will continue to evolve into a more robust ranking algorithm.
Trust Score was a major step for us in providing neutral and impartial data. It also represented a major shift in how evaluation can be done for crypto as a whole. We are excited to continue this journey and hopefully it will also help you as a user on CoinGecko to make better informed decisions!
The space demands transparency and here at CoinGecko we remain committed to it. Expect to see more metrics analysed and included in the future as we continue to work hard to bring you actionable insights throughout our website in a transparent manner!
If you have any opinion or feedback, do get in touch with us on Twitter, Telegram, Discord or drop us a request at support.coingecko.com