We are hyped to announce the release of our 2019 Year End Cryptocurrency Report! Our 50-page cryptocurrency report provides an overview on the state of the cryptocurrency sphere in 2019 through market insights, major events, thought leader opinions and more.
A big thank you to Dapp.com, Nonfungible.com and Masternodes.online for collaborating with us to contribute insights to our report!
Cryptocurrency Market Overview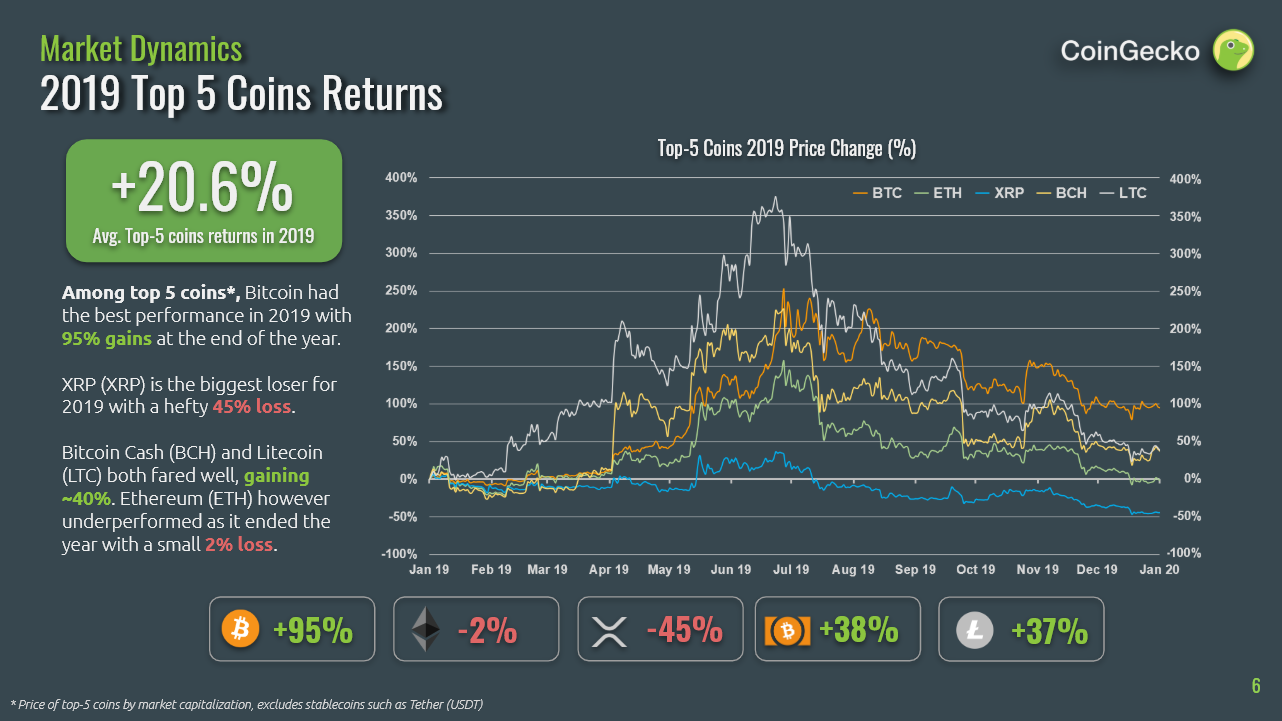 2019 was a mixed bag for the top-5 cryptocurrencies with Bitcoin, Litecoin, and Bitcoin Cash making gains while Ether and XRP losing value. 2019's biggest gainer was Bitcoin with a 95% gain, starting the year at $3,693 and ending the year at $7,195. On the other hand, the biggest loser was XRP with a 45% loss, starting the year at $0.35 and ending the year at $0.19.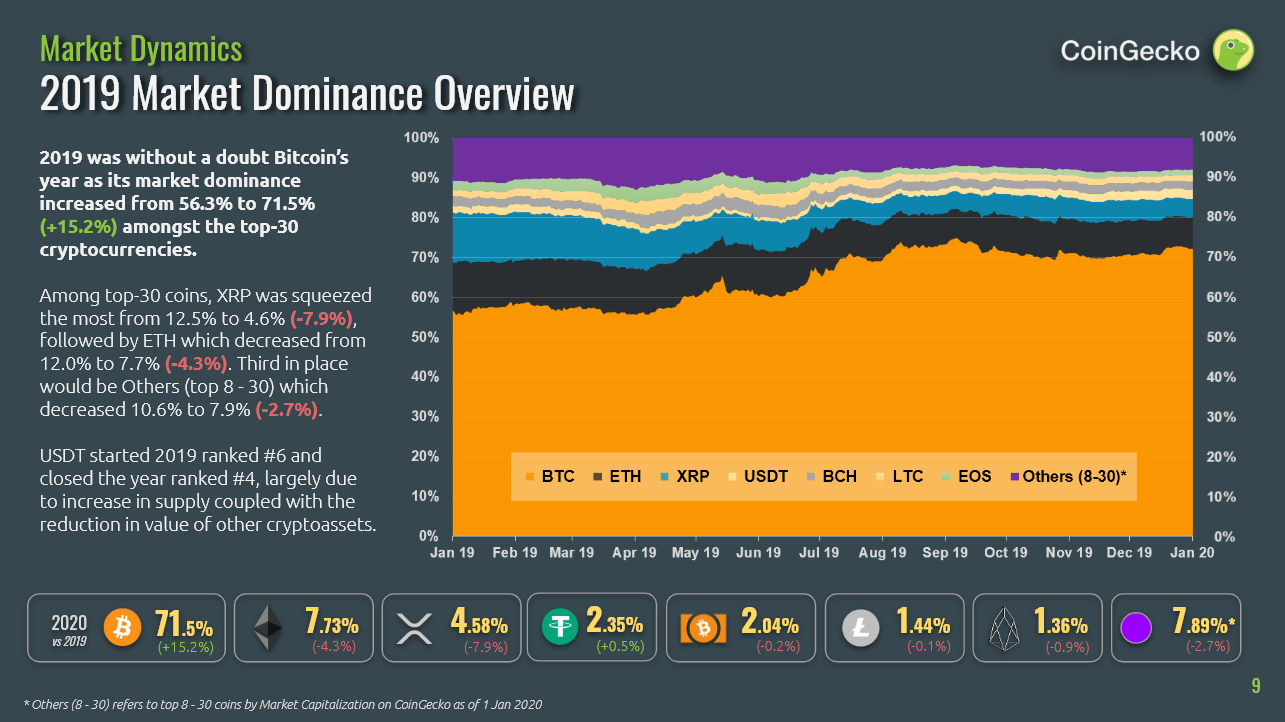 In terms of market capitalization dominance amongst top 30 cryptocurrencies, only Bitcoin and Tether strengthened their positions. Bitcoin's dominance increased from 56.3% to 71.5% (+15.2%), while Tether increased from 1.85% to 2.35% (+0.5%). Most other cryptocurrencies saw a reduction in their market capitalization dominance in 2019.
Cryptocurrency Exchange Overview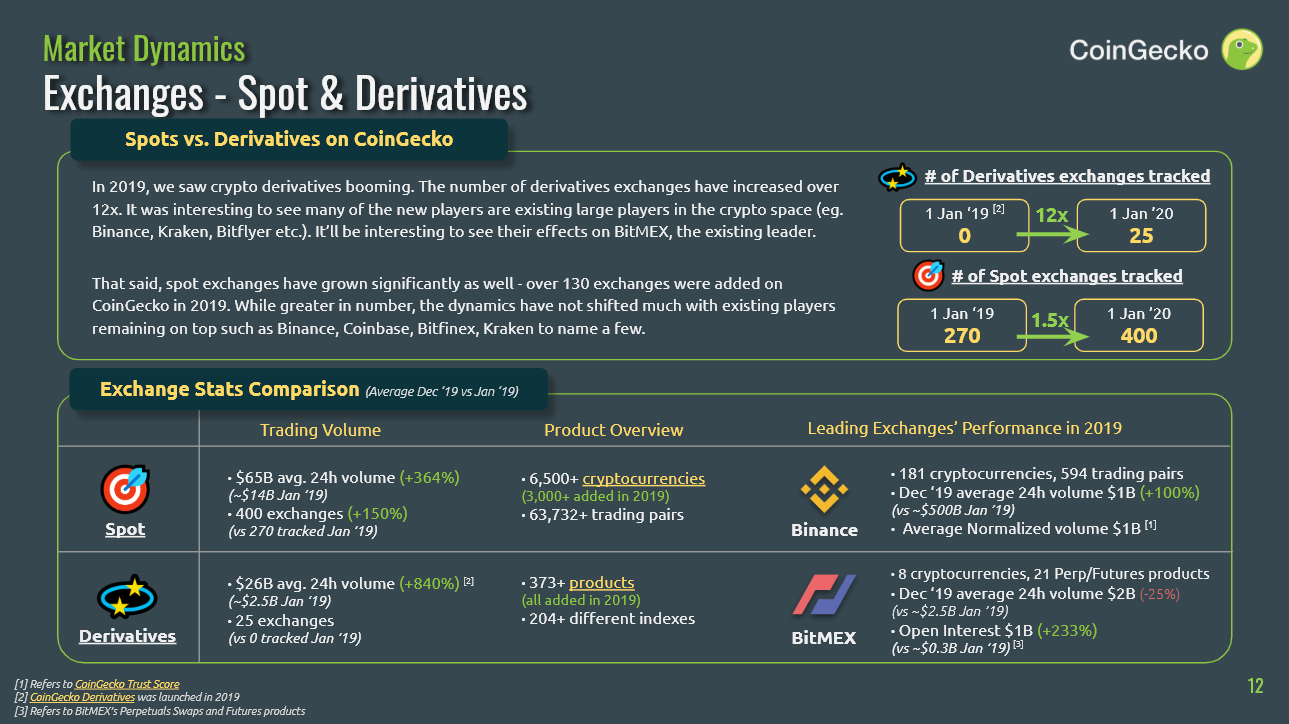 2019 also saw an increase in the number of new cryptocurrency spot exchanges tracked on CoinGecko from 270 to 400 (+150%). Binance remains as the leader and averaged approximately $1 billion in normalized 24 hours trading volume, a 100% increase compared to January 2019. Its nearest competitor, Coinbase, averaged approximately $110 million during the same period of time.
Cryptocurrency derivatives market also heated up in 2019 and CoinGecko started tracking derivative products and 25 new derivative exchanges in 2019. BitMEX leads as the most popular derivatives exchange, most notably in perpetual swap contracts. Throughout December 2019, BitMEX's open interest was approximately $1 billion, a 233% increase compared to January 2019's figure.
Other Highlights from CoinGecko's 2019 Year-End Cryptocurrency Report
Stablecoins: USDT dominates, DAI most volatile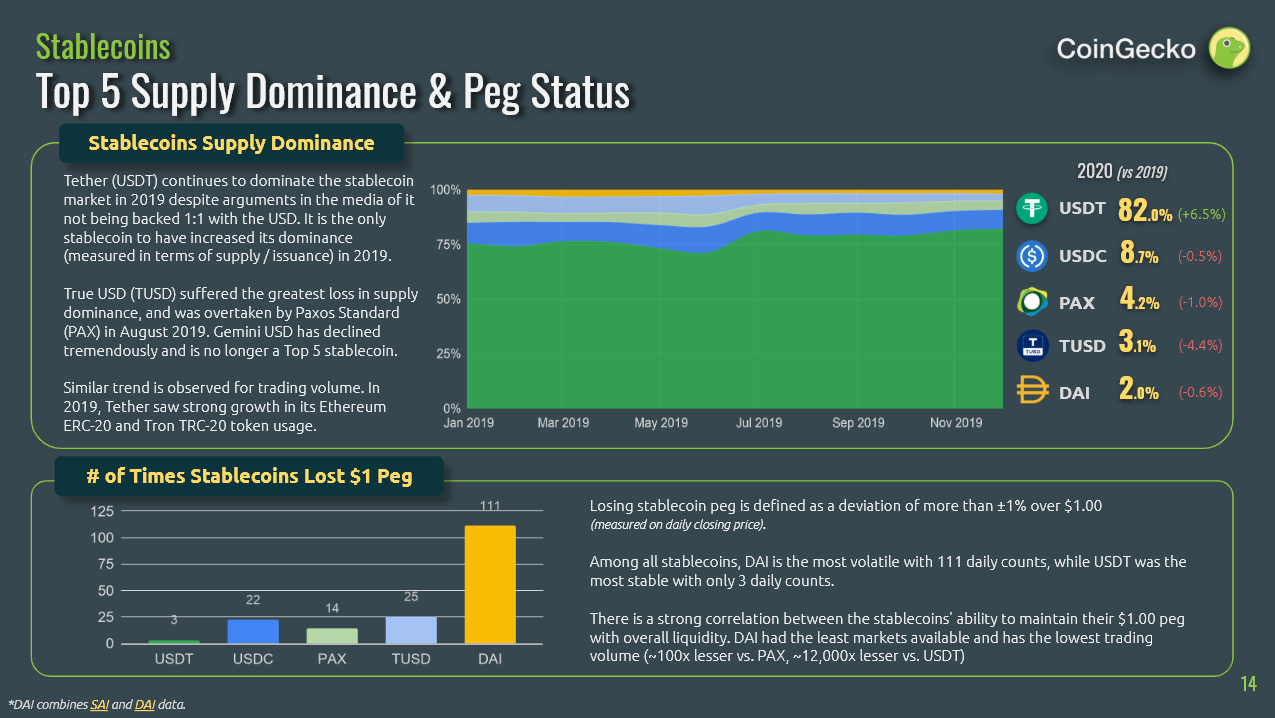 Tether continued to dominate the stablecoin market in 2019 despite being dogged with allegations of it not being backed 1:1 with the US Dollar. It was the only stablecoin to have increased its circulation dominance while the others suffered losses.
In terms of breakage of USD peg, Dai was the most volatile with 111 counts of it breaking its peg while Tether was the most stable with only 3 counts. Breakage of USD peg is defined as deviation of ±1% from $1.00 using daily closing prices.
2020 Predictions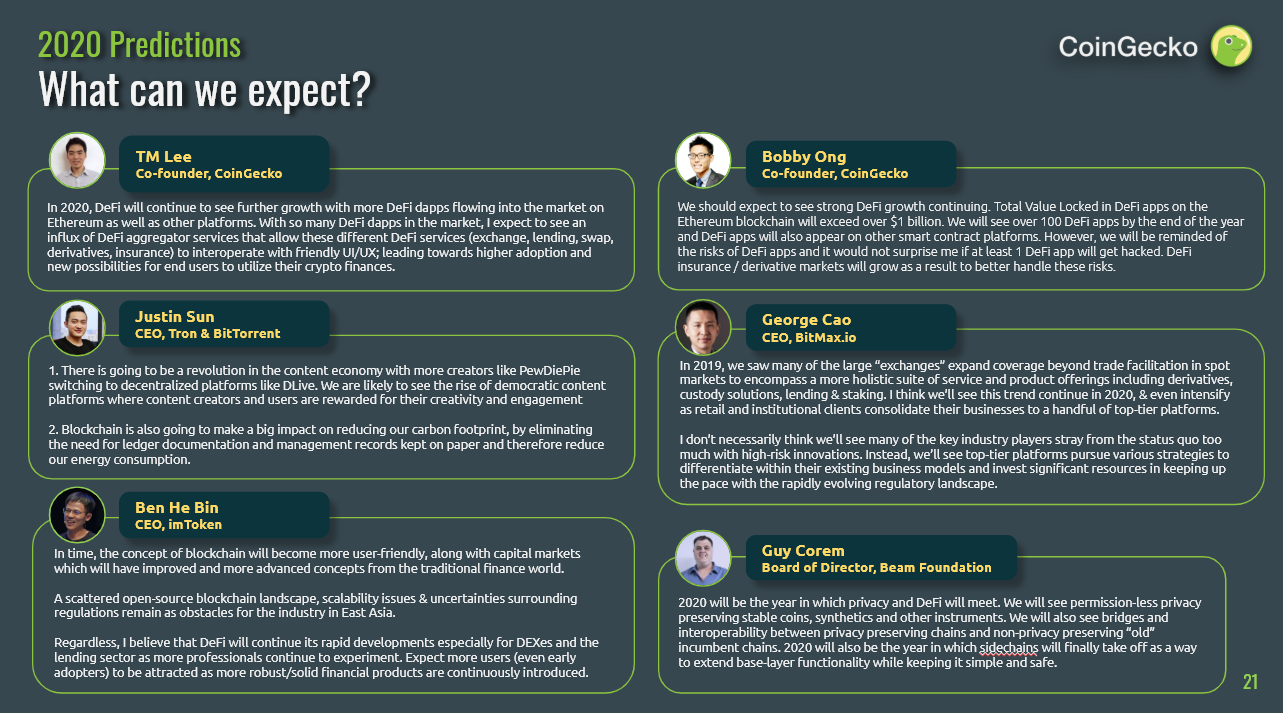 We gathered 2020 predictions from 20 thought leaders in the space such as Taylor Monahan (CEO of MyCrypto), Samson Mow (Chief Strategy Officer of Blockstream), Justin Sun (CEO of Tron and Bittorrent), and Sandeep Nailwal (COO of Matic Network).
The 2020 predictions give a glimpse of what may take place this year. A recurring theme is that many seem to agree that 2020 will be an exciting year for DeFi use cases.
The Numbers that Defined Bitcoin's decade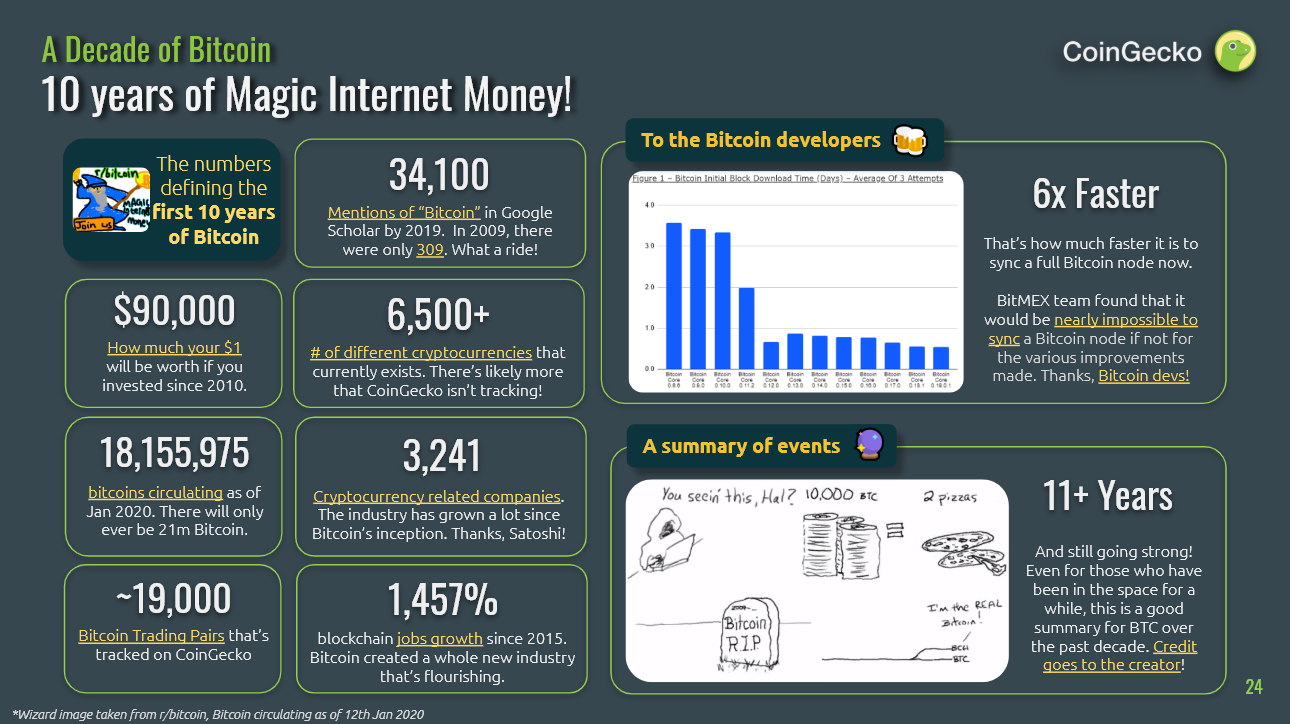 In the past 10 years since its inception, Bitcoin amassed over 34,100 mentions in Google Scholar, turned $1 to over $90,000, inspired the creation of over 6,000 different cryptocurrencies, over 19,000 trading pairs across 400 exchanges, as well as 3,200 crypto-related companies.
Over 18 million bitcoins have been mined, and only 3 million more will ever be created.
Ethereum 2.0 Explained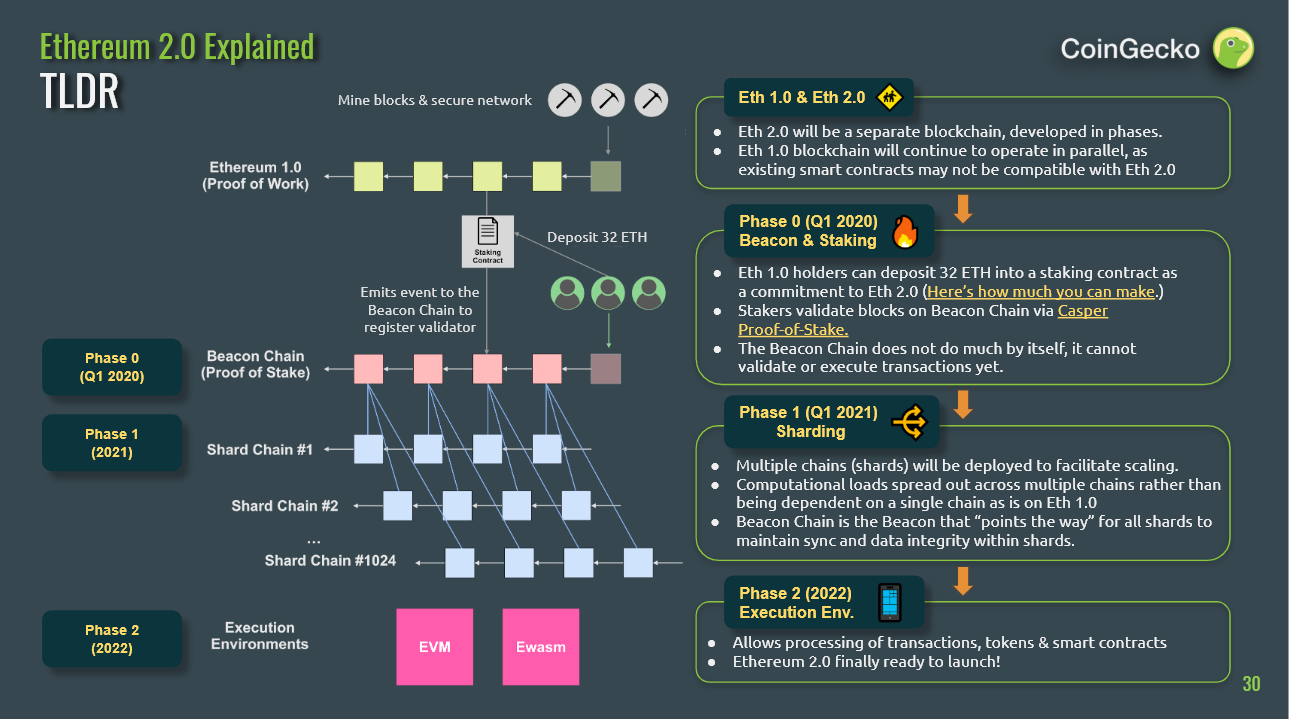 You've heard the saying – Ethereum 2.0 (Eth 2.0) will be here soon. Eth 2.0 brings speed, scalability and staking – but just are these and why is Eth 2.0 needed?
We gathered that information for you, and then further summarized the workings of Eth 2.0 in one slide. Check it out for an overview on what Eth 2.0 is, along with explainers on the fabled Proof-of-Stake for a full picture on what the future holds for Ethereum!
Free to download
For the latest crypto insights and market overview, grab CoinGecko's 2019 Year-End Cryptocurrency Report via the link below!
If you have any questions, comments or feedback, drop us a ticket at support.coingecko.com. It would be awesome to hear from you!