CoinGecko is proud to announce the release of our seventh quarterly crypto report – the 2019 Q1 Crypto Report. This 48-page report gives an overview of the state of the cryptoasset market and the major events that happened in the first quarter of 2019.
This quarterly report was made possible with the collaboration of Dapp.com, EthHub, Cent, The Bounties Network, and Kyber Network. Together, these 5 companies helped contribute to the decentralized apps (Dapp) and Ethereum ecosystem sections of the report.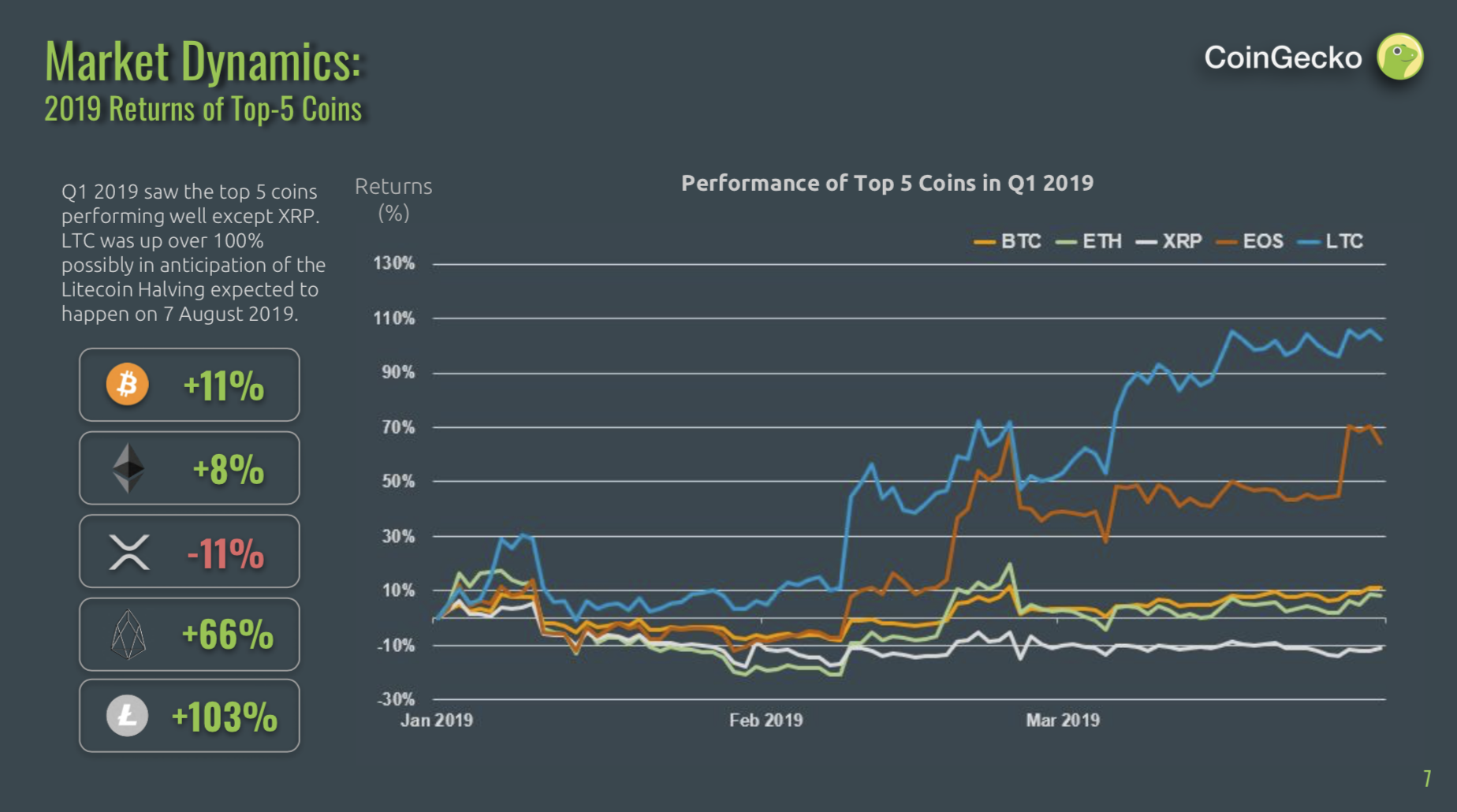 In the first quarter of 2019, total network value of all cryptoassets were up 16.23%. Among the top 5 coins, most saw a positive increase in price with Litecoin and EOS seeing the best returns of 103% and 66% respectively. Bitcoin and Ethereum saw modest growth of 11% and 8% while XRP saw its price declined by 11%.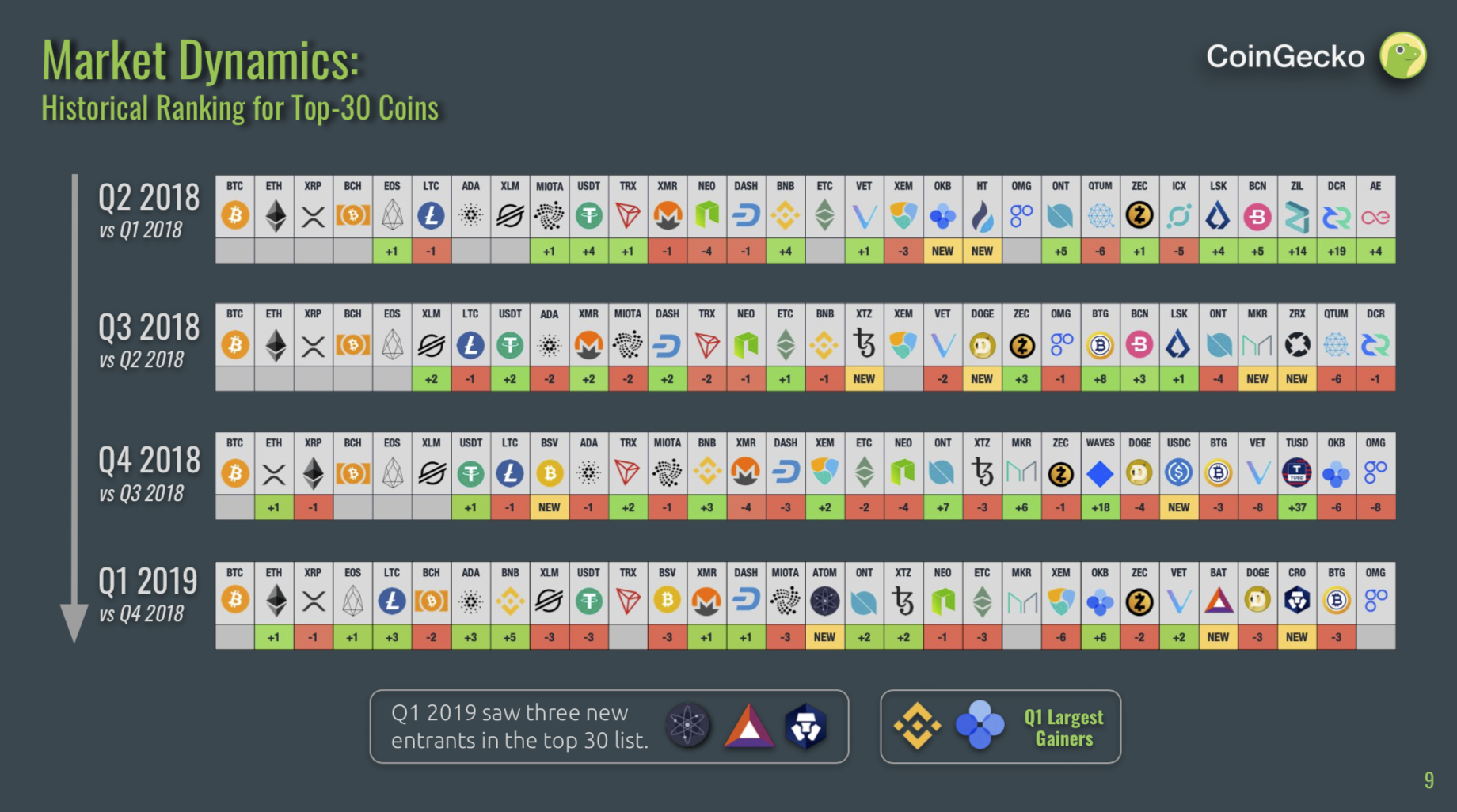 This quarter saw Ethereum claiming back its position as the second most valuable cryptoasset by network value. There were 3 new entrants to the top-30 list – Cosmos (ATOM), Basic Attention Token (BAT) and Crypto.com Chain (CRO).
Exchange-based tokens saw strong growth with OKEx's OKB token and Binance Coin (BNB) being the largest gainers, gaining 6 and 5 places respectively. With the increase, Binance Coin (BNB) is now in the top-10 list ending the quarter in 8th position.
For this quarter's report, we have decided to highlight major events that happened in each month.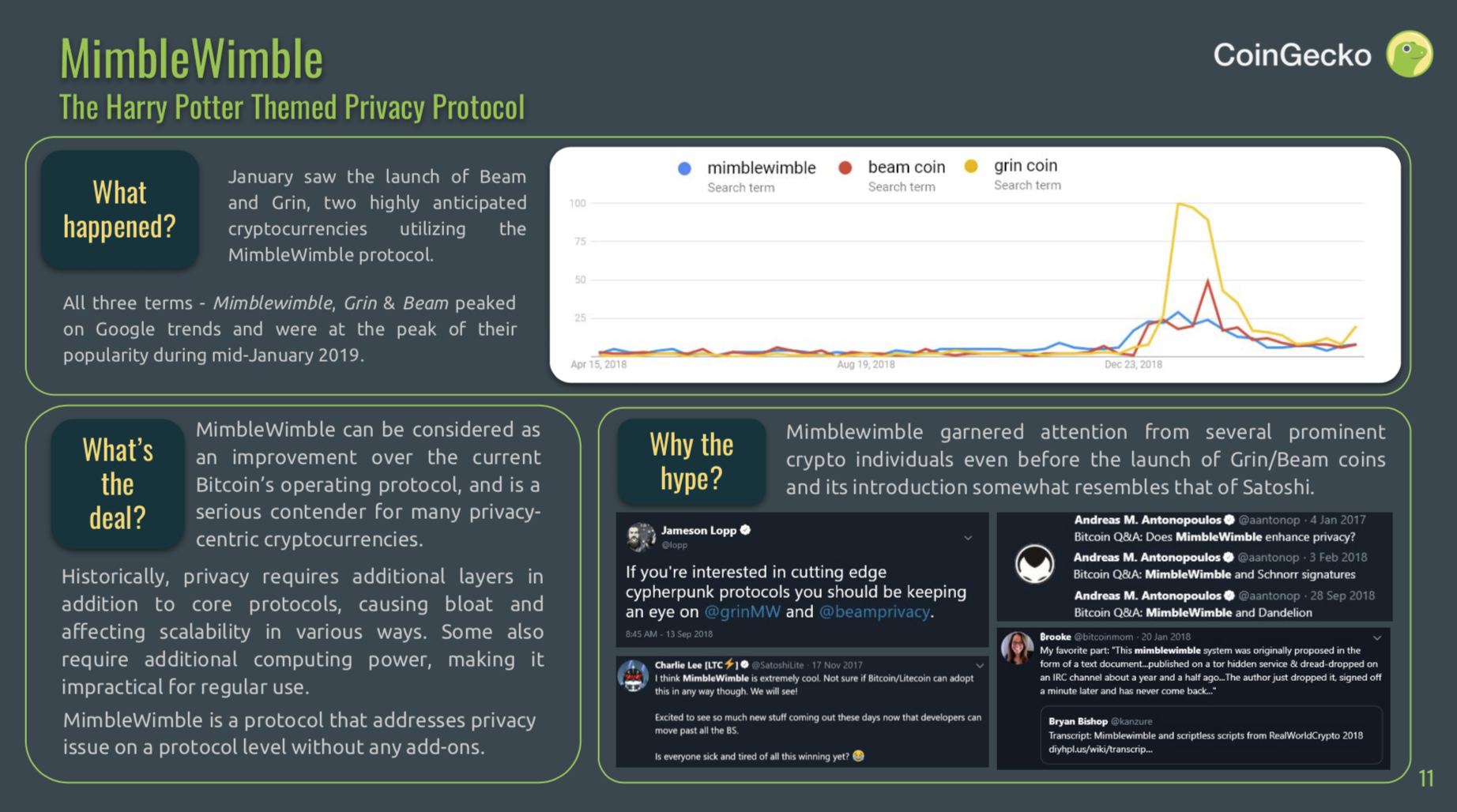 January saw the launch of two new coins, Grin and Beam, which makes use of a new privacy protocol called MimbleWimble. The launch of both these coins were highly anticipated as it represents a fundamental improvement to blockchain privacy and scalability.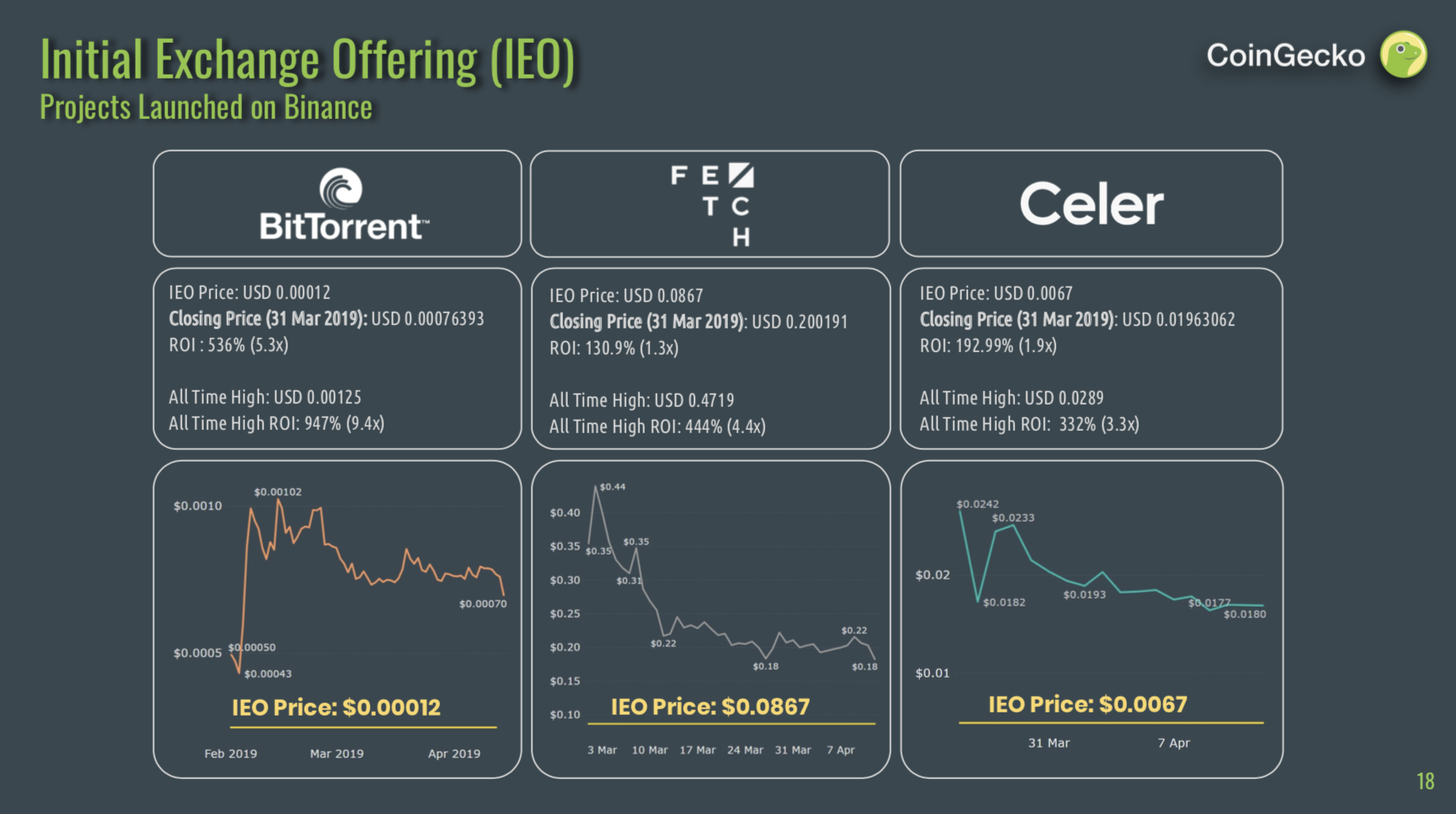 Initial Exchange Offering (IEO) became a major topic of discussion for February. IEO became popular after the wildly successful token sale of the Bittorrent (BTT) on Binance Launchpad. The successful Bittorrent IEO made other exchanges took notice and rushed to start their respective IEOs.
That being said, it remains to be seen if the IEO trend can sustain. Looking at the return of the three Binance Launchpad IEO in February, we can see that returns have been decreasing and that purchasers have been dumping the tokens immediately after market became open for trading.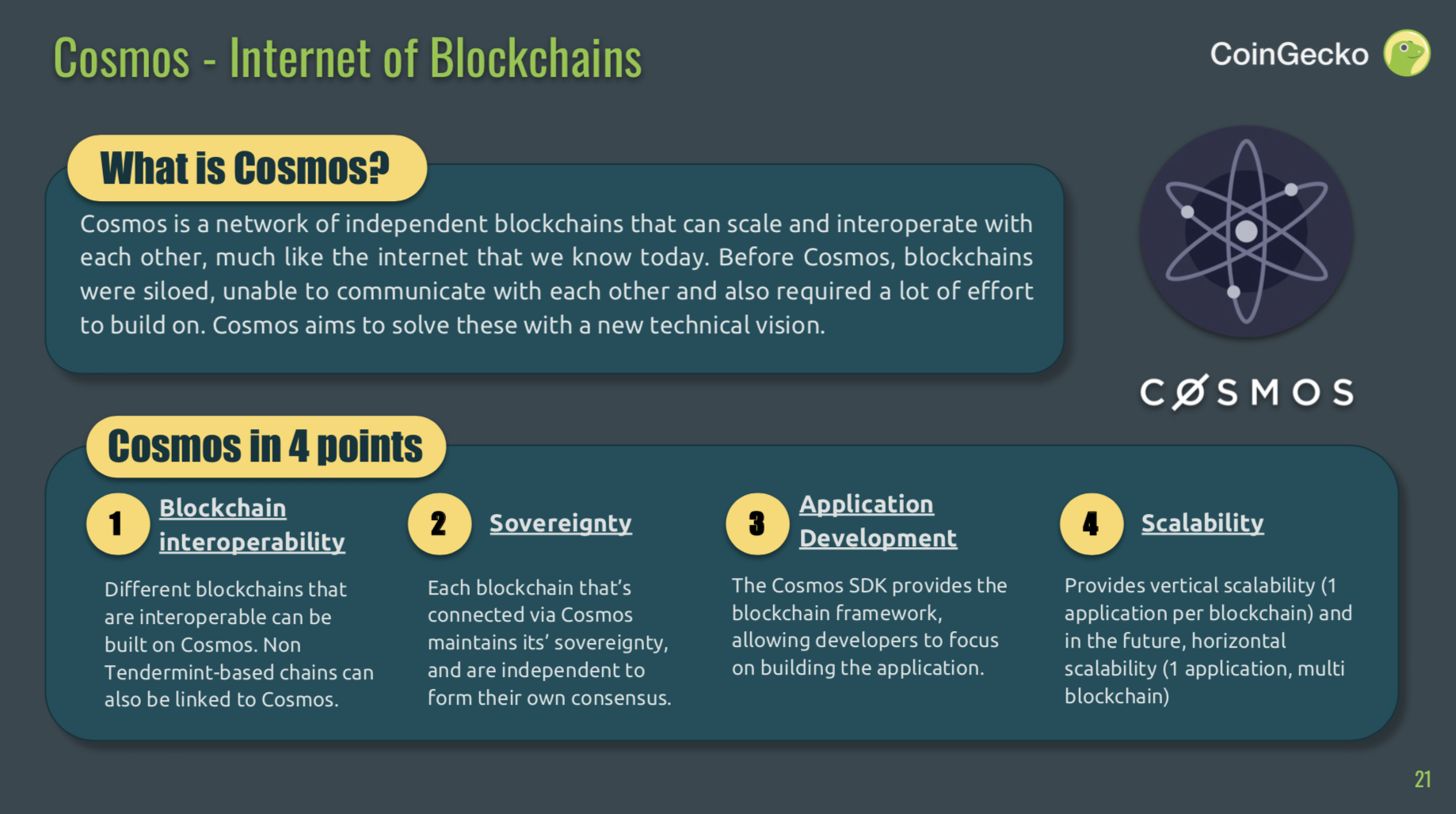 March saw the launch of Cosmos (ATOM), a project that aims to solve blockchain interoperability. We spend some time going through the details of Cosmos in this report.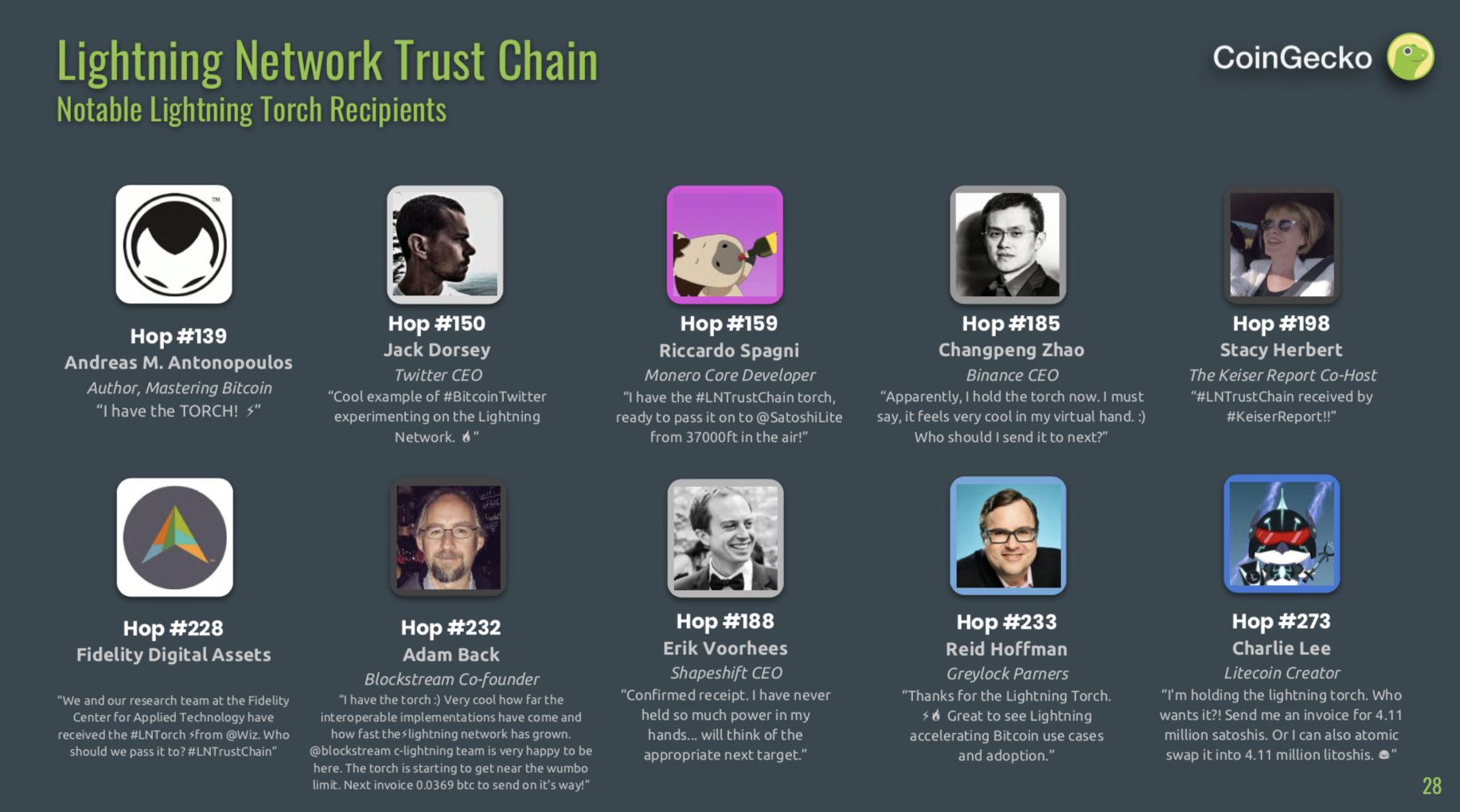 Quarter 1 also saw the Lightning Torch being passed on Twitter. The Lightning Torch is a social experiment that aims to showcase the capabilities of Bitcoin's Lightning Network.
We end the Q1 report with an overview of Dapps and a highlight of 4 Ethereum ecosystem projects.
Free to Download
Similar to our previous reports, the 2019 Q1 CoinGecko Crypto Report is free to download and access. We have attached a Slideshare embed below for your quick perusal. Full PDF report is available for download via the link here.
If you have any comments or suggestions to improve our quarterly report, do send us feedback at support.coingecko.com and we would love to hear from you.