Today, we are eager to announce the official launch of CoinGecko's "NFT Spotlight" which aims to:-
Democratize art appreciation
Help artists connect with a diverse group of audience
Putting NFTs into the hands of many
As part of this launch, we are excited to kick off our first artist collaboration with renown crypto artist, Sven Eberwein!
Why "NFT Spotlight"?
When we started CoinGecko in 2014, we never imagined that there would be an intersection of art and crypto in the form of NFTs (Non Fungible Token). NFTs have become mainstream with record breaking sales on Christie's, features on Saturday Night Live, and big brands jumping on the bandwagon.
Given that, creators such as artists, music producers, and writers are rolling in and seeking for ways to leverage NFT as a medium for creative expression, better connect with their audience, and re-align financial incentive.
Despite all that hype, the NFT space is still in its early days. There have been challenges and technical constraints such as network scalability issues, high transaction fees, cross-chain minting, lack of art appreciation, and cold start problems for new users.
It is our hope that the launch of NFT Spotlight will allow us the opportunity to address some of these gaps.
1. Democratizing art appreciation
NFTs have ushered a new renaissance for art. It has provided artists with new ways to express their creativity while ensuring that their economic incentives are aligned.
Two months ago, we took note of that and launched "NFT of the Day" on CoinGecko. We started by featuring one interesting art piece every day to our community in order to drive awareness to art.
Today, we are doubling down on that with the launch of "NFT Spotlight". We will have the opportunity to delve deeper into the backstory of an artist and showcase their finest work.
An NFT is not just about speculation, instead we hope more people will appreciate the work and story that goes behind the creative process.
2. Helping artists connect with a diverse group of audiences
Most artists may already have existing followers on the various social media platforms such as Twitter, Instagram, and Deviantart. These audiences however may not be the same as those that are interested in crypto and NFTs. As soon as an artist plans to launch an NFT artwork, they would have to start thinking about exposure and distribution.
If the artist is completely new to crypto, NFT Spotlight is the launchpad of choice for them to launch their starting editions targeted at the crypto audience.
If the artist is already a crypto native, NFT Spotlight provides more ways for them to connect with more audiences.
We will put the artists' story and their work to have them showcased to our community, instantly providing exposure to the millions of users on CoinGecko.
3. Putting NFTs into the hands of many
Most of today's NFT distributions are done via a "Drop", typically through an auction or a direct purchase. This has led to NFT art ownerships primarily skewed towards professional collectors and whales.
As part of our mission to promote art appreciation and help artists connect with a diverse group of audience, the launch of "NFT Spotlight" will give us the opportunity to leverage on the growing community on CoinGecko while experimenting with the best distribution strategies.
For the 1st NFT Spotlight series with Sven Eberwein, we will distributing three different NFTs:-
Legendary (1/1) Auction: Proceeds will be used to pay for fees and the rest will be donated to charity
Rare (5/5) Lucky Draw: CoinGecko users can claim a ticket using candies to stand a chance to win one NFT
Common (1000/1000): Claimable using CoinGecko Candy. As long as you have candies, you stand a chance to snag an art piece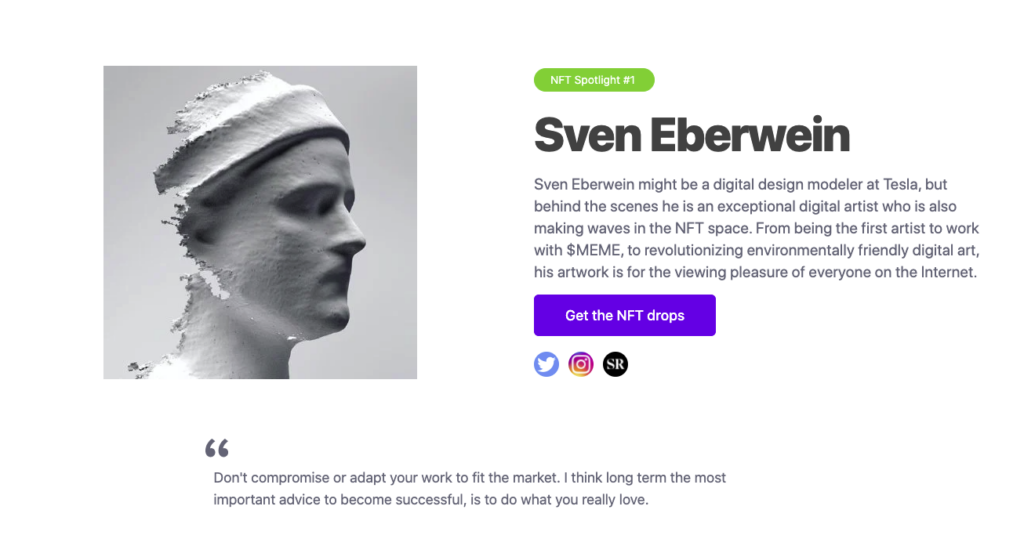 I am a CoinGecko user, what's in it for me?
Our first NFT Spotlight is in a collaboration with Sven Eberwein.
If you have some CoinGecko Candy, you can use that to claim artwork dropped by Sven. If you have not had the chance to own any fine art NFTs, now is your chance!
The legendary 1/1 "Gecko + Candlestick" will go on auction starting at 10PM EST on Monday, 19 April '21 . The proceeds will be used to cover minting fees and the rest will be donated to Mint.af to further support the NFT space, and The Giving Block to groups outside the cryptosphere that need help.
Stay tuned as we look forward to working with more artists for future upcoming series!