CoinGecko is happy to announce the integration of Request Donations. With this integration, users can donate to CoinGecko using ether and ten additional ERC-20 tokens in an easy and secure way.
The donation section in the footer is a common feature in many cryptocurrency websites as it offers a way for users to support website operators directly. With this integration, Request Network provides a clean payment checkout interface for users to easily support CoinGecko.
Donating to CoinGecko via Request Network is as easy as a few clicks. If you consider donating to CoinGecko, scroll to the footer and click "Donate ERC20 via Request Network". Using the Request Donations widget requires you to have Metamask already installed.

You will be prompted with a Request Network donation screen to select the amount and the type of tokens you wish to send.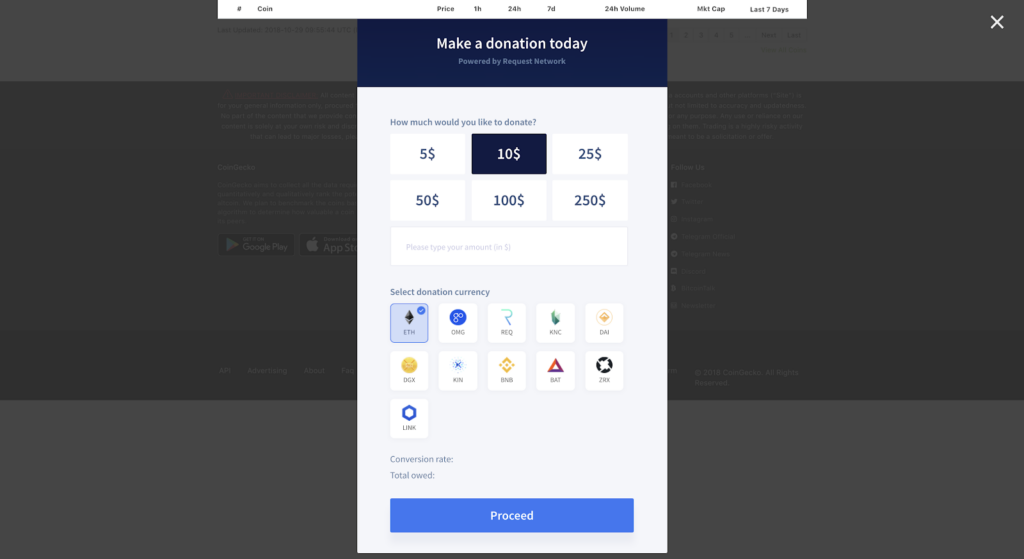 Once you have selected your desired amount and token for donation, simply click "Proceed" to go on to the next page.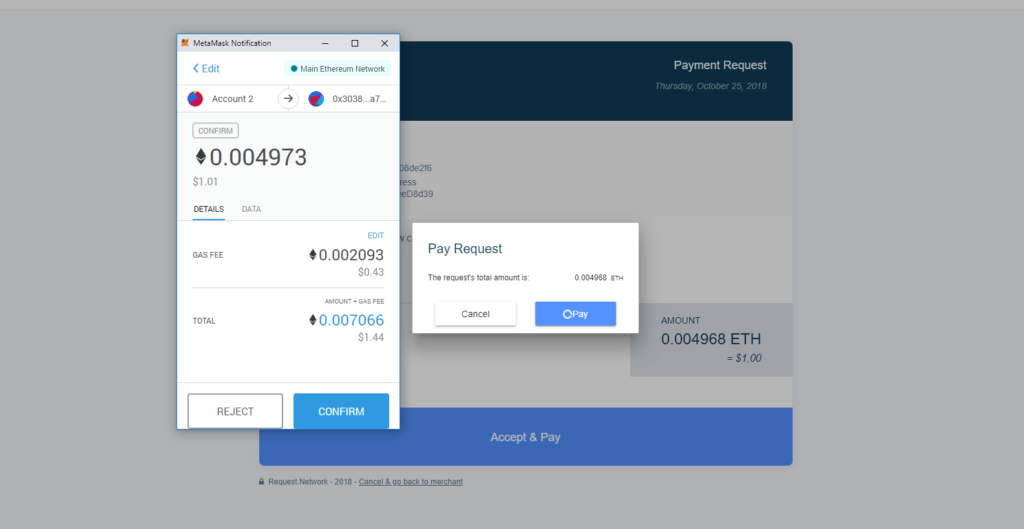 You will be brought to the Payment Request page by Request Network. Do confirm the payment details and click "Accept & Pay" to confirm. You will then be prompted to confirm the payment on Metamask.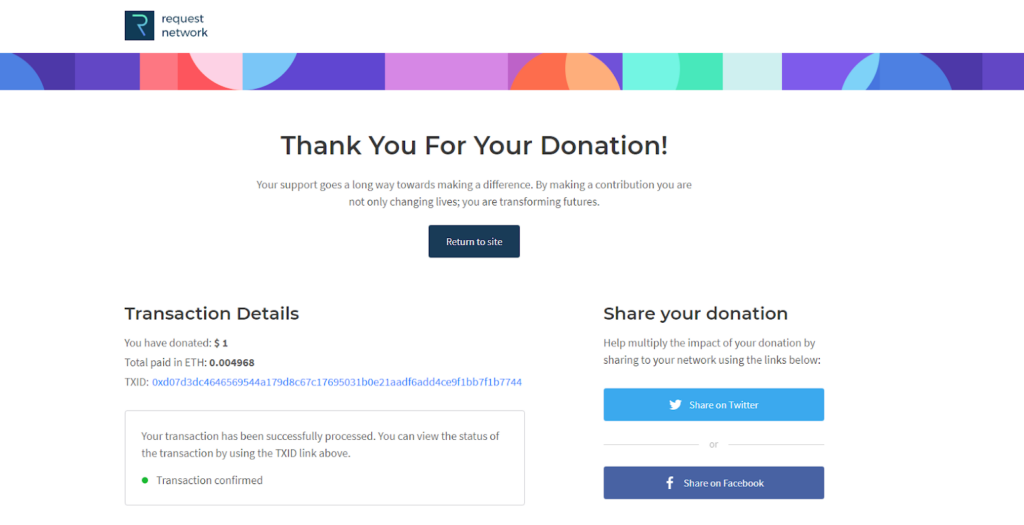 Once done, your transaction will be broadcasted to the Ethereum network and you may monitor your transaction using an Ethereum block explorer such as Etherscan.
And just like that, you have supported CoinGecko!
About Request Donations

Request Donations seamlessly allows websites to accept an array of cryptocurrency donations in seconds. No technical worries, expensive overheads or complex integrations. Just a simple and easy-to-implement solution that works.
As Request Donations is open source, you can easily download the code and run it entirely on your servers, without having to trust any third party. All donations are processed by the Request Network smart contracts which are public, auditable and verifiable – complete donation transparency from start to finish.

Request Donations is built on top of the Request Network, an open platform for creating payment requests through blockchain technology. This leaves less room for human errors in making cryptocurrency donations because critical information such as the receiver address is pre-filled in. This makes the user experience of making a crypto payment seamless.

Learn more about Request Donations by visiting https://donations.request.network or find the full source code on Github.
About CoinGecko
CoinGecko aims to provide a fundamental analysis of the crypto market. In addition to tracking price, volume and market capitalization, CoinGecko tracks community growth, open-source code development, major events and on-chain metrics. CoinGecko's objective is to elevate crypto participants'  understanding of fundamental factors that drive the market. CoinGecko is one of the largest and earliest crypto data aggregators, operating since early 2014. It currently tracks over 3,000 tokens from more than 240 cryptocurrency exchanges. For more information, visit https://www.coingecko.com.