It is with great pleasure and excitement that we announce the release of a new section on CoinGecko called CoinGecko Earn and the publication of the world-first Decentralized Finance (DeFi) book titled How to DeFi.
CoinGecko Earn
As we have all been aware, the DeFi ecosystem has grown a lot in the past couple of years. In February 2020, approximately 3 million ether worth $1 billion was locked in DeFi applications with lending products leading growth in this sector. The DeFi sector is very interesting and full of opportunities and we at CoinGecko want to help you unlock and realize these opportunities by providing actionable insights to you.
CoinGecko Earn, as the name suggests, will provide you with an overview on the returns on various cryptocurrency lending/staking platforms. In addition to returns, CoinGecko Earn will also provide you with additional data (where available for both centralized and decentralized platforms) to also display security audit records, DeFi risk scores and more.
Here's a brief overview on two of the key features of CoinGecko Earn:

(i) Annual Percentage Return (APR) Calculator – This calculator helps you to visualize how much you can potentially earn if you use this lending platform after 1 month, 1 year, 5 years, and 10 years.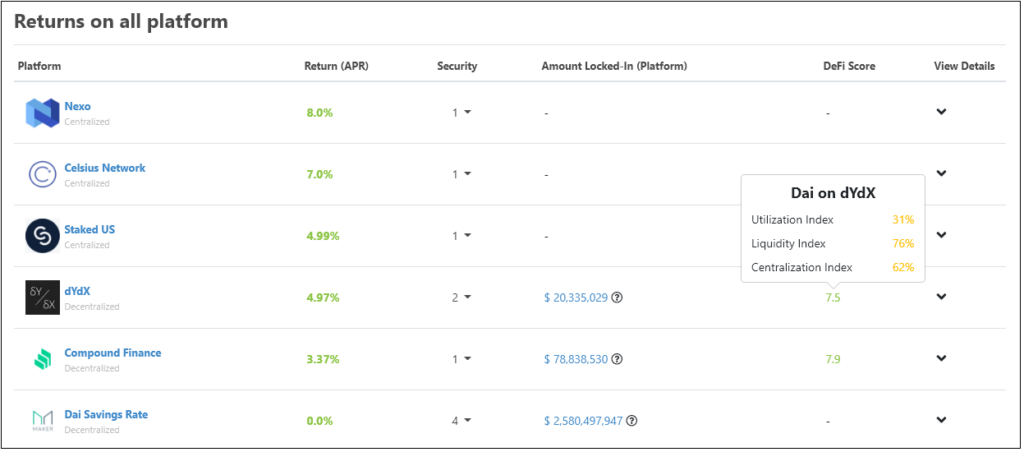 (ii) Overview – This section covers the following data:
Platform details – all you need to know about the platform in a few short sentences.
Return (APR) – shows APR of the selected cryptocurrency on the platform
Security – Contains links to security-related information for each platform, such as security features, audits, and more.
Amount Locked-in – Refers to the total amount of money locked onto a platform. Currently only available for DeFi applications.
DeFi Score – Taken from DeFiScore.io, DeFi score measures the risk of a platform by accounting for smart contract risks, centralization risks, financial risks, and more.
With return rates on over 50 cryptocurrencies and platform details on both centralized and decentralized cryptocurrency lending platforms, CoinGecko Earn is the most comprehensive cryptocurrency interest rate site. We believe that the crypto space is filled with opportunities, and it would be a pleasure for us to unlock that value for you through data.
How to DeFi Book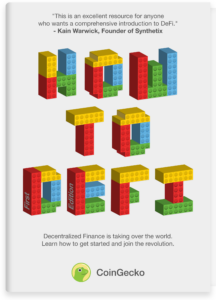 Together with the launch of CoinGecko Earn, we are also releasing "How to DeFi", the first-ever book published covering the DeFi ecosystem. Packed with concise and comprehensive step-by-step guides on getting started with the various DeFi applications, this book will both serve as a great introductory material to newcomers to the space, as well as reference material for the seasoned veterans.
This book is the culmination of hours of research, as well as countless frenzied writing sessions – DeFi moves fast and so will we! This book is priced at $14.99, but we really want to thank all of our lovely supporters (yes, you!) for the support shown to us. Thus, we will be making this book available for free digital downloads during the first month of publication till 30 April 2020.
You can download our book on CoinGecko and also on Amazon. Do leave us a 5-star rating on Amazon after reading our book.
Closing Remarks
In our mission to democratize access to crypto data, we consider the release of our CoinGecko Earn section and How to DeFi book a huge step forward in making DeFi accessible to a more mainstream audience. Both of these products will be invaluable to users looking to make returns from their assets, or simply to learn their way around in this new, decentralized financial system.
This release is a reflection of our continued dedication to the DeFi sector, as we have done previously by collaborating with decentralized data oracles, ChainLink and Band Protocol by providing our cryptocurrency market data that powers their oracles.
As always, we remain committed to delivering data in actionable formats to help you make informed decisions. Thank you once more for your time, and we hope you've enjoyed reading about this release as much as we have creating them!
CoinGecko Earn and How to DeFi book can be accessed at the following links: