We are proud to announce that CoinGecko is setting up our first masternode with TomoChain. This marks our first step in the world of block validation.
We have been keeping a close tab on the growth of masternodes and made a special segment with Masternodes.online in our Q3 report. With the help of the TomoChain team, we are looking forward to learning more on how these different forms of governance operate on the blockchain.
Currently, we are already running a masternode on TomoChain's testnet and will be ready to begin validating blocks as soon as TomoChain's Mainnet launches on 14 December 2018.
Why TomoChain?
TomoChain's aim is to be a leading force in building the Internet of Value. The team aims to create an alternative, scalable financial system which is more secure, transparent, efficient, inclusive and equitable for everyone. TomoChain features a 150-Masternodes architecture with Proof of Stake Voting (PoSV) consensus for near-zero fee and instant transaction confirmation.
TomoChain supports all Ethereum Virtual Machine (EVM) compatible smart-contracts, protocols, and atomic cross-chain token transfers.
TomoChain's masternode has a built-in mechanism for stakers to share in the masternodes reward. For the first 2 years after Mainnet launches, 250 TOMO will be shared in each epoch between the 150 masternodes. Block time on TomoChain is 2 seconds and each epoch consists of 900 blocks, therefore each epoch on TomoChain lasts for 30 minutes.
The 250 TOMO will be divided proportionally among the 150 Masternodes based on the number of signatures they sign during the epoch. Assuming all 150 Masternodes stay active and online during the epoch, this means that each fully active Masternode will earn 1.667 TOMO per epoch.
The masternode reward will get divided as follow:
10% Foundation Reward given to the Masternode Foundation (currently run by TomoChain)

40% Infrastructure Rewards given to the Masternode Operator

50% Staking Reward given to Masternode voters, shared proportionally based on token stakes
Further information on the staking reward can be obtained in TomoChain's Economic Paper.
Vote for CoinGecko MasterNode
If you are a TOMO token holder, do ensure you are prepared for Tomochain's Mainnet swap. You may find more information in this post. After the Mainnet launches, holders of TOMO will be eligible to stake their tokens with Masternodes Candidates to earn a share of the Masternode's reward.
We hope that with the launch of CoinGecko's Masternode on Tomochain, our fans can support us by giving us a vote of approval and join us in starting our first ever Masternode. If you haven't owned any TOMO but would like to support CoinGecko and consequently earn a share in the Masternode's reward, you can still easily purchase some TOMO right from CoinGecko.com itself.
How to Vote for CoinGecko
We recommend following this Medium post for a step-by-step guide on using the TomoMaster dApp to vote for CoinGecko Masternode:
Our Masternode name is "coingecko".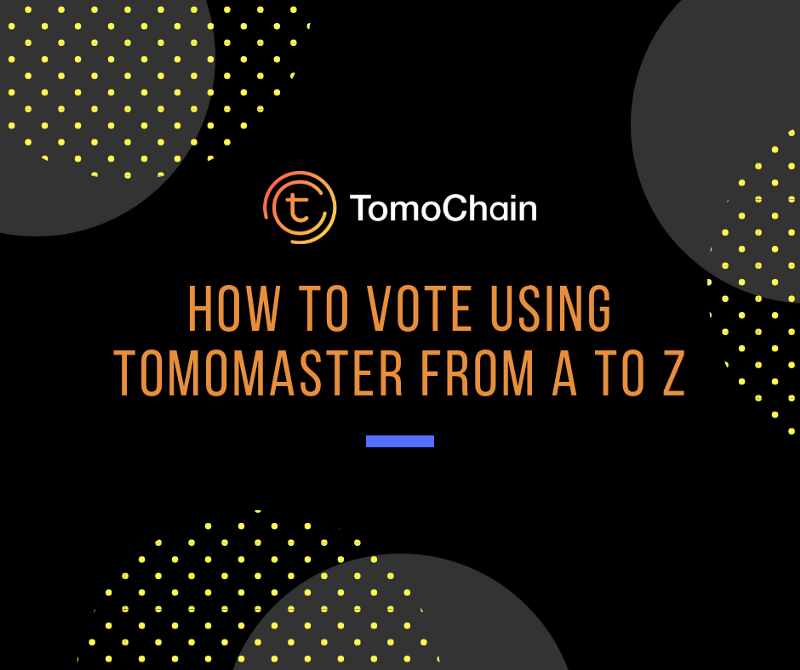 Thank you in advance for voting for us and we look forward to sharing the staking rewards with our voters.
What can we do to help?
As a company with our experience in running web services, we are confident to reflect our expertise in being involved with the Tomochain ecosystem. We want your feedback for what we can do to contribute to TomoChain.
We want to be more directly involved with the TomoChain ecosystem and contribute to the PoSV Algorithm Consensus development. If you have staked your vote in CoinGecko masternode, feel free to approach us directly to tell us what you expect of us and what we can do to make TomoChain better. We are also keen on hearing suggestions and opinions from the greater TomoChain community.
About TomoChain
TomoChain is a public blockchain that supports almost instant confirmations, near zero transaction fees, and smart contracts via a system of 150 masternodes — which aim to be a solution for decentralized apps, token issuances and token integrations for small and big businesses alike. Security, stability and chain finality are guaranteed via novel techniques such as double validation, staking via smart-contracts and randomization processes. For more information, visit https://tomochain.com
About CoinGecko
CoinGecko aims to provide a fundamental analysis of the crypto market. In addition to tracking price, volume and market capitalization, CoinGecko tracks community growth, open-source code development, major events and on-chain metrics. CoinGecko's objective is to elevate crypto participants' understanding of fundamental factors that drive the market. CoinGecko is one of the largest and earliest crypto data aggregators, operating since early 2014. It currently tracks nearly 3,300 tokens from more than 260 cryptocurrency exchanges. For more information, visit https://www.coingecko.com.