Edit: We are no longer actively maintaining an IoTeX Consensus Delegate node. We advice all delegates to redelegate to other IoTeX nodes.

---

We are proud to announce that CoinGecko will be running to be an IoTeX Consensus Delegate. This will be our fourth block validator that we will be running after Tomochain, Steem, and IOST.
We have been keeping a close tab on all upcoming block validator opportunities and after evaluating IoTeX, we have decided to make a bid as an IoTeX Consensus Delegate. The IoTeX Election will begin on Monday, 11 March 2019 and you can see CoinGecko's IoTeX delegate profile here.
Why IoTeX
IoTeX is a privacy-centric blockchain platform targeted for the Internet of Things (IoT). The IoTeX team believes that by introducing a token into the IoT space, it will place strong incentives to drive innovation forward. This will help increase the chances of an IoT "killer application" being developed to help drive IoT mass adoption.
For more information on IoTeX, you may refer to the IoTeX whitepaper.
IoTeX Consensus Delegate
IoTex has recently announced that they are introducing a digital democracy system where token holders can elect 36 Consensus Delegates to help manage consensus on behalf of the entire IoTeX network. IoTeX Consensus Delegates are responsible to maintain servers and the IoTeX network, creating and validating blocks, and also processing smart contracts and transactions.
Token-holders who vote for one of the IoTeX Consensus Delegates will be able to earn a share of the rewards given to the IoTeX Consensus Delegates. There are 3 parts to the IoTeX Consensus Delegates rewards, namely:
Fixed reward for every IOTX block mined (16 IOTX per block)

Extra IOTX reward from the IoTeX Foundation in Year 1

Epoch bonus reward
For more information, you may refer to the IoTeX Consensus Delegate Handbook.
We have announced that we will be distributing 85% of all IoTeX rewards received by being a Consensus Delegate. We expect to implement an automatic reward distribution mechanism where rewards will be distributed every 7 days.
Vote for CoinGecko
To vote for CoinGecko,  you can follow this step-by-step guide to staking. Our detailed IoTeX Consensus Delegate campaign manifesto is outlined in our IoTeX delegate profile here.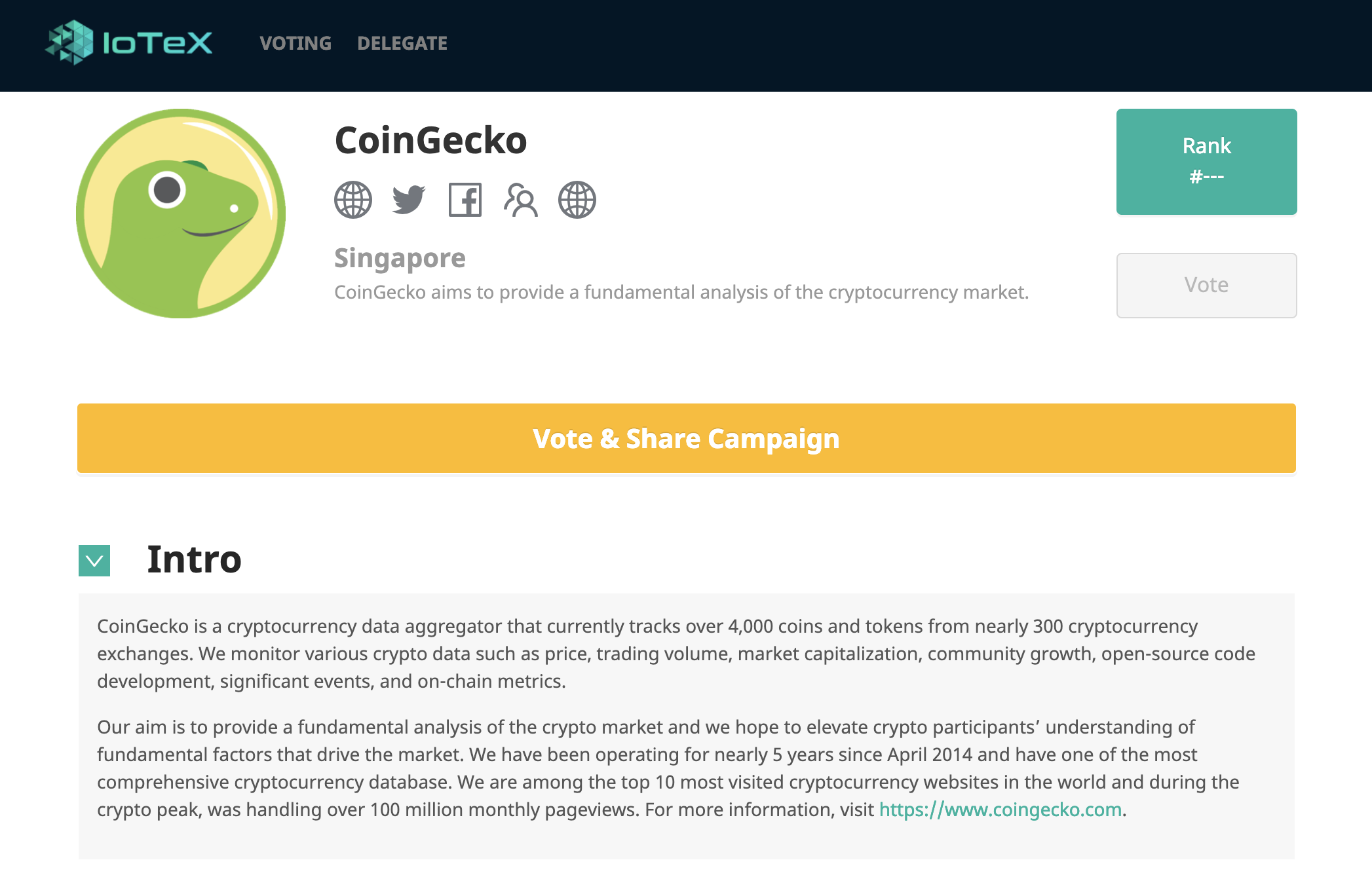 In the delegate profile above, we outlined our plan to help grow the IoTeX ecosystem and provide accurate market data for IOTX. You may expect to see more news about IoTeX and contests and giveaways in the coming months.
We hope that our community and fans can support us by giving us a vote of approval in the IoTeX election starting this Monday, 11 March 2019. We hope to replicate the success of our Tomochain masternode where we are currently the second most-voted Tomochain masternode.
If you do not yet own any IOTX but would like to support CoinGecko and consequently earn a share in our Consensus Delegate reward, you can easily purchase IOTX from one of the exchanges trading IOTX as listed on CoinGecko.
Once you have IOTX, you can follow this step-by-step guide to start staking for CoinGecko.