CoinGecko is proud to announce that our cryptocurrency market data currently available via our API will soon also be made available on Chainlink's decentralized oracle network. This is an important development because smart contracts are unable to access data from outside their network and therefore need oracles to connect with external data.
What is an oracle?
According to Shermin Voshmgir in his Token Economy book, "Oracles are services that send and verify real world occurrences and submit this information to smart contracts, triggering state changes on the blockchain." Information from the real world could be any data such as the temperature, commodity prices, flight delays, and so on.
You can think of oracles as a middleware that connects real-world data with the blockchain. This image sums up how any data input or settlement output API can be connected to the blockchain via an oracle.

What is Chainlink?
Chainlink is a decentralized oracle network that evaluates multiple sources of the same data and feeds them into smart contracts. By evaluating multiple sources for the same data, it eliminates any single point of failure, thereby maintaining the integrity of the oracle. You can read more about Chainlink by reading their whitepaper or visiting their website, Twitter or Telegram. If you're a developer, visit the developer documentation or join the technical discussion on Discord.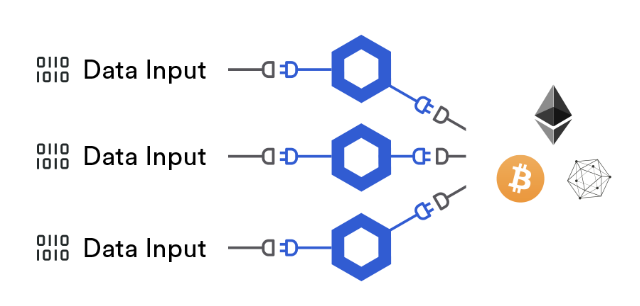 What data will become available?
CoinGecko's cryptocurrency market data such as price, trading volume, and market capitalization can now be easily called by smart contract developers when developing decentralized applications. This data is available for Bitcoin, Ethereum, and over 5,700 coins that are currently being tracked on CoinGecko.
Exchange data can also be easily called by smart contracts such as the total volume on Binance. You can also call prices and volume for each trading pair on exchanges such as the  BTC/USDT price on Binance. 
How do I access the data?
To access CoinGecko's data using Chainlink, do refer to the following documentation here: https://docs.chain.link/docs/coingecko-chainlink-testnet
If you have any questions or feedback, feel free to contact us at support.coingecko.com