We are super excited (as always!) to announce the release of our Q1 2020 Quarterly Cryptocurrency Report! Our 55-page cryptocurrency report provides an overview on the state of the cryptocurrency sphere and world events.
This is likely one of our most comprehensive reports yet – spanning spot, derivatives, traditional markets as well as crowdsourced insights on the decentralized finance (DeFi) scene. Here's a sneak peek of what the Q1 2020 Quarterly Report covers:
Cryptocurrency Market Overview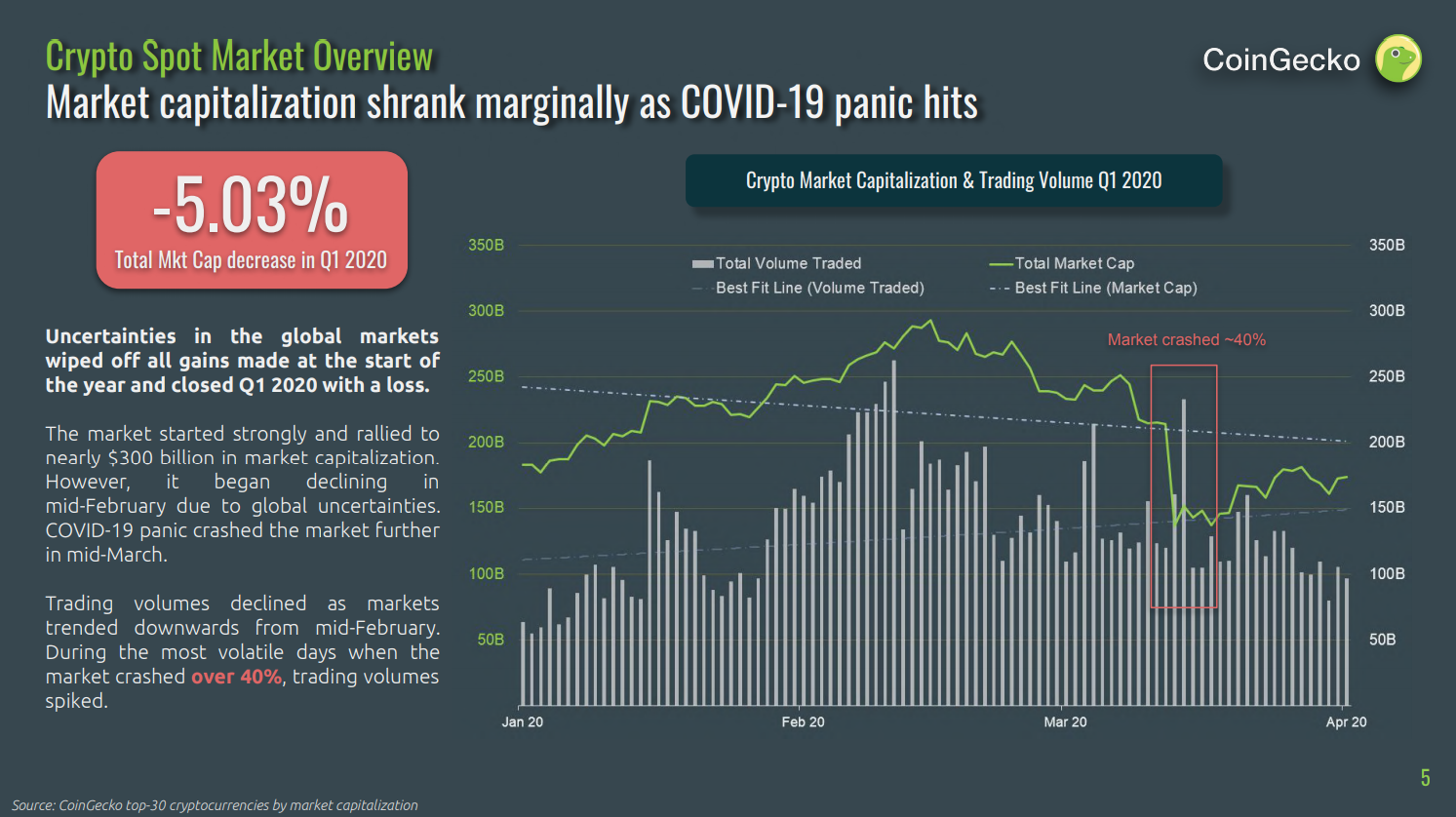 Q1 has been a very rough ride – The global recession could not have come at a worse time with the COVID-19 pandemic grinding the world economy to a halt. Bitcoin, as well as many other cryptocurrencies, fell by over 40% in a single day. However, since the crypto market had a relatively good start to the year, the market only shrank by a marginal 5% as Q1 2020 closed.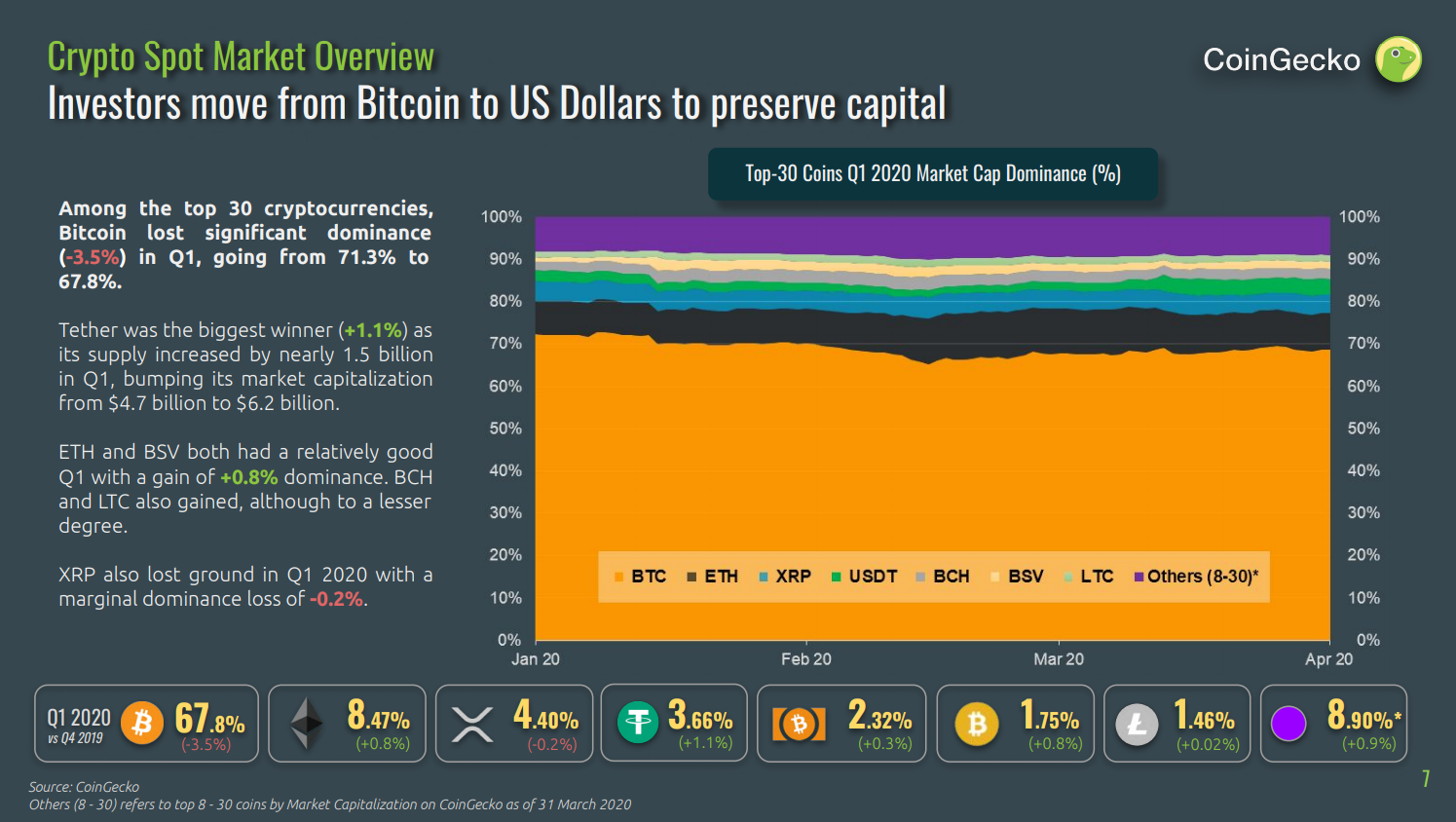 Investors' flight to safety can be clearly seen in this quarter. Bitcoin lost a significant amount of market dominance (-3.5%), while the top USD Stablecoin, Tether (USDT) gained 1.1% in market dominance. ETH and BSV also saw its market dominance increase slightly in Q1.
Crypto Derivatives Insights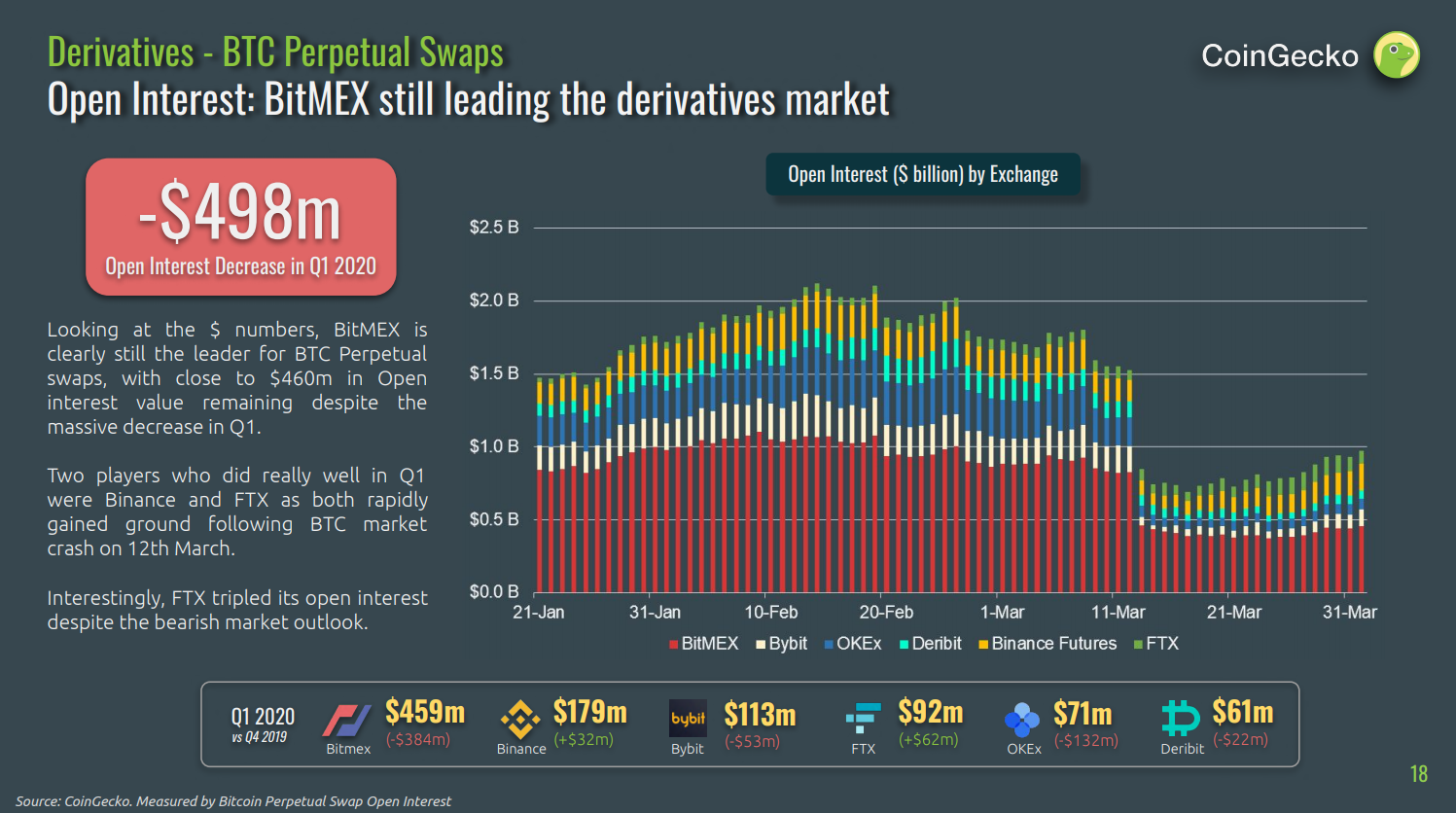 Perpetual swaps, created by BitMEX, remain as one of the most popular forms of crypto derivatives traded. The entire crypto-derivative market saw a massive drop in Open Interest on 12 March with BitMEX bearing the brunt of loss. Although BitMEX remained the leader for open interest, Binance Futures saw large gains in market share in Q1. Looking at Bitcoin Perpetual Swap trading volume, Binance Futures has dethroned BitMEX as the top derivative exchange. Binance Futures' Bitcoin Perpetual Swap volume dominance increased from 22.9% to 38.0% in Q1.
Traditional Markets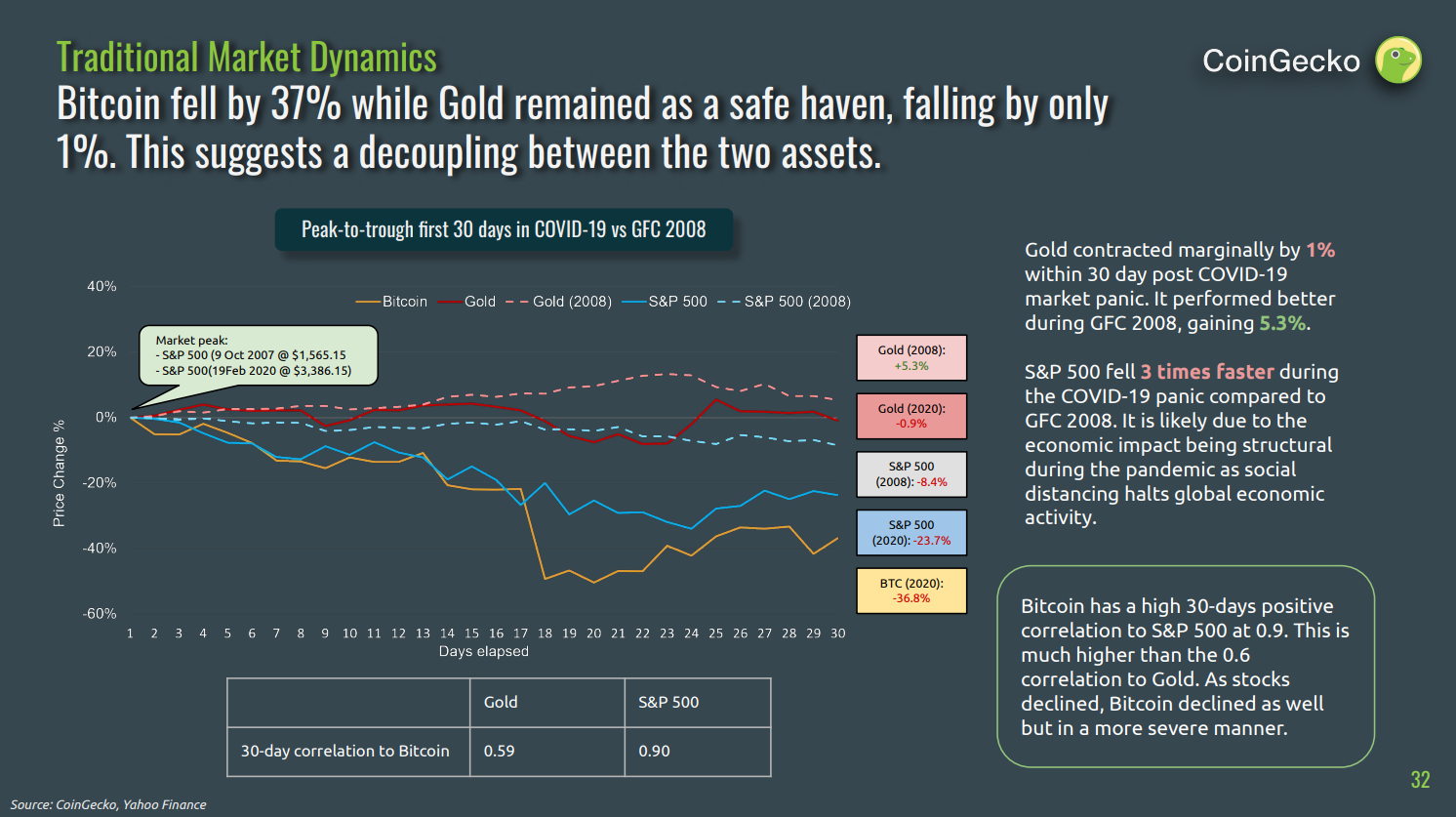 One question loomed all over the financial industry throughout the crisis – "Is Bitcoin a safe haven?" While we cannot offer a definitive answer, we looked into the data to compare how Bitcoin – the bellwether of cryptocurrencies, fared against other traditional assets.
The market crash wiped out all the gains S&P 500 made in 2019. As for Bitcoin, despite plunging over 3 times greater than the stock market during 2020's Black Thursday (March 12), it actually fell by 11% by the end of Q1 compared to S&P 500 fell by 21%.
When compared to Gold, Bitcoin showed a positive 5-year correlation of 0.6, suggesting that this was a major reason people believe in the long-term viability of Bitcoin as a safe haven similar to Gold.
DeFi survey
This time around, we also did something different – we ran a survey involving some 700 people from all around the world and gathered some very interesting insights on the DeFi markets.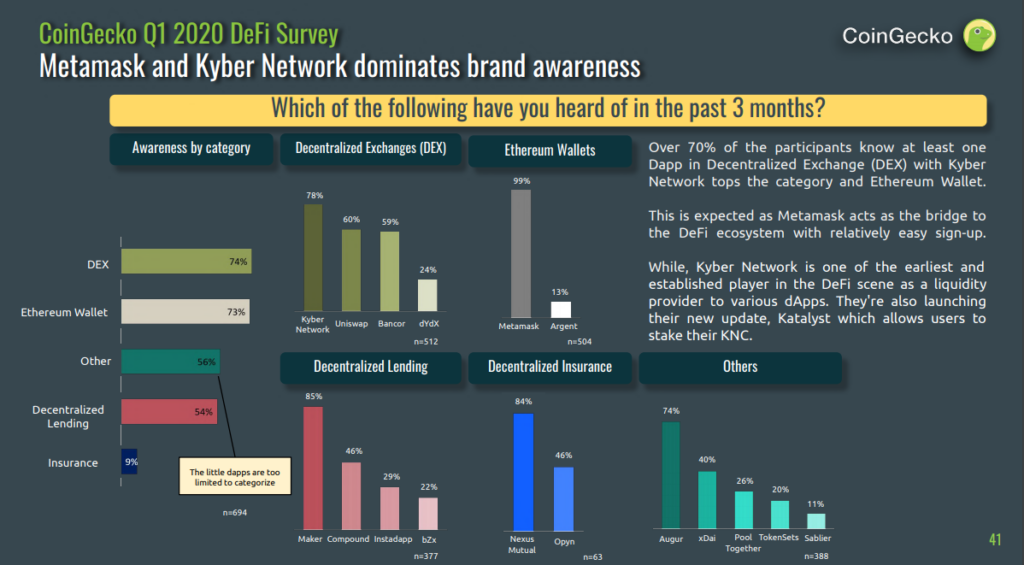 Based on our survey, half of the participants who are familiar with DeFi said that they would go completely bankless as they do not trust the banking system. Those who are on the fence said that they could not go completely bankless as there are some transactions that needed to be done with traditional banks that DeFi could not do so yet such as business loans and personal emergency funds.
What, you want more? Told you this is a sneak peek – click the link below and download the full copy of CoinGecko's Q1 2020 Quarterly Report for yourself!
We have included a short feedback form at the end of our Q1 2020 report. Do fill it up if you have a moment – it will really help us out! As always, if you have any questions, please feel free to send us a request at support.coingecko.com. We'd love to hear from you!