We are pleased to announce the release of our CoinGecko 2019 Quarter 3 Cryptocurrency Report. The 56-page report provides an overview of the state of the cryptocurrency market and the major events that took place during the third quarter of 2019.
A big thank you to Dapp.com for collaborating with us and contributing to this report!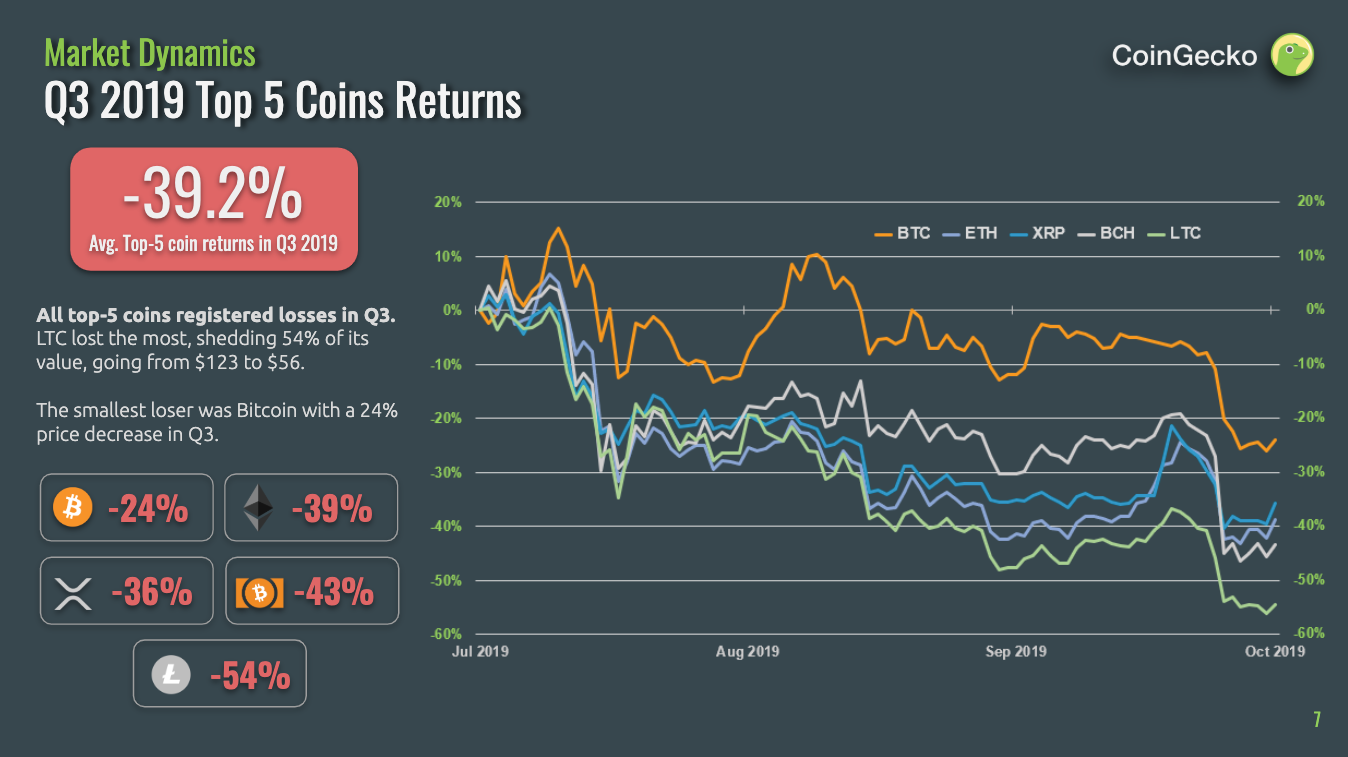 Just like the natural seasons, the crypto summer has ended and falling crypto prices are marking the start of the crypto autumn. Q3 was a relatively stable quarter for Bitcoin. It remained above $10,000 for most of Q3, though during the last week of September it experienced a sharp fall of 17.6%. Overall, Bitcoin ended the quarter down 24%, having started the quarter at $10,888 and ending at $8,271.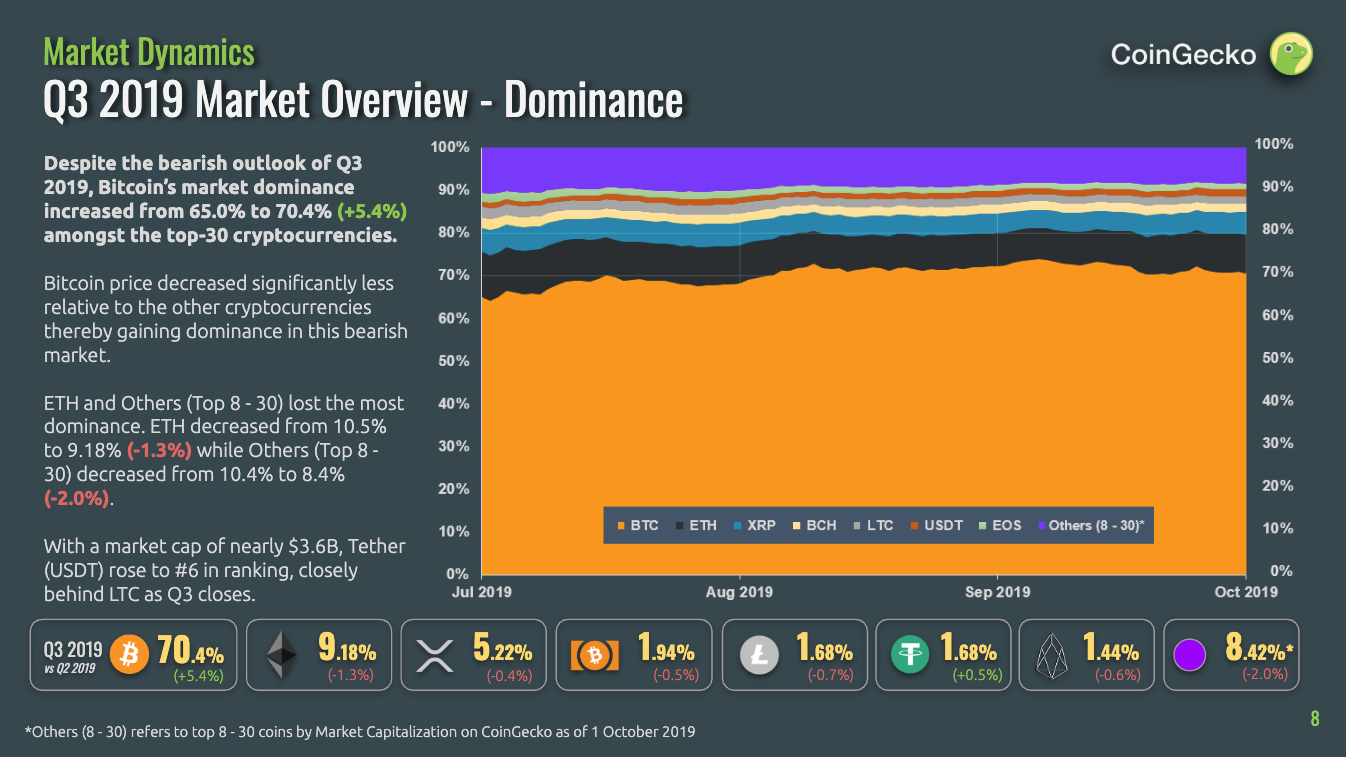 Although Bitcoin suffered a 24% fall in price in Q3, other cryptocurrencies experienced even larger falls. Among the top 5 cryptocurrencies by market capitalization, Ether fell by 39%, XRP by 36%, Bitcoin Cash by 43%, and Litecoin by 54%. The overall market capitalization decreased by 29.1% or nearly $100 billion.
Bitcoin saw its market dominance increase from 65.0% to 70.4% (+5.4%) amongst the top 30 cryptocurrencies. Stablecoins saw its market dominance increase and its market capitalization rank increase in Q3.

Highlights from the CoinGecko Quarter 3 Report
Here are some notable highlights from this quarter:
300% Growth in Derivatives Exchanges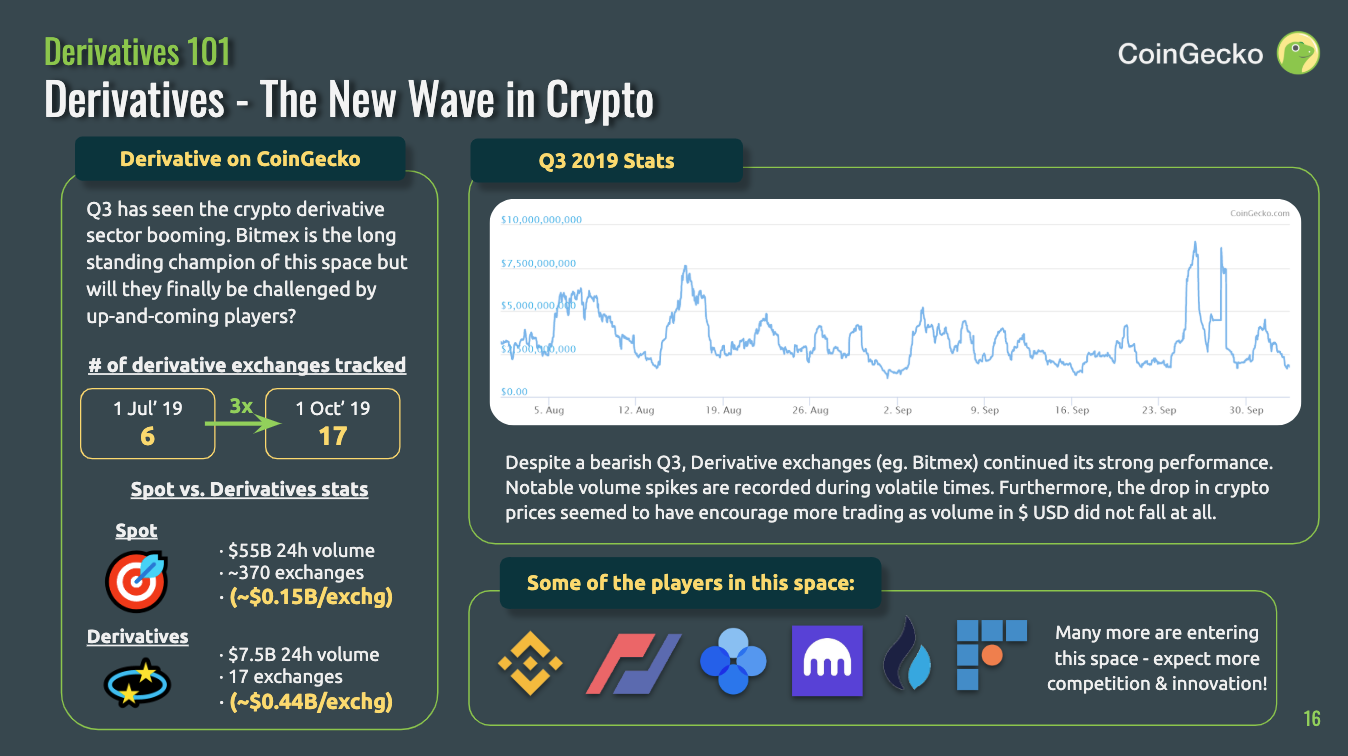 This past quarter, the crypto industry experienced rapid growth in the derivatives sector. On CoinGecko, there was a 300% increase in the number of derivatives exchanges tracked, from 6 exchanges to 17 exchanges. Binance, the largest spot exchange by trading volume, is also now involved in the derivatives market. It launched Binance Futures and acquired JEX, a small derivatives exchange.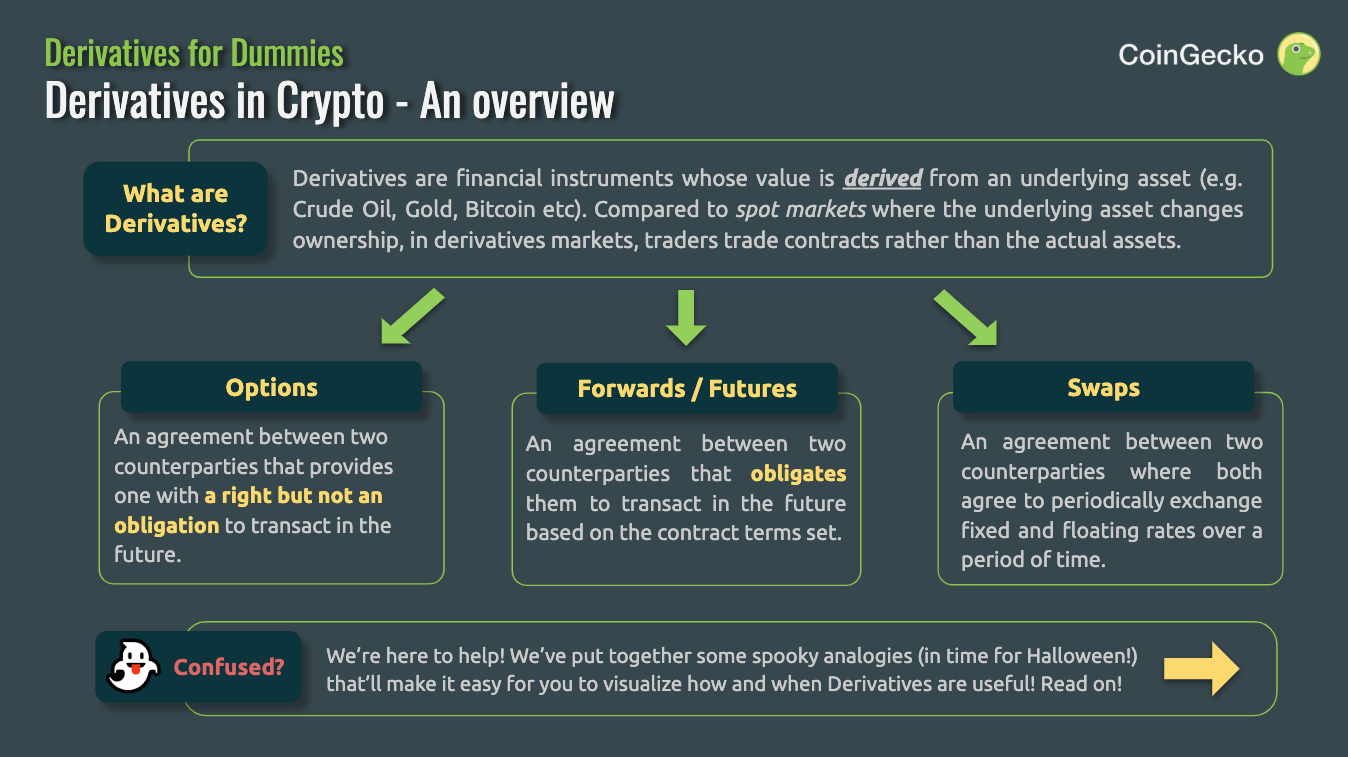 In this report, we included a "Derivatives for Dummies" section – an introductory and entertaining guide that will educate you on this complex subject. The section covers basic topics such as futures, options, and perpetual swaps, as well as provides a glossary for advanced topics.
DeFi Industry Overview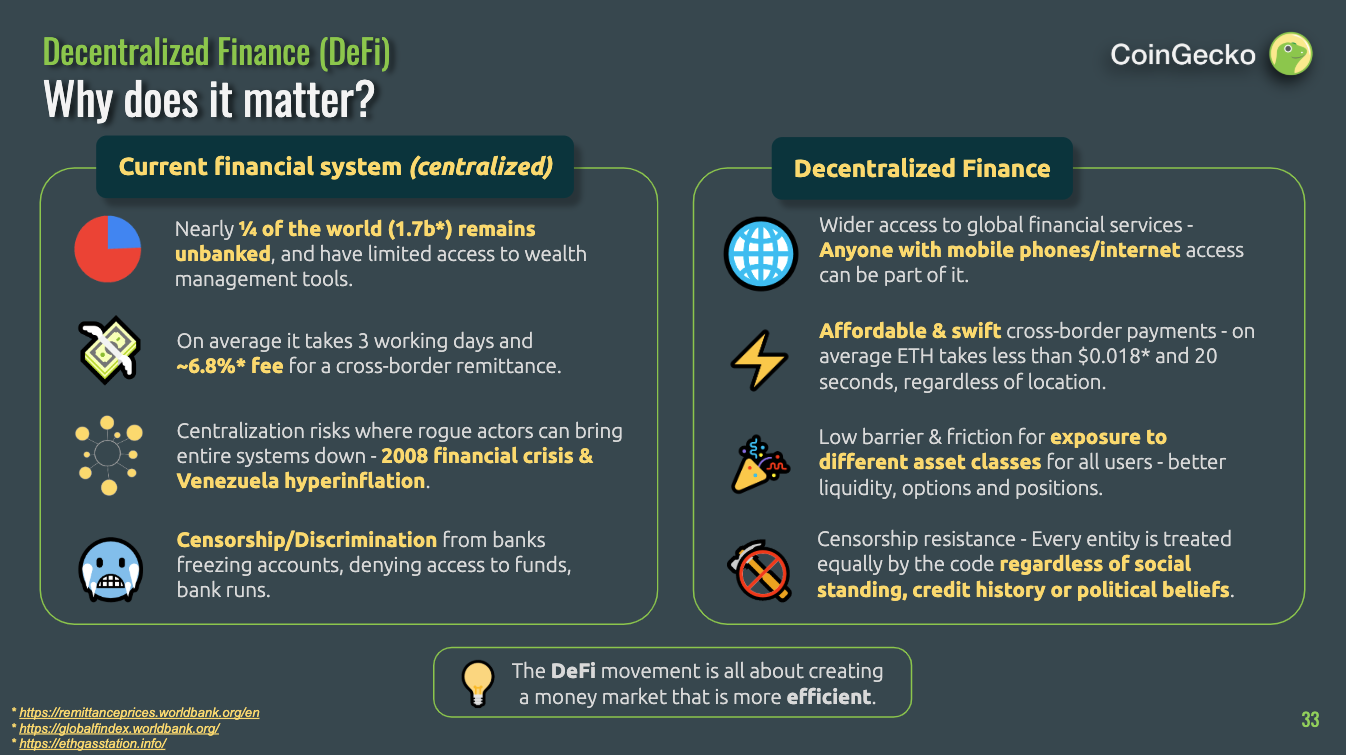 Over the past year, the DeFi (Decentralized Finance) space has shown strong growth. Within the span of one year, the amount of ether locked in smart contracts to power DeFi has tripled to approximately 2.9 million. 
With the aim of creating a more efficient money market, DeFi has seen strong growth in the types of applications coming on board. The most popular applications in the DeFi space are in the lending, derivatives, decentralized exchanges (DEX), and payment services. This report explores key projects in the DeFi ecosystem, such as MakerDAO, Compound, Set Protocol, Synthetix, bZx Protocol, and Akropolis. 
CoinGecko Releases "Trust Score 2.0"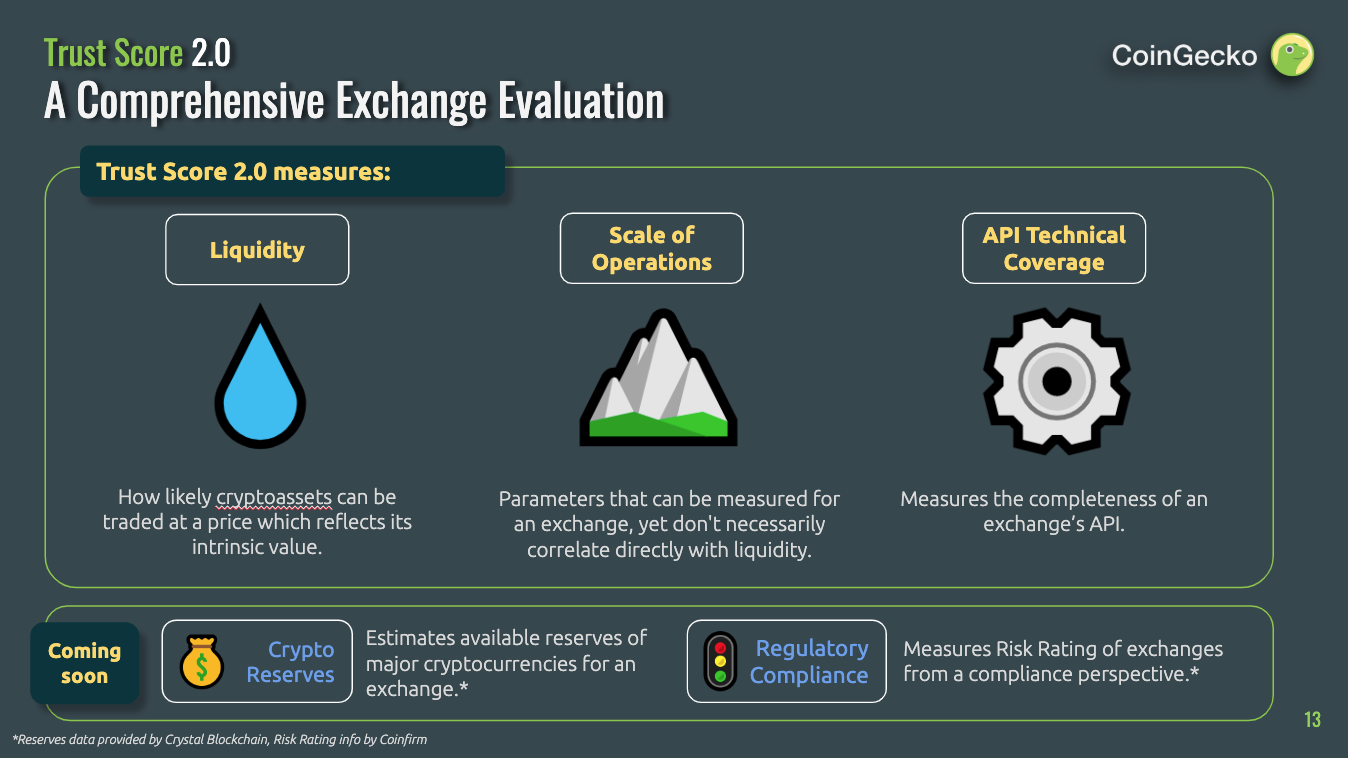 In May 2019, we launched Trust Score to provide additional insights into crypto exchanges' real liquidity through order book and web traffic analysis. This was necessary to combat exchanges' fake volume and to improve transparency amongst cryptocurrency exchanges. 
Building upon the success of this, we developed Trust Score 2.0, which incorporates additional metrics and is bucketed into 5 major categories: Liquidity, API Technical Coverage, Scale of Operations, Cryptocurrency Reserves, and Regulatory Compliance. 
Free to Download
Need the latest crypto insights? You can download the full, in-depth 2019 Q3 CoinGecko Report via the link below. 
For questions and comments, drop us a request at support.coingecko.com. We would love to hear from you.