CoinGecko is celebrating our 5th anniversary today and we would like to celebrate this milestone by launching NFTGecko, a forum focused on the Non-Fungible Tokens (NFT) community. We are big fans of NFT and we believe there is a huge growth opportunity in this space.
We have been following the development of NFT very closely for the past year and are happy that today we are making our first major step with the launch of this forum. With NFTGecko, we plan to curate information and the latest news surrounding NFT and we would like to invite you to join as to discuss all things NFT related with fellow NFT fans all over the world.
A Primer on NFT
For those of you who are not familiar with Non-Fungible Tokens, here is a short introduction for you. NFT are special cryptographic tokens that are different from other cryptocurrencies such as Bitcoin or Ether. NFT have characteristics that make them unique and non-interchangeable. A simple analogy is to imagine NFT as baseball cards and cryptocurrencies as cash.

NFT made its mark with the success of CryptoKitties. CryptoKitties allow users to own, trade and "breed" virtual Kitties on the Ethereum blockchain.
NFT however, represents more than just virtual trading cards, just like how cryptocurrencies paved new ways to reassess the ideas and functions of money. NFT represents a new paradigm to the ownership of virtual goods.
Projects such as Decentraland, Axie Infinity, and Cryptocars push the idea of NFT beyond just virtual trading-card-like games. Even as you read this, more advancements in NFT are being created and developed, potentially giving rise to future use cases that are still unexplored today.
The Role of NFTGecko
We at CoinGecko foresee that the NFT space will grow exponentially in the years to come and believe that we can put our expertise to good use and help grow the NFT industry. We believe that the NFT space in 2019 is like the cryptocurrency space in 2014 where we see groups of talented and passionate people building projects to push the space forward.
We hope that with the launch of NFTGecko, we can help build a community of like-minded NFT individuals to discuss ideas to push the industry forward. We have an Introduce Yourself thread in the forum and we hope you come by and say hi to us and why you are passionate about NFT.
We will be publishing articles, news and insights in the NFT space in NFTGecko in the weeks and months to come and we encourage other members of the community to share thoughts as well.
Axie and Neon District Giveaway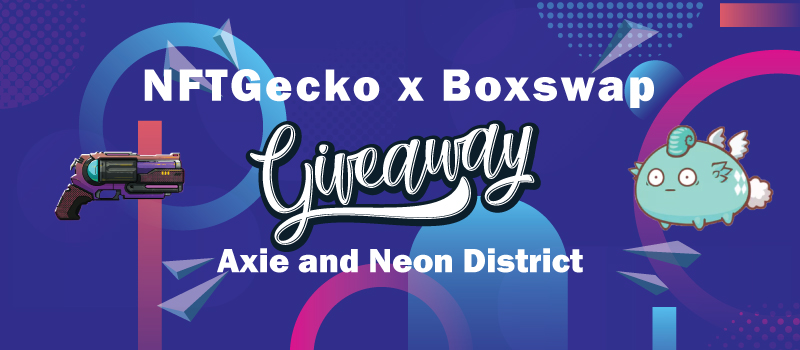 In conjunction with the launch of NFTGecko, we are partnering with BoxSwap to do a giveaway running for two weeks until 21 April 2019. We will be giving out a mystery Origin Axie and an Ultra-rare Neon District item to 2 lucky winners!
BoxSwap is a platform built on 0x and Ethereum for managing ERC-20 and ERC-721 assets in gaming communities. Current products span from atomic NFT swaps, wallet, and trader marketplace profiles (i.e. boxswap.io/profile/mike). They take part in growing the blockchain gaming community with fun events such as raffles, giveaways, and even trivia nights.
To participate in this giveaway, follow these steps:
Retweet this post and introduce yourself on

NFTGecko forums

!

Follow @boxswapio, retweet, and comment your Boxswap profile URL at
https://twitter.com/boxswapio/status/1115262758151319552
Terms and Conditions
Each user can only submit one entry. Submission of multiple entries will result in automatic disqualification.

Submission of a low-quality introductory post in the NFTGecko forum will result in disqualification.

   

Giveaway period is from 8 April 2019 at 10:00 PM Singapore Time (GMT +8) to 21 April 2019 at 09:59 PM Singapore Time (GMT +8)

Winners will be selected by the CoinGecko team on the week of 22 April 2019 and the winner announcement will be made shortly.
Do join us in this giveaway and may you be the lucky person winning an Ultra-Rare Neon District item or an Origin Axie!