CoinGecko is happy to announce that we are partnering with Axie Infinity, a leading blockchain-based gaming decentralized application. Axie Infinity makes use of Non-Fungible Tokens (NFT) to store in-game assets. We at CoinGecko see strong growth in NFTs and have covered this topic extensively in our 2018 Full Year and 2018 Q3 Crypto Report.
What is Axie Infinity?
Axie Infinity is a blockchain start-up which creates decentralized applications. Currently creating Lunacia – an open world owned, operated, and controlled by players. Lunacia is divided up into tokenized plots of land, called Terra, which can be purchased, rented out, and developed by players. Landholders can upgrade and customize their territory to host shops, Chimera summoning beacons, produce resources, house NPC's, and even act as access points for dungeons! Independent developers, content creators, and companies will be able to seamlessly build on top of Lunacia using clickable wormholes as a launchpad for this content. The possibilities are infinite! For more information, visit https://axieinfinity.com/.
CoinGecko Terrarium Item Giveaway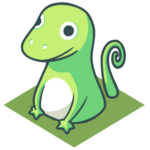 To celebrate this partnership, Axie Infinity will release CoinGecko-themed time-limited, epic Terrarium Item. CoinGecko and Axie Infinity fans can collect these NFT and enjoy special in-game benefits to gain an edge in their gameplay.
The items are available for a limited time only! To stand a chance of winning this Terrarium Item, do participate in our joint Gleam giveaway with Axie Infinity here: