Bootstrapped in 2014, CoinGecko has since grown to serve almost all corners of the crypto market. From curious casual users to day traders, crypto companies, and institutions. We now serve over 200 million pages to over 11 million users and also over 10 billion API data calls per month. You can bet we're not going to stop pushing forward!
It goes without saying that we owe our growth to all of our users who support us in many different ways. We wouldn't be able to proudly say that we are where we are today without everyone's support.
As the market leader of independent, unbiased, and neutral crypto data, we are committed to continue serving the crypto community. And we want to do this as best as we can. In this extremely fast-paced space, we're aware that minimizing distraction is key in getting actionable information for the best experience. And that is why we are introducing CoinGecko Premium and CoinGecko Premium+ subscription plans (yes, our product guy is really good with names!).
Let's take a quick look through CoinGecko Premium to see what it means for you!
CoinGecko Premium

When you subscribe to be a CoinGecko premium user, you will enjoy a smooth ad-free experience on all CoinGecko platforms. This includes web, mobile app, and even the newsletter! On top of that, you can claim an exclusive CoinGecko Genesis Premium NFT, which allows you to participate in our quarterly CoinGecko premium lucky draw! Head on over to your Subscription page to claim it.

You will also get to munch on more sweet Candies with your new daily collection boost of 1.1x the usual amount. That's 10% quicker than others! This means that you can easily redeem more of our awesome rewards 😉
CoinGecko Premium+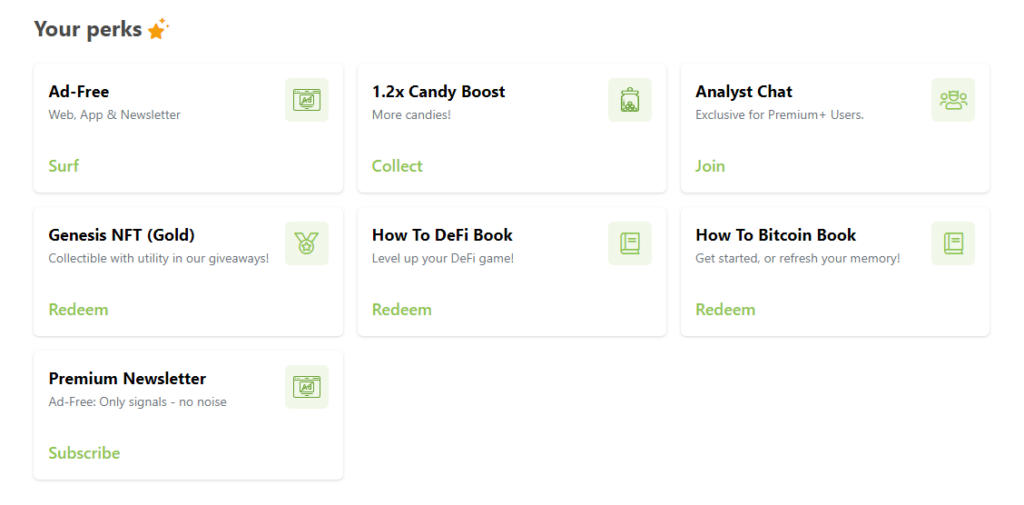 For our CoinGecko Premium+ users, you also get to enjoy an ad-free experience on all CoinGecko platforms – web, mobile app, and newsletter. Additionally, you will have exclusive access to selected publications. This includes our critically acclaimed "How to DeFi" and "How to Bitcoin" books. We have more in the works, so make sure to stay tuned!

Got a sweet tooth? We will be boosting your Candies collection up by 1.2x for you to redeem more rewards – get candies 20% quicker than everyone else, and be the first to claim new rewards!
Don't forget to claim your own distinctive CoinGecko Genesis Premium+ NFT to enter your very own CoinGecko Lucky Draw. Head on over to your Subscription page to claim it. Lastly, we want to get to know you a little better which is why we are putting together a Telegram channel with our analysts where they can share insights, research, and more with you. Let us know what your Telegram ID is in your Profile page!
That's All… For Now 😉
We remain committed to our mission of democratizing access to independent and reliable data as well as bringing actionable insights to crypto users, and we're not letting this change anytime soon. For all our existing users – all our features, tools, and experience will remain the same as before.
CoinGecko Premium is simply our way of giving more to our dedicated fans. This means access to data without all the noise, exclusive goodies, and a shared effort to ensure data independence in the crypto space.