Good day, Geckos!
As we recount the events of 2021, we see how far we've come and how much was done throughout the year. 2021 has definitely been a very amazing year for us, and we'd love to share it with you so let's visualize this through some numbers together!
In Jan 2021, we had around 50M monthly visitors and by Nov 2021, we had over 150M visitors. That is an over three-fold increase in visitors and we're extremely thankful for the greatest gift from all of you – your time and attention! Crypto tracking wise, we're now tracking over 12,000 coins across 500+ exchanges after we more than doubled the # of coins we track in this year itself.
We pride ourselves as the world's leading independent crypto data provider, and it's our mission to remain so. Throughout 2021, we have served over 200B API calls and we're super proud to be playing the enabler role, powering thousands (and soon millions!) of applications within the crypto space!
2021 has also been an extremely busy year for us – scaling and upgrading our infrastructure has been one of the most challenging tasks to date, but it did not stop us from making updates that were necessary to upgrade the overall CoinGecko experience! In this review, we're also looking to recount the things we have achieved together throughout 2021:
CoinGecko.com updates
Website UI Refresh
This year, CoinGecko received a fresh coat of paint for a more modern looking UI & improved site navigation. We made our changes with usability in mind to ensure that you get right to data that matters to you as quickly as possible.
Our homepage got cleaned up and we added the Custom Tab feature which allows you to easily navigate our site + save down important pages (eg. Smart Contract Platform Tokens, Solana Ecosystem, Decentralized Finance Tokens and more!).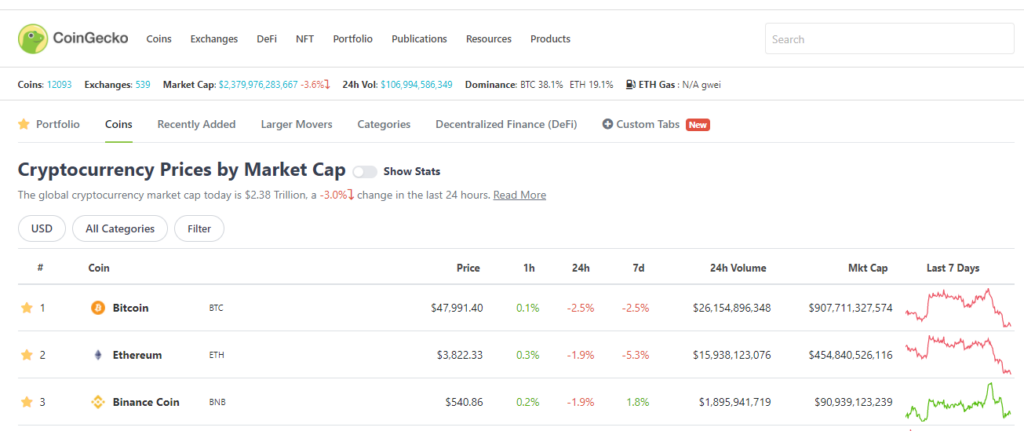 We also updated our Coin page to help you scan through information that matters most and hop into action quicker!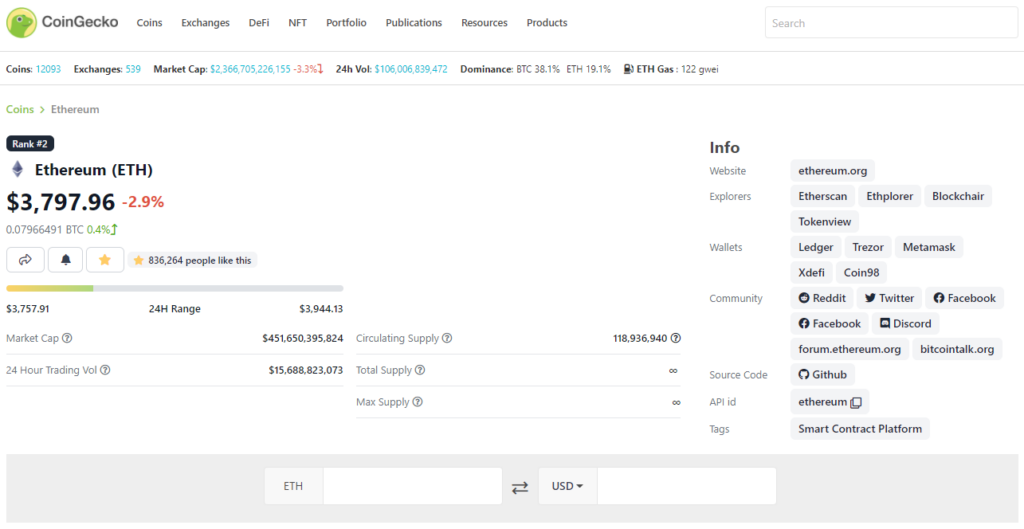 Portfolio
Portfolio is one of our heavily loved features, and we've been working to upgrade it as well – adding new data points, charts, UI upgrades, Multiple Portfolios as well as Shareable Public Portfolio.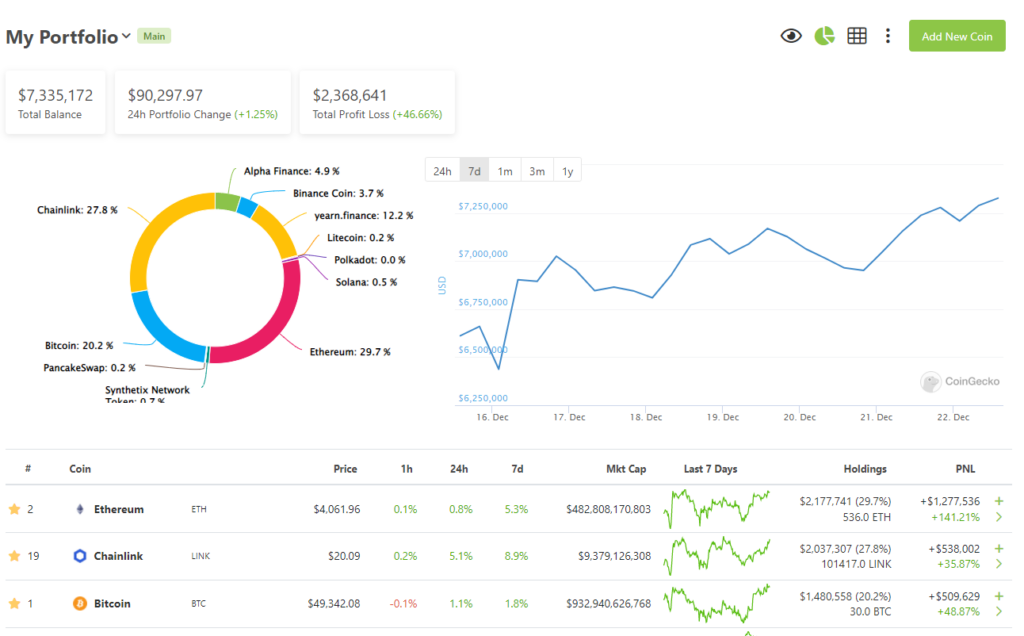 Crypto Categories
In crypto investing, one of the popular methods is to invest into coins of a similar category as narratives catch on. To make this possible for our users, we spearheaded the curation of various categories of tokens and started ranking them. This way, our users can discover the next token that belongs in the same category and potentially invest in them early on!
Mobile App – V2!
Throughout 2021, we focused heavily on performance improvements for our app, as well as many separate UI/UX improvements on the app. These changes and improvements shaped the V2 of the CoinGecko Mobile App, which we are extremely eager to share with you!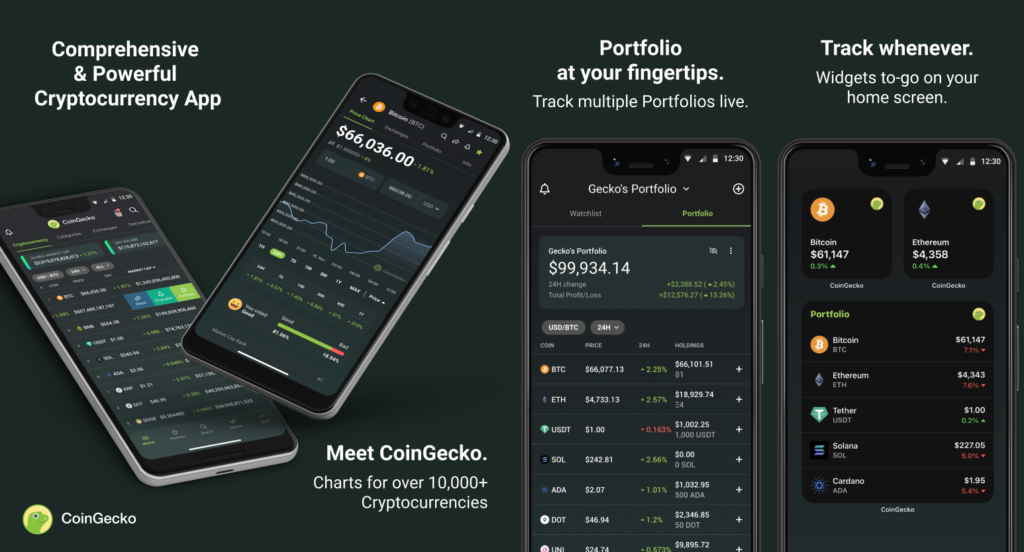 V2 of the CoinGecko Mobile App features:
A fresh, modern color scheme optimized for comfortable viewing on both day/night modes
An improved user experience that aims to deliver what matters to you clearly
Multitude of performance improvements that brings about a snappier & lighter app experience
Available on both Android Play Store & iOS App Store. Try it out and let us know what you like most!
NFTs – GeckoCon: NFTs Gone Wild, Spotlight and Collections!
In addition to crypto price tracking, we also ventured into the NFT space and got our feet wet with all that has been happening:
GeckoCon: NFTs Gone Wild

In November, we ran one of our most ambitious events yet – GeckoCon: NFTs Gone Wild! With 2021 being such a great year for NFT, GeckoCon spiced things up further by bringing together key minds and voices of the NFT space to enlighten enthusiasts on the now and future of NFTs to over 10,000 participants worldwide!
Community Art for GeckoCon
One community member even took time to put together a work of art for us to sum up some of the things we've done (and for that we're super thankful to @MochiNFT!) –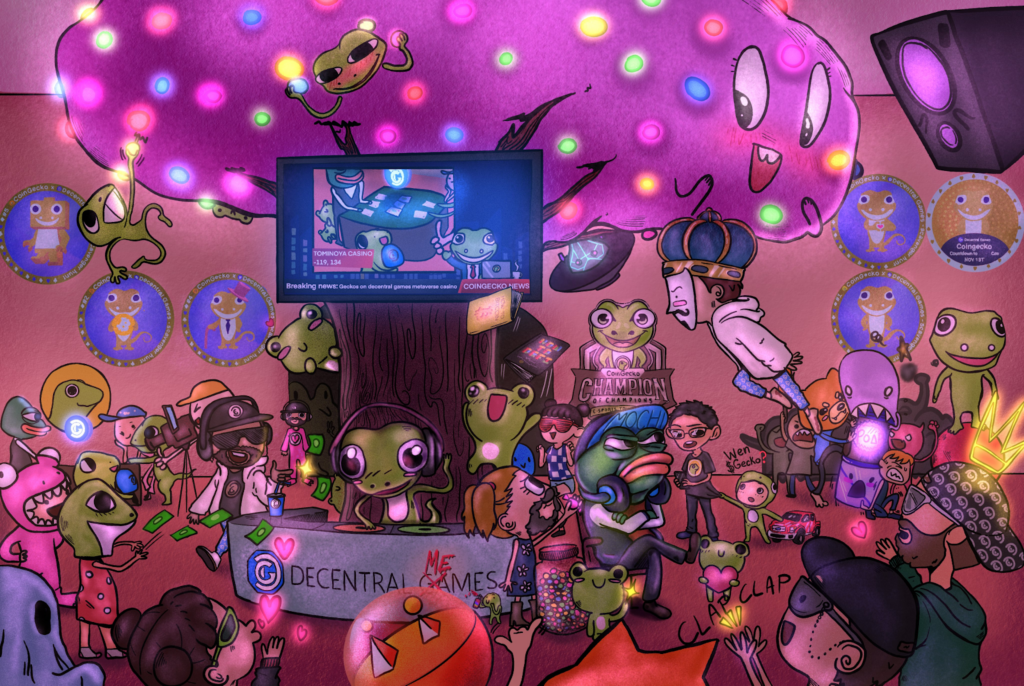 It's a summation of things that are happening with GeckoCon, and a lot is going on here! Mochi breaks it down in his thread, so feel free to go ahead and read up on it to better understand what goes into this work of art!
NFT Spotlight
We used NFT Spotlight as a way to feature certain artists within the crypto space, and to provide them with a platform where they can share their art, vision and thoughts!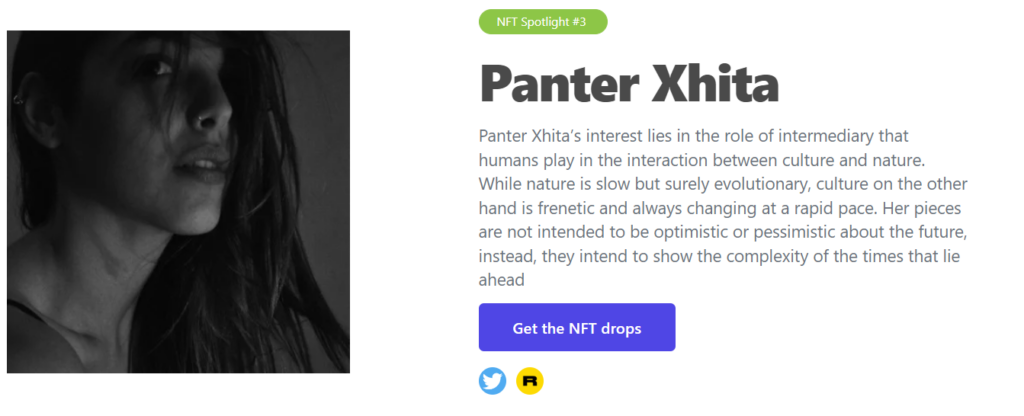 So far, we've worked with 5 different artists – Sven Eberwein, MZK, Panter Xhita, Ronald Ong and Reva, all of whom have produced beautiful works of art that we shared with the wider Gecko community. We're hoping to be able to foster more collaborations between us and artists, and to use this as a launchpad for aspiring artists to promote their works. Join us for our next one!
CoinGecko NFT Collection
And of course, no NFT feature would be complete without a list of the most popular collections currently available, along with a curated daily NFT collection.

We feature top collections such as Bored Ape Yacht Club, Mutant Apes, Cool Cats, Pudgy Penguins which are tracked through floor price, trading volume, owner count and more to help you keep a pulse on the NFT markets!
As we step into 2022, we're excited to continue building for the NFT space as well and we can't wait to show you the things we are building to support the ecosystem with!
Enterprise API – Scale your apps like a pro!
In 2021, the crypto market as a whole got a lot more attention from both the public and institutions. This surge of attention made it vital to scale across various segments of the market and we're here to support the multitude of services that do so.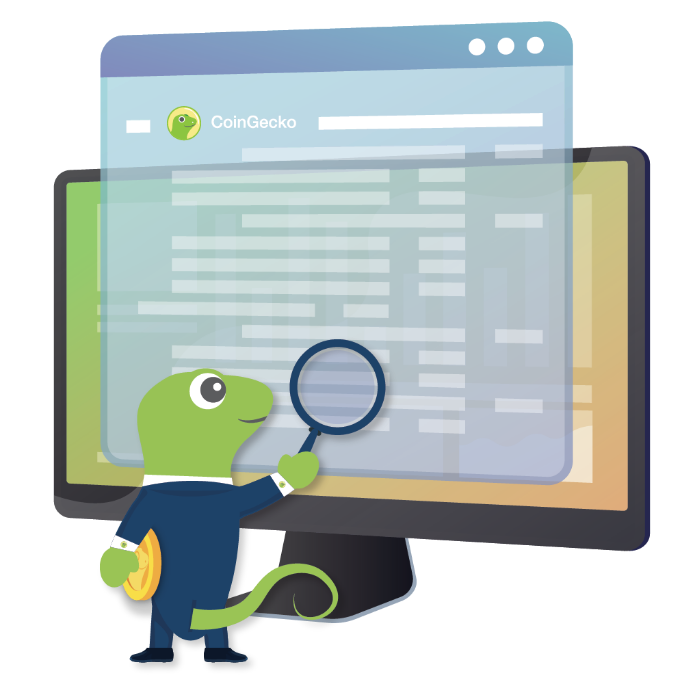 With CoinGecko's Enterprise API, we're now able to serve our data to customers who require data streams that far exceed our Free API's capacity. If you're scaling your application, you can always count on us – over 500 requests/minute (or more) with customizable rate limits, API up-time agreements & priority support.
If you wish to learn more, you can visit https://www.coingecko.com/en/api/pricing. There will be self-serve onboarding available by Q1 2022, so stay tuned!
CoinGecko Premium Subscription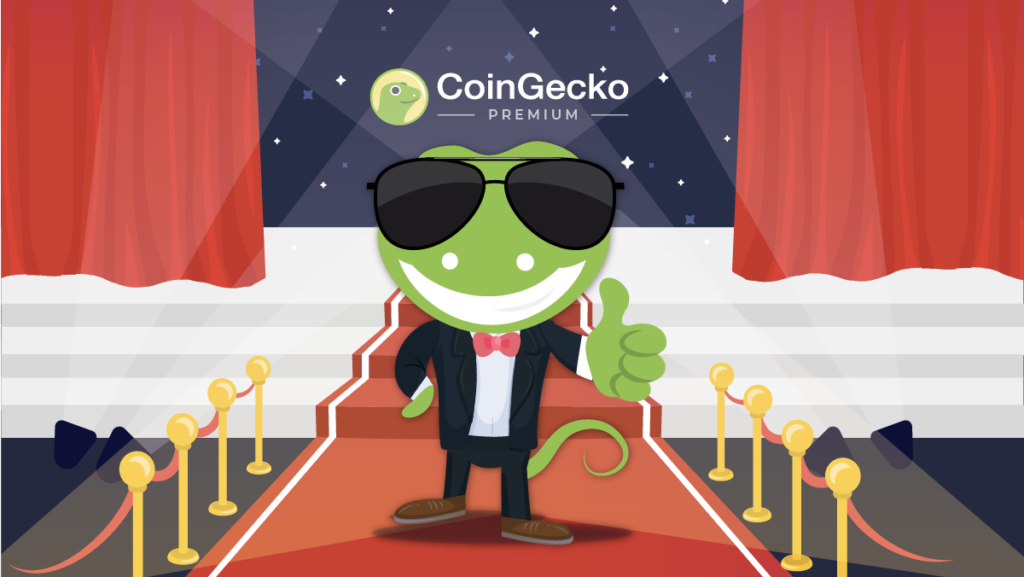 In 2021 we released CoinGecko Premium Subscription, where subscribers receive perks such as ad-free CoinGecko services (web, app & newsletters), boosted candies, premium newsletter, exclusive NFTs and more!
CoinGecko Premium is our first foray into subscription based services, and we definitely have a lot of room for improvement here – we're looking to refine the perks to better reflect the value our subscribers get. If you have a moment, we're running some surveys to gather feedback through two different forms:
For existing Premium Subscribers – Tell us what we can do to make things better!
If you have been previously subscribed – What can we do to have you reconsider?
As always, we appreciate your time and insights. Your feedback helps us go much further! 🙂
Books
Throughout 2021, we've been hard at work writing more books and publications as well! Following our critically-acclaimed How to DeFi book, we pushed on with the goal to further enrich knowledge for all crypto users and published two more books: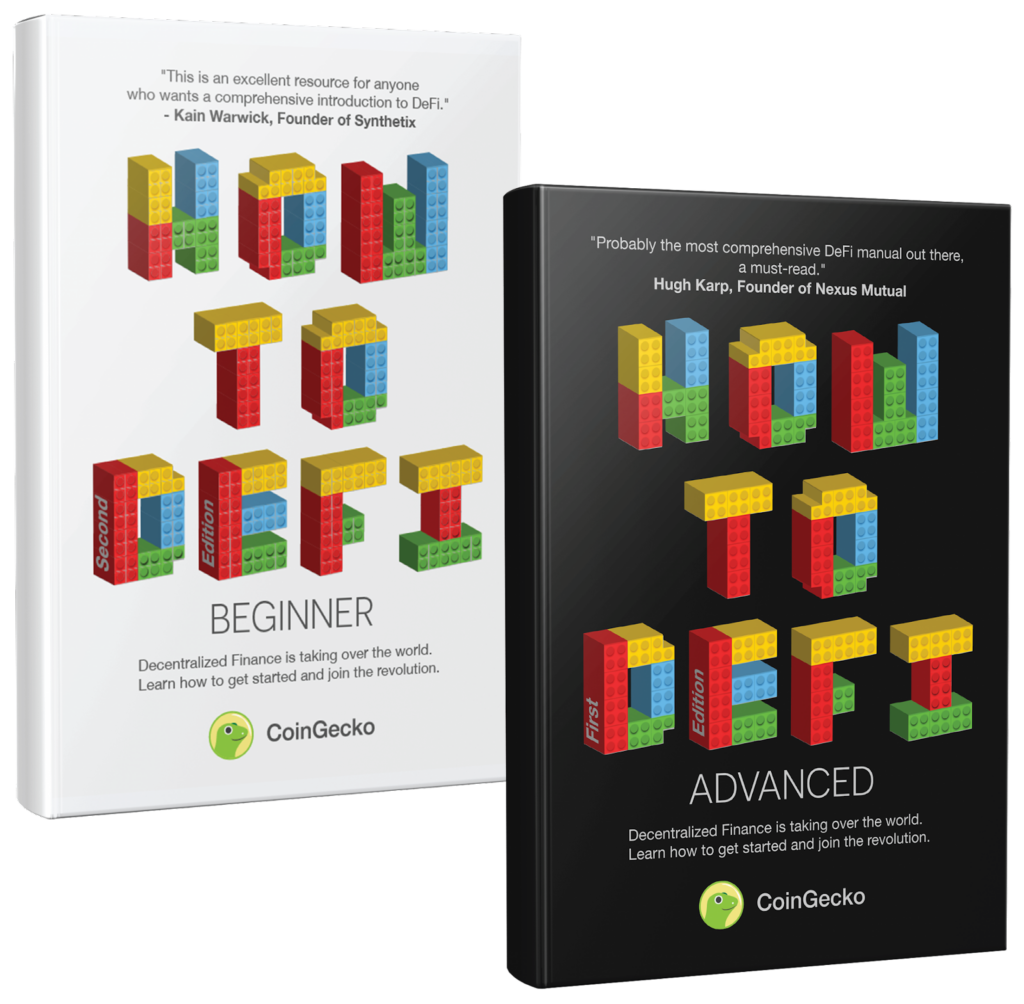 Pro tip: If you collect Candies, or subscribe to CoinGecko Premium, you'll be able to get some of our publications as a bundle!
New & experimental features
We also worked on some new features that are not strictly contained within CoinGecko.com, but still ties back to what we do with CoinGecko, which is to enrich the crypto space with data & knowledge.
Gecko Terminal – Our on-chain crypto charting tool featuring live charts, current trades, market sentiment and more as it happens in real time! Gecko Terminal is arguably one of the most comprehensive charting tools out there with 12 different chains supported. This tool is free for all to use, so do try it out and let us know how you like it!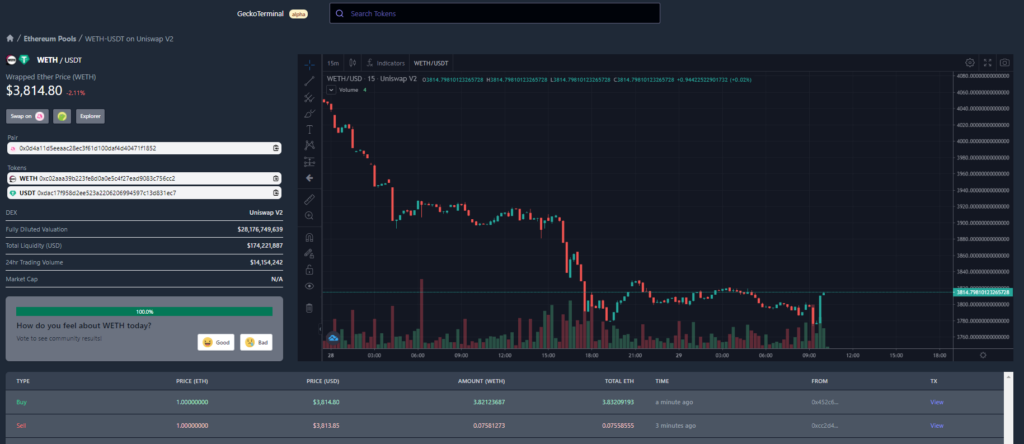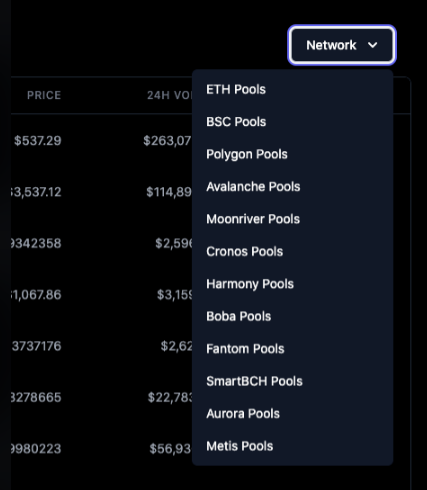 We're only just getting started here and there will be more to come as we get ourselves fired up for the multi-chain universe so stay tuned for more!
Gecko Plaza – We think that there is a lot of potential when it comes to the discoverability of scholarships for crypto games. The metaverse is huge and people are always on the lookout for opportunities with the missing piece of the puzzle being a place that collects and aggregates these opportunities.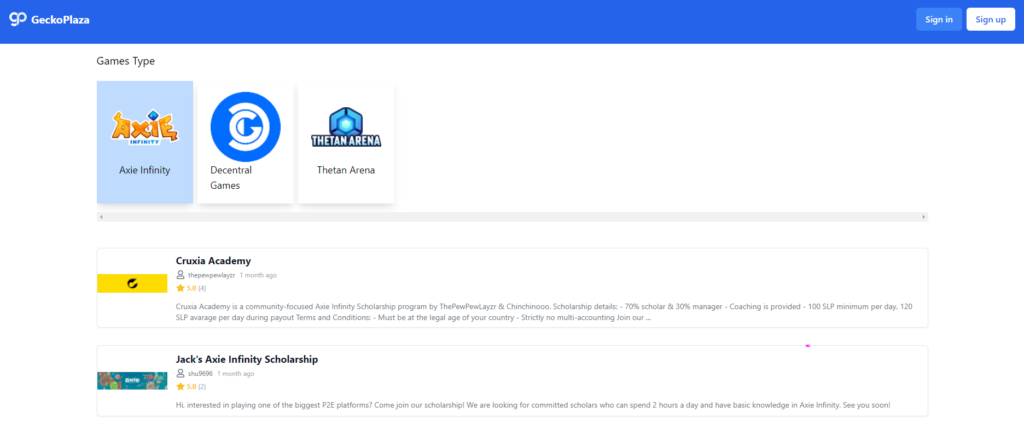 Onwards to 2022!
We're excited to keep growing and serving the space as best as we can, and we're absolutely honored to have you with us on this journey. 2022 seems a little uncertain heading in, but if there's one thing we're certain about, it's that here at CoinGecko we'll keep building to make 2022 the best year to be in crypto yet!
As always, CoinGecko as a whole still has a lot of room to improve so if you have any feedback or suggestions for us, please do send it over at support.coingecko.com, and let's chat!

Closing this article, we want to again say thank you for your support. What we do would not have been possible without your support!