Dear CoinGecko Family,
As 2018 comes to an end, we believe a moment of reflection to look through all our actions this year is in order. It has been an extremely eventful year for us here at CoinGecko despite the bearish outlook of the cryptocurrency industry.
This year, we have been in full #BUIDL mode. Even though we have been in operation since April 2014, it has always been a two-man team. With the huge growth in the crypto space in 2017, we decided that we need to grow the team and set up an office to scale our operations. Banding together crypto enthusiasts, we now operate with a 10-person strong team in an office in Kuala Lumpur, Malaysia.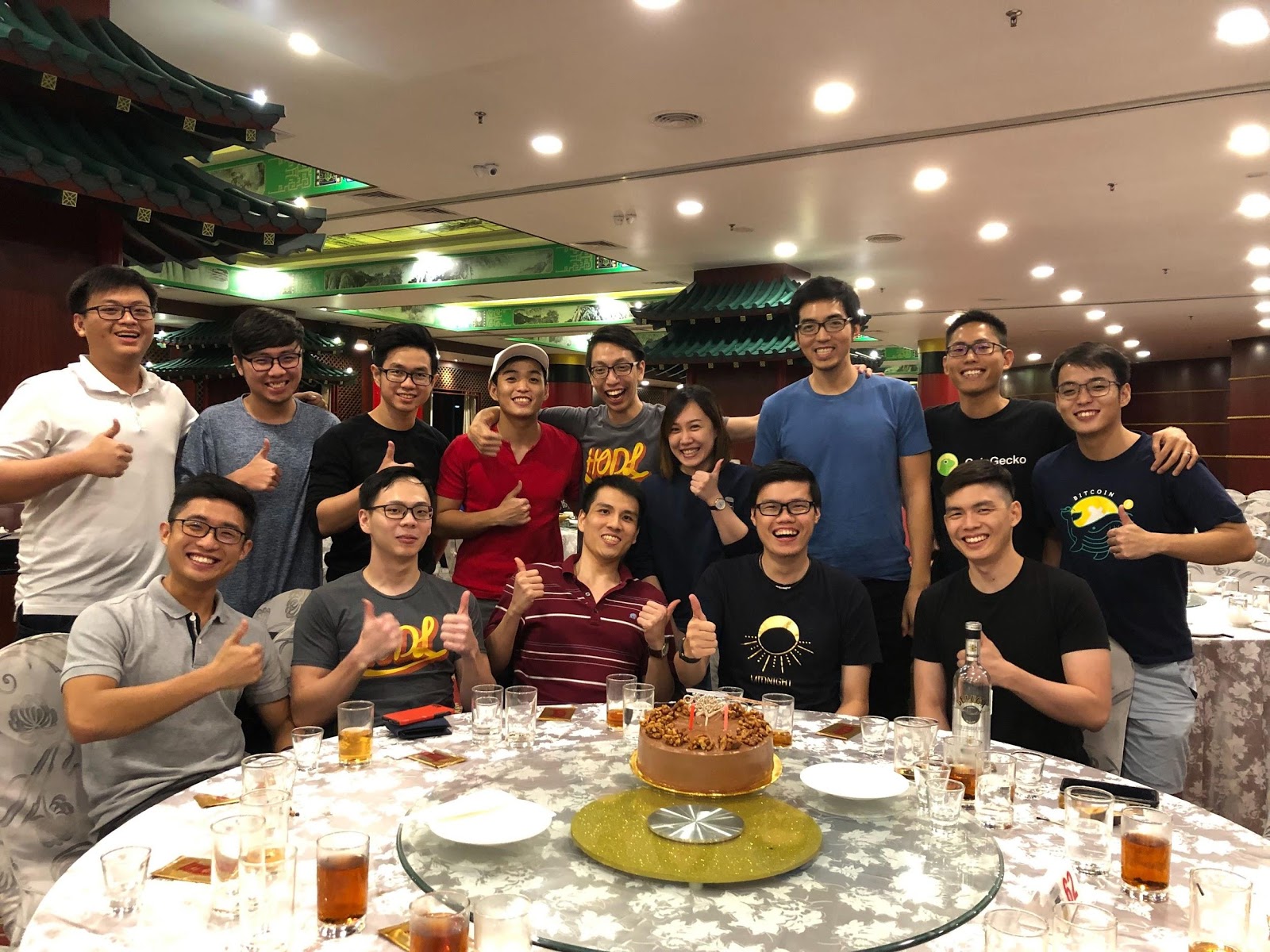 ---
CoinGecko Everywhere and Anywhere
One of the key driving pillars for CoinGecko's work in 2018 was to provide accessibility to the most comprehensive and accurate crypto database wherever you may be. To achieve this objective, we have worked on extending our presence across a myriad of platforms.
Developer API
Here at CoinGecko, we are extremely proud to say that the public version of our free API went live in May 2018. It is now serving over 8 million calls daily and growing. Our plan is to keep the API free and accessible for all as we believe in growing the ecosystem by democratizing access to market information.
While we are at this, we would also like to extend our gratitude to have strong supporters using our API such as Trezor, Etherscan, TokenMarket, CryptoID, EOSPark, Blockchair, CoinTrendz, Coin Market App, Crypto Market Cap and many more on our API page. If you are looking to build something with our API, here's our API documentation for your reference.
If you are using our API for your application, we would be delighted to receive an email from you at hello@coingecko.com to hear about your project!
iOS & Android App
Since the start of 2018, we have been battling fake CoinGecko apps in the iOS and Android app stores. After many hours spent protecting our beloved Gecko by filing take-down notices, we decided that we should launch our own official iOS and Android apps.
While our website is packed with features, we know it would be tough squeezing everything into a mobile app. Focusing on usability and user-friendliness, we cherry-picked some of the key features that we want in our mobile apps. By July 2018, we completed version 1 and launched our official CoinGecko app on both the iOS and Android platforms.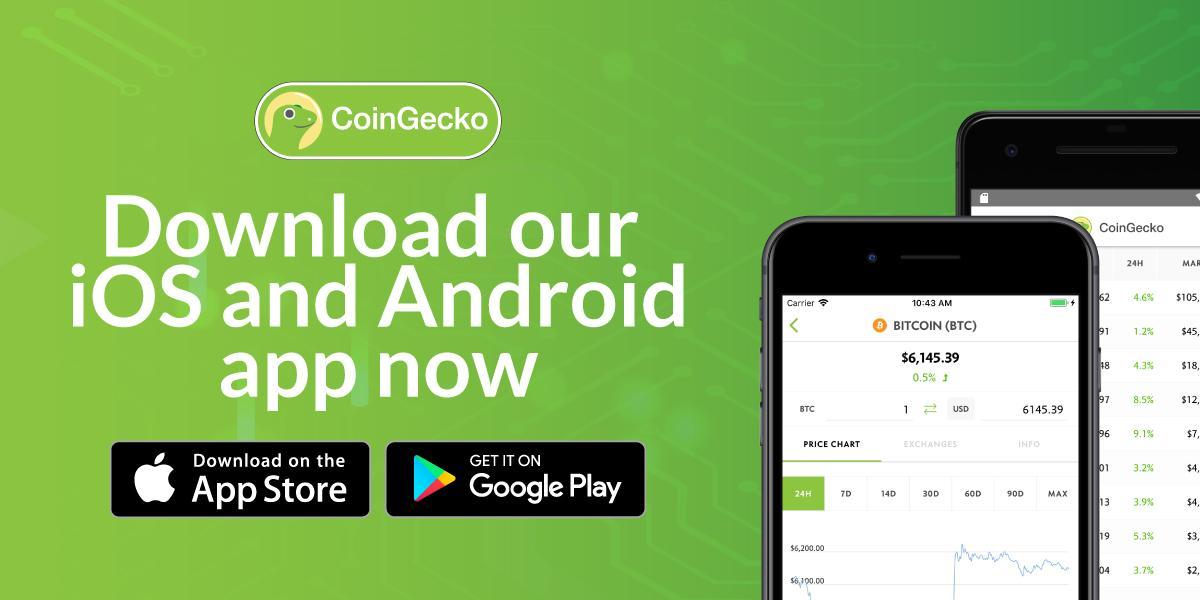 Widgets
As part of our goal in providing access to crypto market data, we have also refreshed our lineup of embeddable widgets. That's right – you will now be able to leverage on CoinGecko's data (over 3,000+ projects!) to show real-time price charts or market capitalization data on your website without any programming.
A few snippets for you to check out:
Google Add-on & Chrome Extension
We have also worked hard in integrating our data availability with Google's applications. For Google Spreadsheet users, our data has been available since August 2018 as an Add-on. For Chrome users, we recently released our Chrome Extension in December 2018.
It's our first foray into developing Chrome extension and we have learnt a great deal about making one. We are striving to make it better for you so stay tuned and do let us know if you have any suggestions.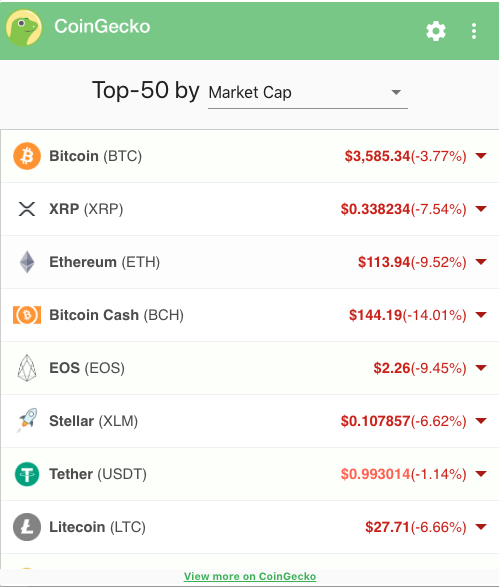 Telegram & Discord
We wanted to engage with the community that supported and motivated us to be the best (yes, you!) and to do that, we have launched our Telegram Group and News Channel in March 2018. Our Telegram Group has grown organically to over 6,000 members. While discussing random topics and shooting for the moon, we noticed that many users needed a way to quickly check prices of their favorite projects and for that, our CoinGecko Telegram Bot was born around June 2018.
Shortly thereafter in August 2018, we also started our Discord channel and CoinGecko Discord Bot which has since grown to over 2,000 members.
Newsletter
The exponential growth in the crypto industry in the past 1 year or so has made it extremely difficult to keep track and stay on top of things for most people. Our team of researchers now help you filter and curate the top news in the form of a daily newsletter. Every Monday to Friday around 10:00 GMT, we send out a newsletter containing a summary of the top 3 news. Subscribe to our daily newsletter if you are interested in staying updated in the cryptoverse!
---
Market & Fundamental Data
We started CoinGecko in 2014 with the intention to provide a 360-degree overview of cryptocurrencies and help with fundamental crypto market research. This space has grown a lot since the time we started and we are looking forward to playing a bigger role in providing more fundamental data to support the industry.
Coins & Exchanges Listing
Notwithstanding the clawing bears of 2018, we still saw huge growth in terms of the number of coins, ICOs and exchanges added on our site. We now track over 3,600 coins from over 260 exchanges. It's been a crazy year for us because in this one year alone we have added over 2,050 new coins and 2,703 ICOs!
In terms of exchanges, we have integrated over 229 exchanges in 2018 itself. Our open-source Github repository has seen a lot of activity and we have been hard at work trying to cope with all the new exchanges created. Even though we have added over 200 exchanges this year, we still have a backlog of nearly 300 exchanges to be implemented.

We have also upgraded our price engine this year and we are currently serving real-time price updates across all cryptocurrencies. You will notice the blinking red and green price updates on our homepage, mobile app, and even widgets.
In October, we also improved our homepage to better serve our growing user needs. Starting from the left, you will notice that you are now able to "star" your favorite coins that's used in your personal customized dashboard. Moving to the top right, we also rearranged our fundamental data categories into tabs for you to dig through these data when you see fit.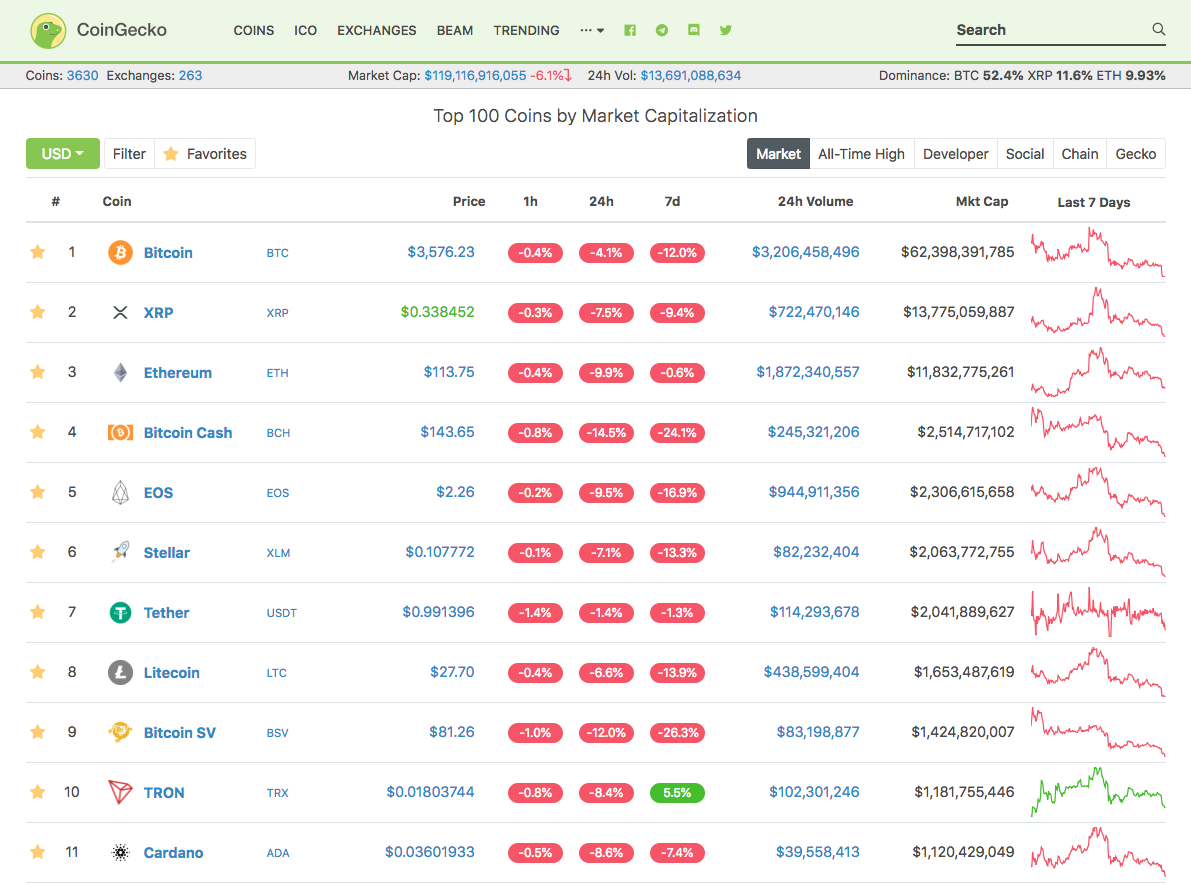 Developer, Social & On-Chain Data
We have been hard at work maintaining our developer and social data. We have the most comprehensive developer and social data, dating back to 2014 when we launched. A quick glance over at both tabs will allow you to access information such as coins with the largest Telegram group or Github commits.
You will also notice that there is now also a Chain tab. We have started integrating data from block explorers to track on-chain metrics. Moving forward in 2019, we believe that there is a lot more that we can infer from the on-chain data that we now have.
Exchange, ICO Pages and Other Updates
Our exchange page also had a facelift in 2018. With many reports claiming that exchanges are inflating their trading volume, we wanted to also provide a more comprehensive dataset of an exchange at a glance. For each exchange you can now track its Social data such as Twitter Followers and Alexa Rank to get a better gauge of how legit their volume may be.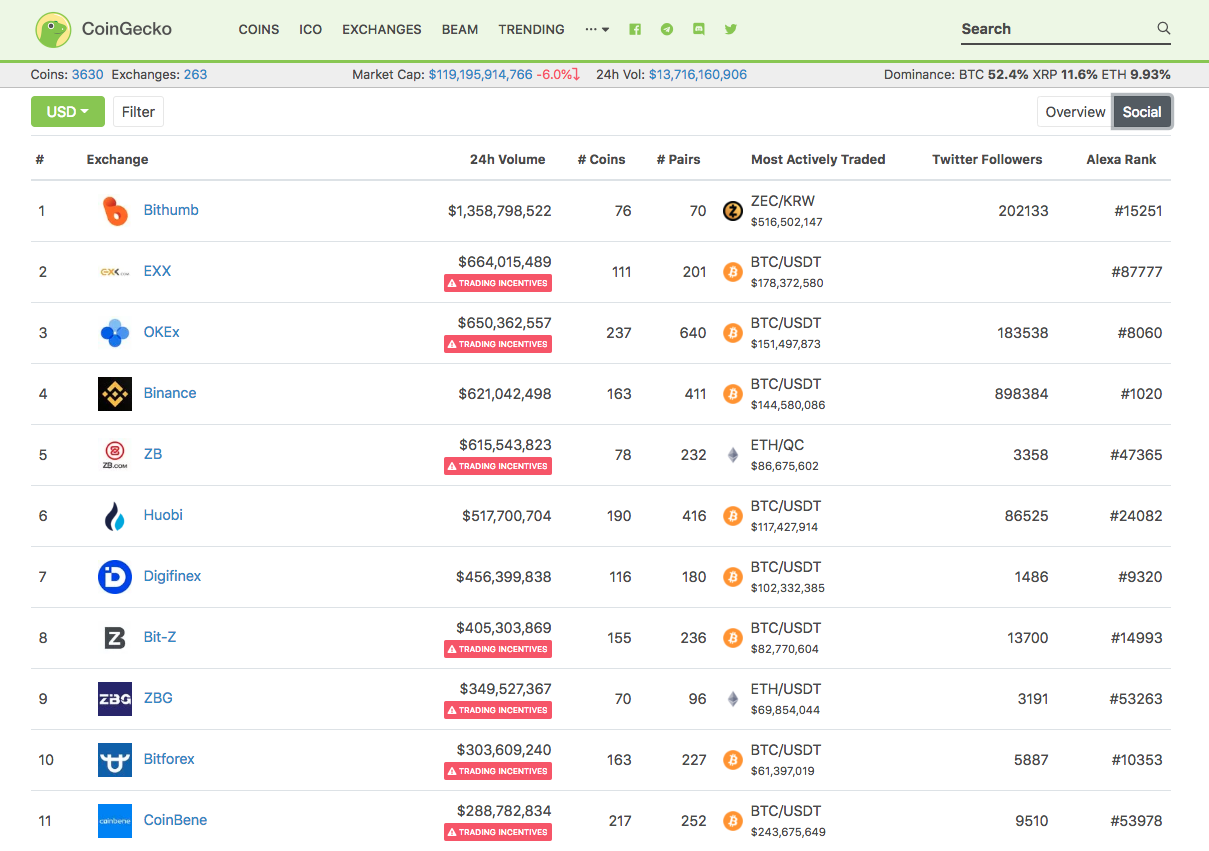 Our ICO page also received an improvement in 2018. For quite a while now we have been maintaining an ICO spreadsheet that tracks ratings from key influencers. Although the ICO market has slowed down tremendously towards the end of the year, it provided very useful information and insights to our users who were following the ICO space.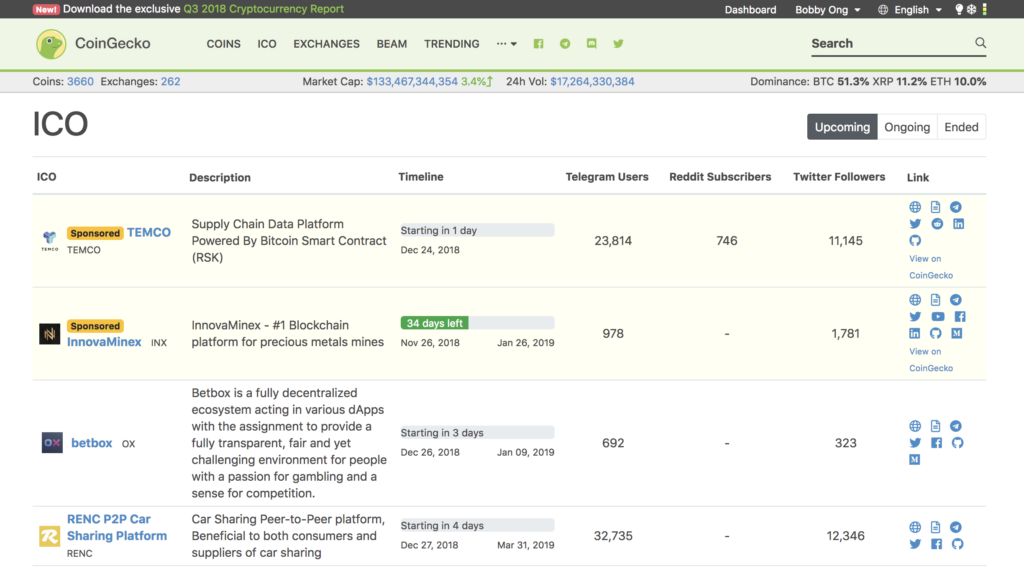 To further our platform's capabilities, we rolled out candlestick charts for selected coins in December 2018. It is still a work in progress and we are still indexing the data for many coins and we expect to have it available for more coins progressively throughout 2019.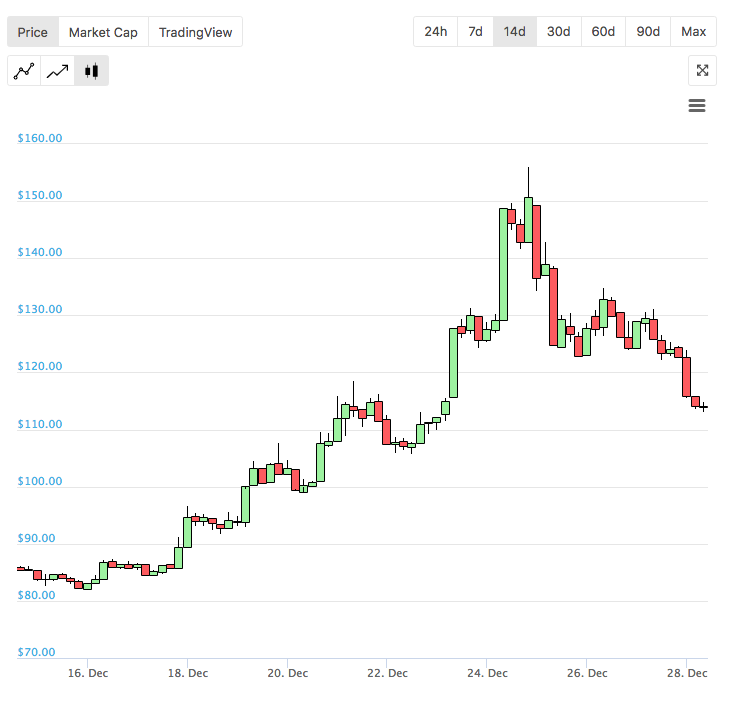 In addition to all these features, we also launched our All Time High, Trending and Compare pages in 2018.
Quarterly Crypto Reports
We started our first quarterly crypto report in Q3 2017 to provide market insights to our followers and since then, our research team has produced 4 more quarterly reports this year – 2017 Full Year Crypto Report, 2018 Q1 Crypto Report, 2018 Q2 Crypto Report, and 2018 Q3 Crypto Report.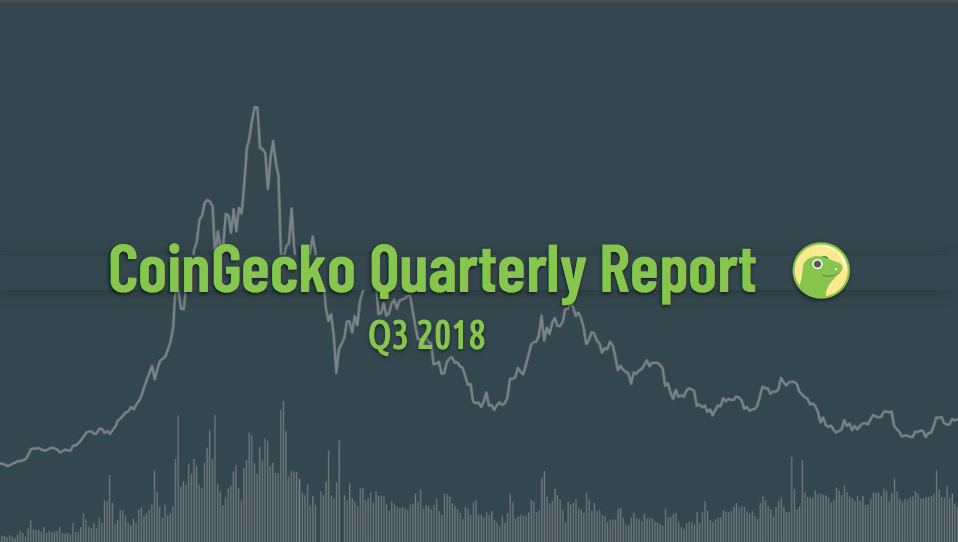 By popular demand, we have started translating these reports into several languages to be shared with people who prefer to have it in a different language other than English. We also started collaborating with industry players such as dapp.com, Masternodes.Online and Non-Fungible.com to get better insights into these growing crypto sectors.
As year 2018 draws to a close, we are working hard to compile data for the full year as we prepare to release the report this mid-January.
---
Market Transparency
Team Announcements & Updates
We believe greatly in promoting transparency in the blockchain space. We rolled out CoinGecko Beam this year where token and exchange teams can share their latest updates and announcements.
Not only will these updates be available on CoinGecko's website, but they will also be "beamed" across the globe through popular crypto apps and services such as CryptoID, Coin Market App, CoinTrendz and Crypto Market Cap. If you are a developer and would like to integrate these updates into your app, you can easily do so via our API and/or widgets.
Circulating Supply
Market capitalization is currently one of the popular metrics for token valuation. It is usually calculated by multiplying price with its circulating supply.
Market Cap = Price x Circulating Supply
Circulating supply is currently a subjective metric that is open to interpretation. In line with our aim to be transparent, we have started publishing the breakdown to how we calculate a tokens' circulating supply. Try it by visiting a coin page on CoinGecko, here is an example for 0x (ZRX).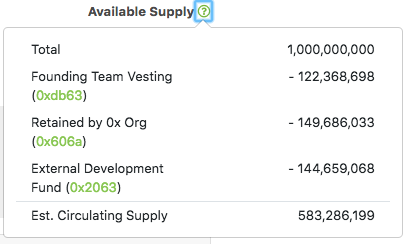 ---
Blockchain Experimentation
We started interacting more actively on the blockchain this year and have conducted several experiments to have a better understanding of how things work.
CoinGecko Non-Fungible Token
For example, we deployed our first Ethereum smart contract and gave out ERC-721 Gecko collectibles during the recent Christmas break. We are big fans of Non-Fungible Tokens (NFT) and we dressed out our Gecko in nice Christmas-themed costumes. We learnt a lot about deploying smart contracts and had a lot of fun interacting with the cute Christmas-theme NFT geckos.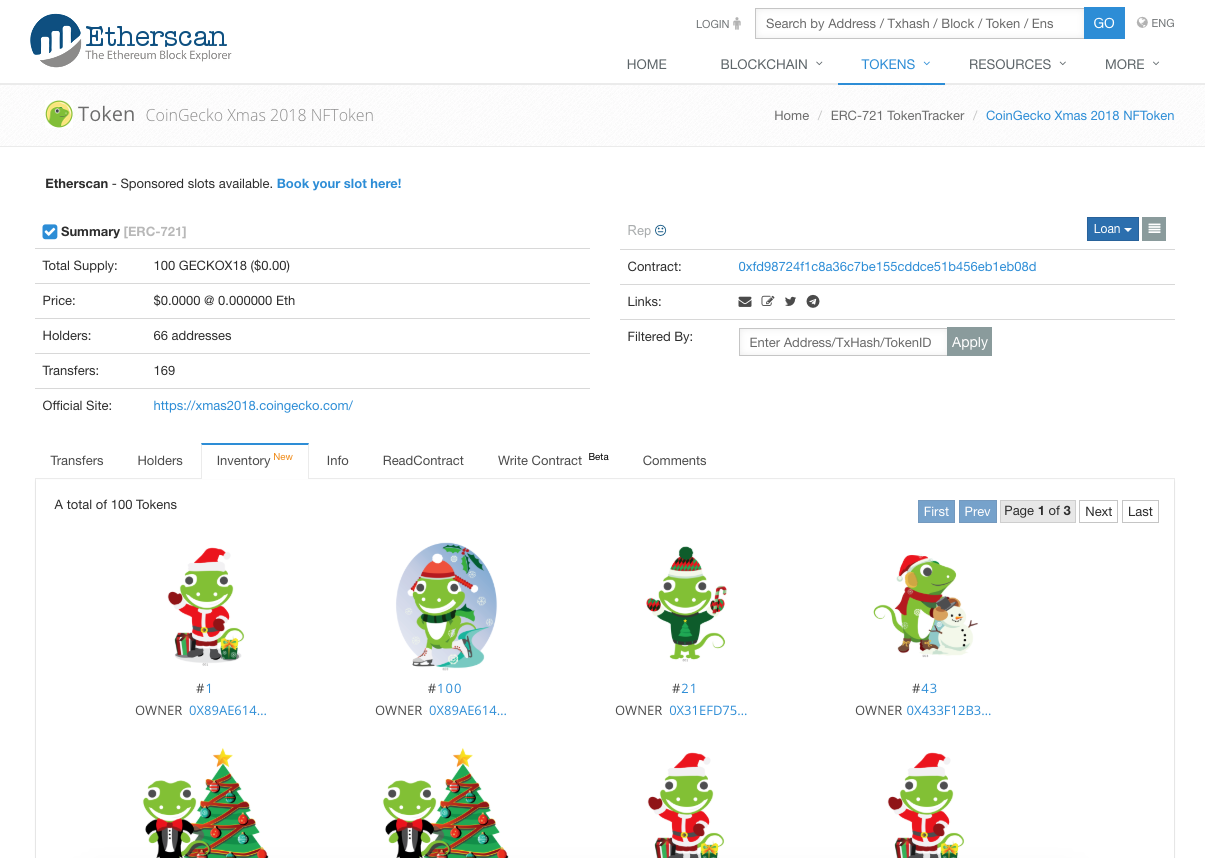 Our First MasterNode
We also embarked on our first blockchain validator node with Tomochain. We are now a leading masternode candidate for Tomochain and it is certainly interesting observing how a modified version of DPoS governance takes shape firsthand. From preparing to deploying and maintaining one, we have definitely learnt a lot about the challenges that block validators and the token teams face from this experiment.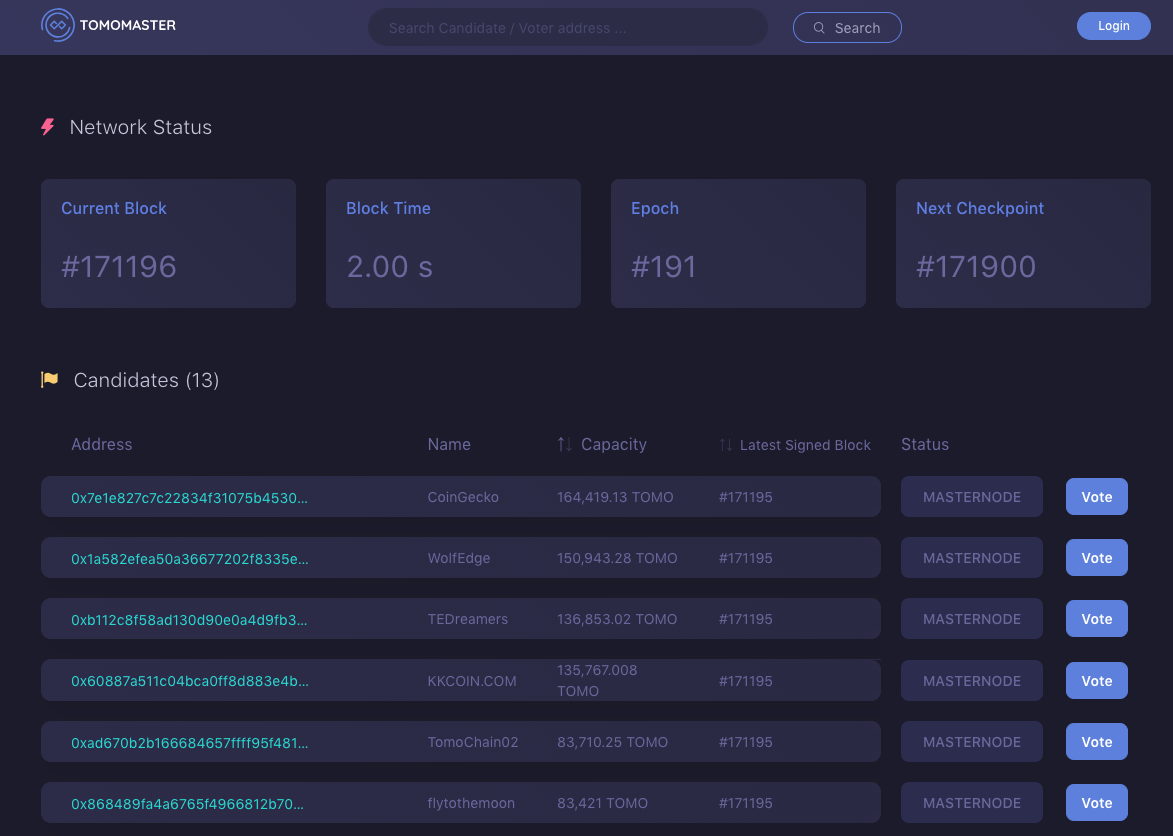 ---
Onwards to 2019
As we wrap up the year in 2018, we want to thank each and every one of you who have joined us on our CoinGecko journey. We appreciate the support that you have shown to us and will be looking for more ways to give back to you.
As we step into 2019, we will be working harder to improve CoinGecko and have bigger plans for the year. If you have any suggestions on how we can further improve CoinGecko, do share them with us via Twitter @coingecko or email us at hello@coingecko.com.
Thank you once again and we wish you a Happy New Year 2019!
TM Lee & Bobby Ong
Co-founders, CoinGecko
31 December 2018