Our CoinGecko 2018 Q3 Cryptocurrency Report has just been released! This is the 5th report that we have published since the release of our first report in Q3 2017. We are very grateful that we have the opportunity to share our insights and would love to hear your feedback on our current report.
In this Q3 report, we analysed the performance of the crypto market with insights into crypto exchanges and ICOs. We also partnered with Masternodes.Online and NonFungible.com to prepare special sections looking deeper into the growing masternodes and non-fungible tokens space. We would like to take this opportunity to thank Masternodes.Online and NonFungible.com for the insights that they have provided into these emerging crypto segments.
Download CoinGecko 2018 Q3 Report
Top Coins Performance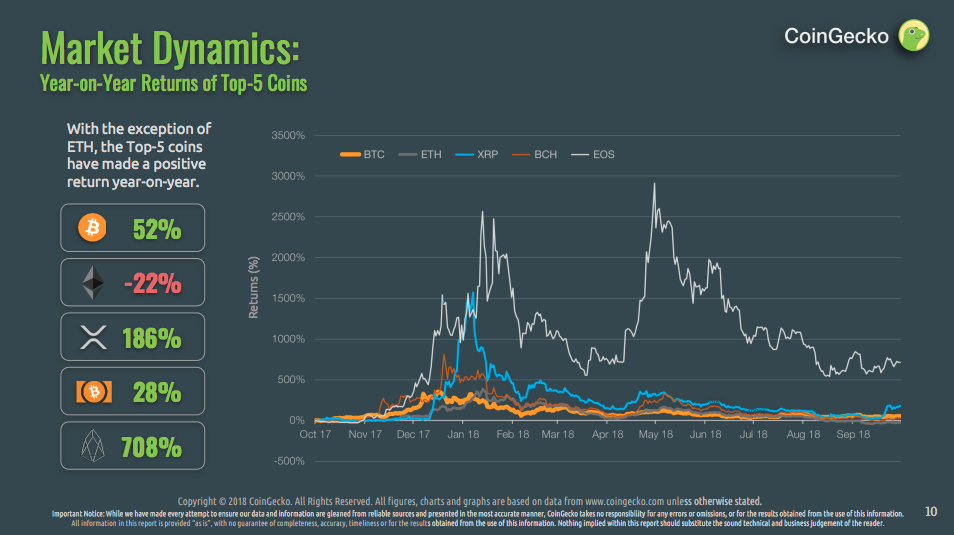 With the exception of Ethereum, all other top 5 coins made a positive year-on-year return. EOS was a notable standout as it still has a 700% return year-on-year. Ethereum has been on a difficult year with prices falling 22% below what it was one year back. This has been mainly due to the slowdown of the ICO market and also because many ICO teams have been selling their ether to fiat currencies to preserve value.
Crypto Exchanges and Trans-Fee Mining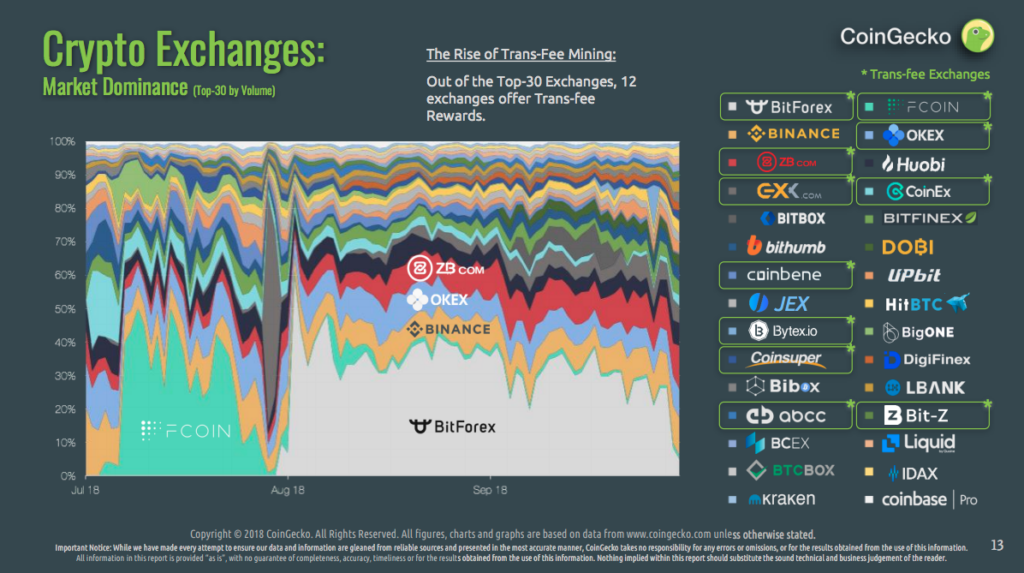 Q3 saw many exchanges adopting a controversial strategy called "Trans-fee Mining" to boost exchange trading volume. Trans-fee mining is the "mining" or creation of new exchange-based tokens via rebates of the exchange's transaction fees.
This strategy was first made popular by a newly launched exchange called Fcoin but was soon copied by almost all other exchanges with Chinese links such as Coinbene, Bitforex, ZB, OKex and so on. The introduction of trans-fee mining have significantly changed the dominance rank for cryptocurrency exchanges in Q3 as compared to Q2.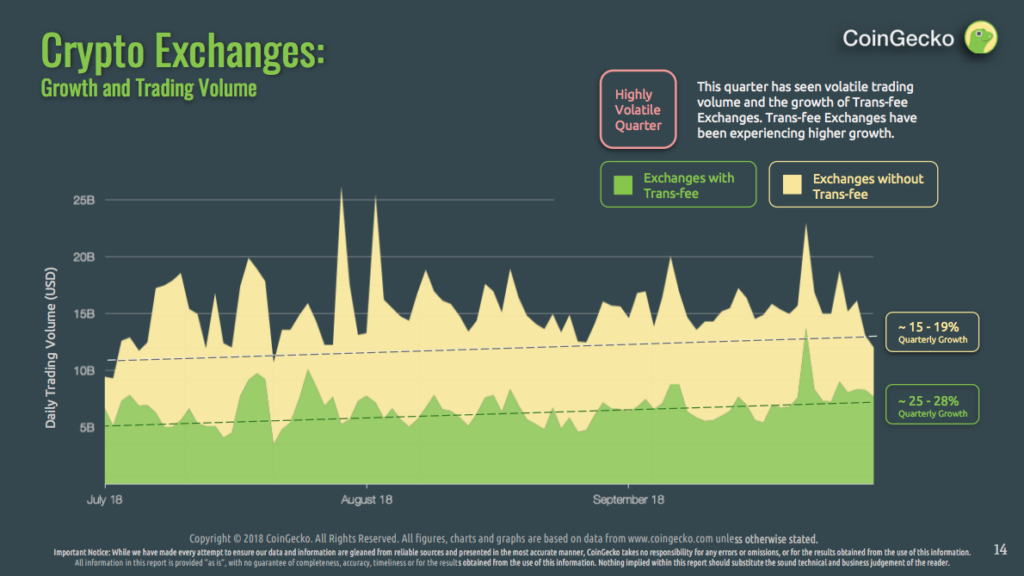 Despite bearish sentiments throughout Q3, we are seeing strong growth in exchange trading volumes. Exchanges with trans-fee mining are showing a higher growth rate in trading volume as compared to exchanges without trans-fee mining. However, the strategy of using trans-fee mining is a temporary one as most exchanges struggle to maintain its high trading volume after its initial announcement and excitement amongst traders.
CoinGecko is also seeing many new exchanges being launched and has added a total of 65 new exchanges in Q3 2018. This growth is similar to what we saw in Q2 2018 where we added 63 new exchanges.
ICO Performance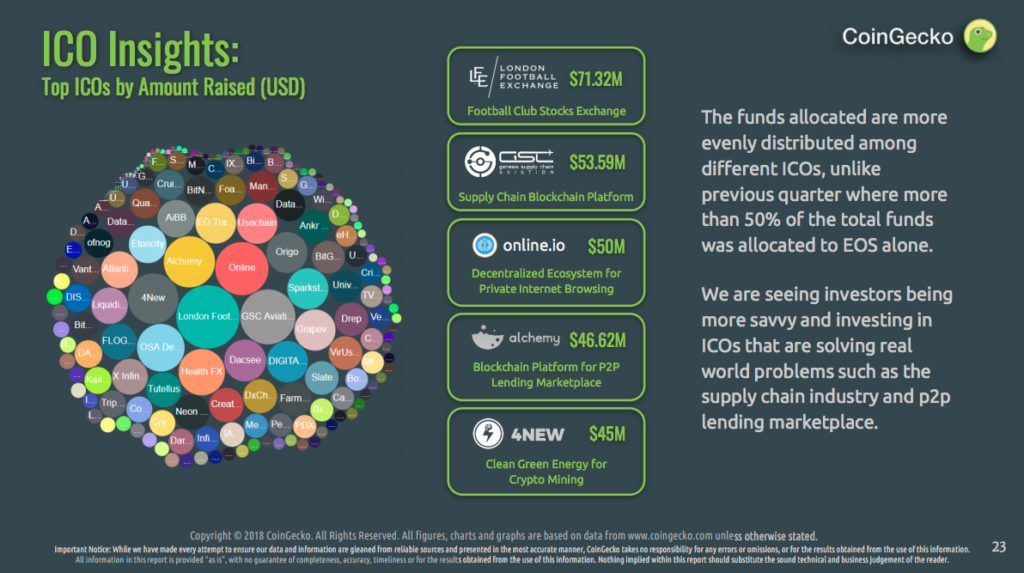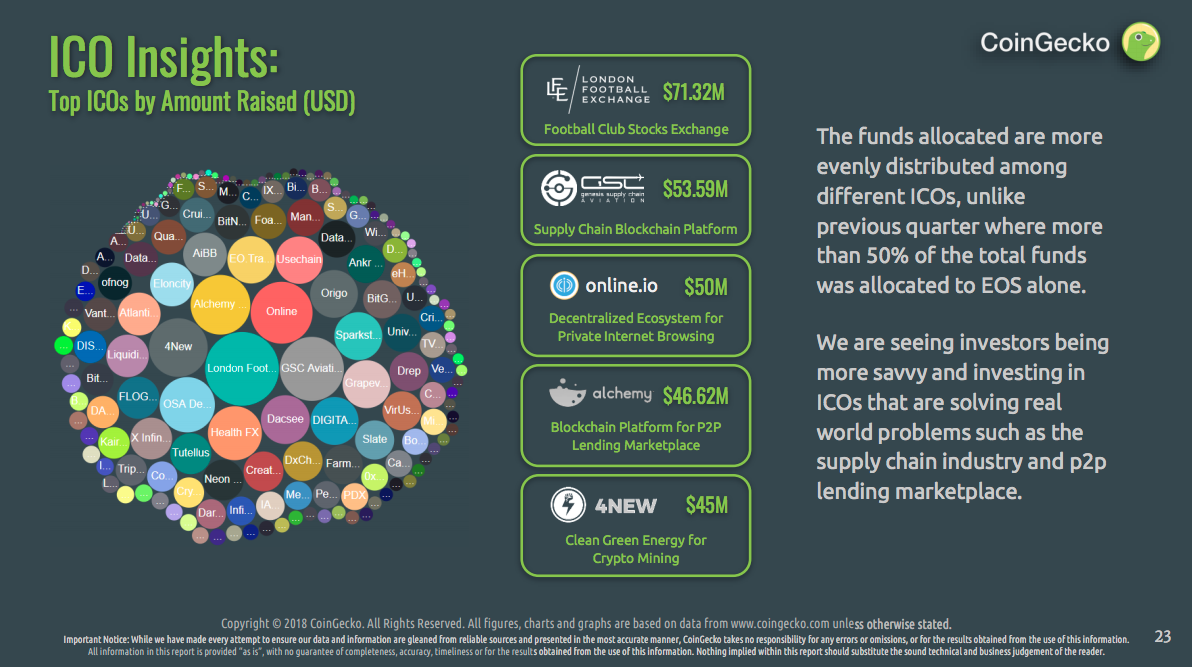 Q3 saw a downward trend of ICOs being launched. In total, there were 388 ICOs being launched in Q3, which is a 36% decline from the 606 ICOs being launched in Q2. Excluding EOS, ICOs have raised in total 55% less in Q3 compared to Q2.
However, unlike last quarter, funding distribution is much more evenly spread out. With the top funded ICO raising a little over $70 million, it is likely that investors are becoming smarter and more savvy in deciding which projects to back.
It is also interesting to note that 81% of this quarter's ICO funding came from Singapore. 94% of all fundings happened in the top 10 countries. This may be attributed to more stringent regulation imposed by governments across the world.
Global Events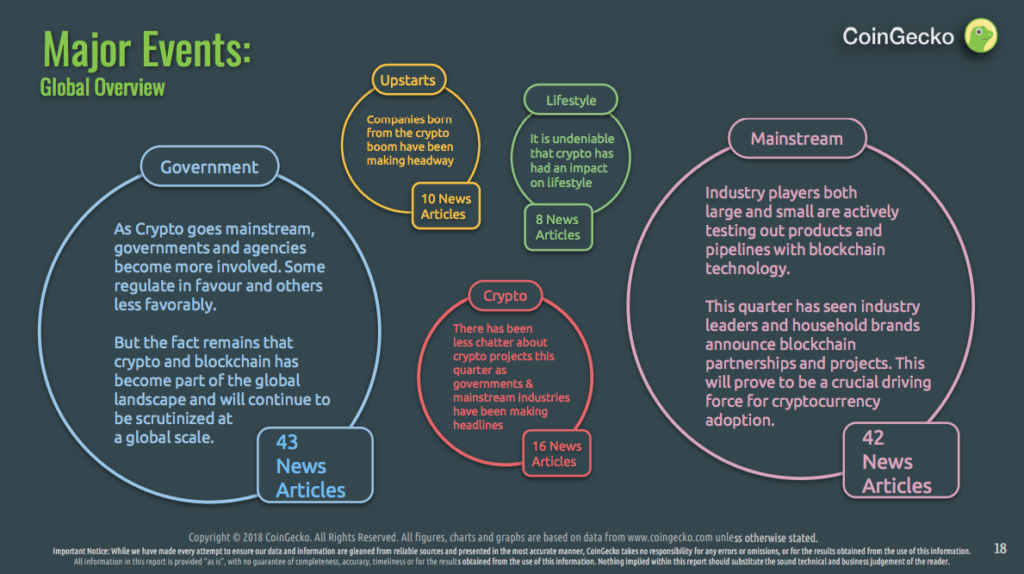 In terms of global events reported on mainstream news outlets, we saw a majority of news updates related to government regulation and mainstream adoption of blockchain technology. There was significantly less chatter around new ICO projects.
Masternodes Special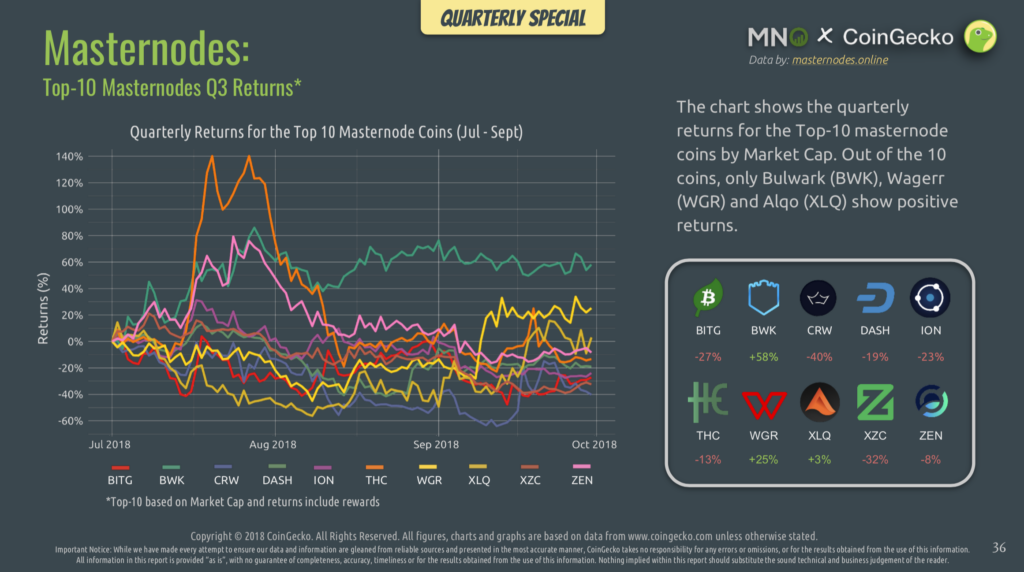 We are seeing growing interest in the masternodes space with the number of masternodes steadily increasing as investors seek alternative investment in this bearish market.
Our partner, Masternodes.Online shared some insights into this space. Masternodes are full nodes that incentivize node operators with tokens to perform the core consensus functions of running a blockchain. Of the top 10 masternodes by market capitalization, only Bulwark (BWK), Wagerr (WGR) and Alqo (XLQ) managed to turn a positive return in Q3.
Non-Fungible Tokens Special
We also saw increasing interest in Non-Fungible Tokens (NFT). With the introduction of Cryptokitties and the introduction of the ERC-721 standard, NFT have gain significant popularity in 2018 with transaction volume doubled between January and October 2018. We collaborated NonFungible.com to take a deeper look into this space.
Free to Download
Similar to the previous reports, CoinGecko Q3 Report is free for all to download and access. Here is a Slideshare embed of the report. If you want to download the full PDF, do click on this link. Feel free to share and quote our reports in your tweets, articles, and blog posts and we would love to hear your thoughts on it. If you have any comments, do send us feedback at support.coingecko.com
Download CoinGecko 2018 Q3 Report